The Black Series 3.75-inch Figures Found Cheap At GameStop
Date: August 17, 2016 at 11:26 AM ET
Topic: Store Reports


JTA reader Sean C. has found cheap The Black Series 3.75" figures at his local GameStop. If you have a store near you, it might be worth a trip to see what is left!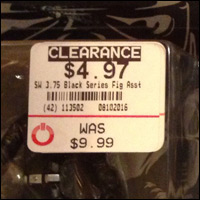 The GameStop in east Baltimore has a whole case of black series on discount - also in the case were Rex and a couple other Clone commanders and Clone era troopers.
Sean C.