JTA:Fans and collectors have been subtly and respectfully dropping hints about seeing the original 12 Star Wars figures released all on Star Wars cards in The Vintage Collection. Despite this, you haven't shown any progress making this a reality. We're 2 years into The Vintage Collection and your focus is sadly elsewhere. What's puzzling is that this is the time to get the original 12-backs into the basic figure line. Have you forgotten that this is The Vintage Collection ? What makes this even a little more frustrating from our perspective is that you have so many tools and base sculpts before you to make this a splendid reality, hence making this a very easy task to greatly satisfy a hankering for updates to the original 12. It's simple to do really! Create only 2 completely new sculpts: Jawa and Princess Leia Organa. Upgrade existing figures you have to include the standard ball-joints (Tusken Raider), simply update the paint jobs on the figures that are seemingly flawless as is (Han Solo, R2-D2, C-3PO, Chewbacca, Obi-Wan Kenobi, Darth Vader (just glue the helmet to the 2007 TAC No. 16 figure closed) and Luke Skywalker - although he could use an all-new sculpt too, but we won't push it) and gently retool/repaint the remaining (Death Squad Commander and Stormtrooper – please choose one without a removable helmet) and voila, you're done. You can even release these across two different waves (6 per wave). This obviously will save you a ton of money as far as tooling costs are concerned, yet excite collectors who have been waiting to see the original 12 all updated in The Vintage Collection on Star Wars card backs. Please make this a reality for us? The first Star Wars film is much too ignored in The Vintage Collection, so please make things right.
Hasbro: Your point is a good one and it is well taken. We will certainly take this into consideration when planning the line in the near figure.
JTA: With the discovery that VC61 in The Vintage Collection will be the mail-away Boba Fett and VC66 and VC67 will be the miniature figures in the SDCC Revenge Of The Jedi set, how are OCD collectors to display and/or get these pieces? And then we find out that VC56-VC60 (the delayed wave including Aayla Secura) won't be out till 2012, but the rest will be out in Oct 2011? And with the mention that the Walmart exclusive wave won't be coming in TVC packaging, does that mean that the other general release figures in this assortment won't as well (and be placed in the Darth Maul packaging)? We could keep going on with question but as you can see your SDCC presentation created more questions than answered them. We really have no clue what is going on. If you could clarify what's coming in what kind of packaging, we will be extremely thankful.
Hasbro: A wave including Aayla Secura, Nom Anor, 501st Trooper, Kithaba, Evazan, Naboo Pilot, Mawhonic, Aurra Sing, Wedge and Gungan Warrior will be available in 2012 at mainline in Vintage Collection packaging (details below). Some of these figures will also be available at Walmart in different non-Vintage retailer exclusive packaging in 2012.

In summary, the following figures that have already been announced will be available at mainline in Vintage Collection packaging in 2012: Gamorrean Guard (21), Wedge (28), Bespin Han (50), Barriss (51), Rebel Trooper (52), Bom Vimdin (53), ARC Trooper (54), Logray (55), Kithaba (56), Evazan (57), Aayla (58), Nom Anor (59), 501st Clone Trooper (60), Prototype Armor Boba Fett (mail away) (61), Mawhonic (71), Naboo Pilot (72), Aurra Sing (73), Gungan Warrior (74), Qui-Gon (75), Obi-Wan (76), Ratts Tyerell (77), Battle Droid (78), Darth Sidious (79), Anakin (80), Ben Quadinaros (81), Daultay Dofine (82), Naboo Royal Guard (83), Amidala (84), Quinlan Vos (85), Darth Maul (86), Deleted Scene Luke (87), Deleted Scene Leia (88), Deleted Scene Lando (89), Deleted Scene Rebel Trooper (90), Deleted Scene Rebel Pilot (Mon Calamari) (91)
We've updated this checklist for you in an organized fashion now found HERE.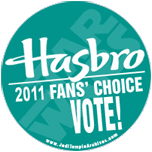 While you're here, why not participate in Jedi Temple Archives' part in the 2011 Hasbro Fans' Choice Poll. This is only Phase I. Choose one Star Wars character you'd like to see be immortalized in plastic (or revisited) from a candidate pool of 50. Click through for complete directions.
Check back next month and we'll post the next round of Questions (and answers) as soon as Hasbro offers them.