If you were stranded on a deserted island, what 10 The Legacy Collection action figures would you want to have with you? The staff at Jedi Temple Archives discussed our must-have figures in detail and ranked our 10 ultimate favorites. The blue phase has come and gone and we here at JTA have had time to digest the line in full and pondered what figures make the cream of the crop. Click through to read this very exciting special report!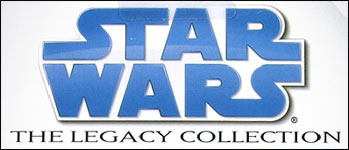 Jedi Temple Archives: A Digested Look At
The Legacy Collection
By Paul Harrison
Contributions by Chuck Paskovics, Nick LaBate, and Joris De Smet
The blue phase of The Legacy Collection was released between July 2008 and June 2009. After exactly a year, collectors were treated to 57 action figures (53 basic and 4 greatest hits) that each contained droid parts to create 10 unique Build A Droid figures. A fantastic collection of figures, The Legacy Collection upgraded older sculpts and also provided us with brand new and never before available characters that we have been trying to get into our collections for quite some time! The staff at Jedi Temple Archives have fully digested and absorbed the magnificent The Legacy Collection and we all spent time to come up with our Top 10 favorites. What follows below is a well thought out "popularity" competition. It was a tad difficult for some figures, but overall it was very fun to rank the strongest figures.
The rules were simple. The figure had to be from the blue phase of The Legacy Collection and had to come with a droid part. This limits the choices to 57 action figure candidates. If the figure being considered came in a two-pack, the two-pack was ranked as one candidate. Of the 57, 26 total topped the "favorites" lists of JTA staff members. The results were tabulated and the results are below. The discussions were heated and our opinions were strong, but we came up what we determined as our definitive "If we were stranded on a deserted island..." list. There are a few that made the Top10 and we think are big 'surprises' and at the end of the list we also provided another group of figures that were just narrowly edged out of the final Top 10 ranking. It was too difficult to let these runner-up candidates not get some sort of recognition. We hope you enjoy reading about our opinions and commentaries.
In addition to the ranking (10 all the way down the the number 1 figure), we have provided links to the Research Droids Reviews and Visual Guides for each figure for your easy reference. We hope you will take some time to check out these features too.
Extra special thanks to my colleagues and friends Chuck Paskovics, Nick LaBate, and Joris De Smet. It was a great collaborative effort and I thank them for their time to contribute to this special feature. We look forward to providing you with our summarized opinions again of other topics in the near future. And be sure to let us know if you have appreciated this post via e-mail or in the forums. And thank you, our readers, for allowing us to serve you in this capacity as well!
On with the countdown!
10. FX-6
BD 28
(Revenge Of The Sith)
Wave 4
December 2008


Click Here For Visual Guide


Click Here For
Research Droids Review


 

FX-6 was the most articulated action figure in The Legacy Collection. Simply colored but expertly crafted, FX-6 completed the popular "Franken Vader" scene from Star Wars Episode III: Revenge Of The Sith that has become a favorite amongst many fans. With lots of arms and pointy objects, FX-6 makes you queasy just looking at it! It was a long awaited figure and certainly holds its stance as one of the mosty intensely engineered figures of all time. We think our Episode III Darth Vader figures will never be the same again!

Nick LaBate: "This figure slipped in under the radar because a lot of people were focused on other figures in the wave that FX-6 was offered with.  But this figure builds nicely on what Hasbro achieved with the FX-7 figure in the POTJ line back in 2001. This figure has an astounding level of articulation, and the sculpt is true to form."

Chuck Paskovics: "Incredible detail! Not an exciting figure, but the attention to detail makes this a top 10!"

9. Obi-Wan Kenobi
BD 34
(A New Hope)
Wave 5
February 2009


Click Here For Visual Guide


Click Here For
Research Droids Review





 

We basically all knew that the Evolutions line was facing certain doom when we heard that the Obi-Wan Kenobi set was going to be broken up and released separately as three individual figures into the basic line. But, in all honesty, we think this should have always been the intended way to release these to collectors. Coming to us with awesome articulation and accessories, the likeness is of the standard we expect from Hasbro and it seems that Obi-Wan will probably not need to see a revisit again (or at least any time soon).

Nick LaBate: "What is there to say with this figure? It really has it all. And this figure truly is the the VOTC Obi-Wan Kenobi should have been back in 2004. It has premium level articulation. The overall sculpt is very true to form. And the head sculpt is the closest that I've ever seen to Sir Alec Guiness's likeness.  Add in some very nice soft-goods in both the lower portion of the robes, plus the brown Jedi cloak.  And there are still accessories!  There's the lightsaber, the table from Ben's hut and a holographic Princess Leia Organa. What else could you ask for in a figure?"

8. Jawa & WED Treadwell Droid
BD 33
(A New Hope/
Expanded Universe)
Wave 5
February 2009


Click Here For Visual Guide


Click Here For
Research Droids Review





 

Hasbro clearly has a protocol in place where a Jawa figure must be packaged with some droid (or at least a second Jawa). And we must admit it is a great way to release them! But each year the Jawas get better and better and the droids that are included become more and more detailed and articulated. This release impressed most of us and we are still waiting for the movie accurate white and red WED, though this one certainly satiates our appetites for now. Hasbro knocked this set out of the park and not only has it been popular with collectors, it has even hit a soft spot with the critics as well.

Joris De Smet: "Army builders", you can never have enough...

Chuck Paskovics: "Another fine example of attention to detail."

Nick LaBate: "The star of this set is definitely the WED droid. Hasbro finally gives us one of the more recognizable droids from the Purchase of the Droids scene. And it doesn't disappoint in terms of articulation. The Jawa builds upon the sculpt that was first offered in 2007's 30th Anniversary Collection."

7. Hoth Rebel Trooper
BD 42
(The Empire Strikes Back)
Wave 6
May 2009


Visual Guide Coming Soon


Click Here For
Research Droids Review


 

What a stir of controversy Hasbro caused with the Hoth Rebel Soldier! We waited on pins and needles for the running change variant to hit retail and he never came. There is no need to worry however as he is coming in a future Battle Packs set. Hoth Rebel Trooper is a spectacular display of action figure art and he is everything and more we wanted him to be from the very start. Excellently sculpted, colored and accessorized, it's all here, and we know plenty of you "army-built" him too! What an amazing figure indeed!

Paul Harrison: "The Hoth Rebel Trooper has not lost its luster at all for me. I still look at this figure today with astonishment and I do think about all the costs and work Hasbro expends to get a figure of this caliber out to the retail stores for us to enjoy. I really hope more variants (besides the one that is already owed to us) are in the parking lot. It would be foolish for Hasbro to not reuse this mold time and again. It is excellent."

Nick LaBate: "While the running change of this figure has been the subject of much discussion in the collecting community, the base figure does not disappoint.  This figure features significant articulation and a good deal of accessories. How many? Try FOUR. A removable hat/helmet, backpack, blaster pistol and heavy trench blaster. The running change of this figure is set to include the same number of accessories, too and should give the Rebel troops some diversity in terms of likenesses. And the soft-goods lower coat makes this figure adaptable for vehicles or perhaps as a tauntaun rider. Good show, Hasbro! Even if the running change is still MIA."

Joris De Smet: "Again, army builders, you can never have enough..."

6. Luke Skywalker
BD 38
(The Empire Strikes Back)
Wave 6
May 2009


Visual Guide Coming Soon


Click Here For
Research Droids Review


 

Luke Skywalker (in his Medical Frigate attire) was one of the most impressive retools the Star Wars action figure line has ever seen. And while there is not too much new to him, Hasbro cleverly manufactured a "new enough" figure for us and he is just purely incredible. With a dead ringer likeness to the onscreen character, this action figure has it where it counts. We hope future retools can experience the ingenuity this figure did. A great way to amortize tooling costs, we welcome figures with this much enhancement whenever possible.

Chuck Paskovics: "Another scene-specific figure, but one that TESB fans always wanted."

Paul Harrison: "This was probably my first or second favorite action figure in the entire blue phase of TLC. While basically a retool of 2004's VOTC Luke Skywalker figure, this figure has a great portrait, an awesome cotton-like robe and cool accessories. Yes, the lightsaber that he comes with him could start another EU tale, but I like the entire package. The crowning glory on this figure are the ball-jointed hips and it makes me realize just how important this articulation is for allowing an action figure to do anything you want it to do! Excellent job Hasbro!"

5. Clone SCUBA Trooper
BD 10
(Clone Wars)
Wave 2
August 2008


Click Here For Visual Guide


Click Here For
Research Droids Review


 

There probably wasn't a more exciting scene aside from the films than the Mon Calamari battle in Chapter 4 of the Tartakovsky Clone Wars. Introducing us to a slew of new "army-building" characters and new takes on familiar ones, this scene has become a clear favorite for many Star Wars fans and collectors. The Clone SCUBA Trooper was a no-brainer choice for an action figure, although it did take almost five years to get him in action figure form. We bought lots of him and we are sure you did too. Simply decorated in black and white, he looks spectacular, perhaps due to the fact he was almost a negative of the standard phase I clone troopers.

Chuck Paskovics: "I thought this [clone trooper] rocked in the cartoon, and they brought it to plastic in an awesome way!"

Paul Harrison: "Being a huge Tartakovsky fan (to ridiculously extreme and perhaps unhealthy levels), I was so excited about the wave of figures coming that were based on his amazing miniseries. I thought the Clone SCUBA Trooper was long overdue, but Hasbro perfected him and he was worth the wait. The keelkana details on his SCUBA tanks are stunning and I am amazed by how beautiful it looks. And the removable flippers were a very nice touch. This figure deserves the highest praise."

4. Obi-Wan Kenobi
BD 9
(Clone Wars)
Wave 2
August 2008


Click Here For Visual Guide


Click Here For
Research Droids Review


 

Obi-Wan Kenobi (as Clone Wars General) blows us away. Always popular no matter what collectibles form he was made (mini bust, statue, maquette, character key and now action figure), Obi-Wan Kenobi will always be a mainstay and favorite character of the Star Wars universe. Complete with uber-articulation, this action figure impresses us beyond words. Sure it has some minor issues, but its magnificence outweighs any small problems it may have.

Nick LaBate: "This is a figure I had personally been waiting for ever since I saw Obi-Wan in armor in Genndy Tartakovsky's original CLONE WARS animated series. This figure captures much of the detail of Obi-Wan in this blend of Clone armor and Jedi robes. And of course it includes the lance! The only real downsides?  The head sculpt could be better. I'd actually be interested in seeing another Obi-Wan head on this body (perhaps the SL04 head). Also, the helmet does not fit well. But overall this is a very cool figure."

Paul Harrison: "Obi-Wan Kenobi was the other figure that rivaled for my own personal top spot ranking. An undeniably perfect action figure complete with ball-jointed hips, Obi-Wan Kenobi sometimes suffers from sloppy paint jobs and a slightly bizarre expression on his portrait. But criticisms aside, he is one of the best action figures to come out of Hasbro and we hope they can somehow retool the this figure's body to give us an Episode II clone trooper with ball-jointed hips."

3. Yarna d'al' Gargan
BD 6
(Return Of The Jedi)
Wave 1
July 2008


Click Here For Visual Guide


Click Here For
Research Droids Review


 

Yarna d'al' Gargan suffered a terrible defeat at retail. Why she wasn't snatched up in record time is beyond our comprehension. An original vintage figure candidate, we literally waited 25 years (that's a quarter of a century folks) to get her. Marvelously sculpted and excellently loaded with accessories, Yarna remains one of Jedi Temple Archives' favorite action figures in the TLC line and perhaps of all time.

Paul Harrison: "It is such a shame that Hasbro had to pull her from the shelves and destroy the remaining stock. She holds a special place for me and I wish she would have faired better at retail. A little ugly and little too corpulent, Yarna is symbolic of the diversity in Jabba's Palace and a character who had more screen time than many of the other denizens. She is so authentic to the film and beautifully and accurately decorated. I think those of you who passed on her will have regrets later. But that is just my two cents."

Joris De Smet: "We had to wait just too long for Yarna to see plastic."

2. Bane Malar
BD 7
(Expanded Universe)
Wave 1
July 2008


Click Here For Visual Guide


Click Here For
Research Droids Review


 

Bane Malar was another action figure that caused some controversy in the line. Originally thought to be Sergeant Doallyn, we found at later that he was a Jabba's Palace character from a deleted scene in Return Of The Jedi. Despite his source, he was a relatively small but cool bounty hunter and was a favorite amongst JTA staff members (and we are certain you as well). Flying off of the shelves, Hasbro confimed he was a success as well.

Joris De Smet: "He's looking so awesome for a background character with just a second of screen time [that ended up getting cut from Episode VI any way]."

Paul Harrison: "While just getting slightly nudged out of my own top 10 personal list of the best action figures, Bane Malar brought a sense of familiarity to The Legacy Collection, fitting in well with the rest of Jabba's entourage even though he is technically a background character who wasn't seen in the final version of the film. Mysterious and perplexing, short but dangerous, Bane Malar was probably the surprise figure of the year for me."

Chuck Paskovics: "[Jabba's Palace] characters are awesome, especially the mysterious ones. This [off-screen] character has always been on my want list."

1. Spacetrooper
BD 32
(A New Hope)
Wave 5
February 2009


Click Here For Visual Guide


Click Here For
Research Droids Review


 

Talk about waiting "forever" for an action figure, Spacetrooper was probably the most overdue figure of all time. Clearly seen in Episode IV, we would have expected an earlier attempt by Hasbro to bring this figure to the forefront of collecting. It happened finally in The Legacy Collection and it was worth the wait. A spectacular figure with some of its own homage paying, Spacetrooper is added to all of our collections with great affection. And it was undeniably our favorite action figure here at JTA!

Nick LaBate: "Hasbro knocked one out of the park with this figure. They nailed an Imperial trooper that has been on the wants lists of keen-eyed army builders for years. While the Spacetroopers are only visible for an incredibly brief scene, they're distinct. They appear to be Stormtroopers with armor that's modified for space duty. And in the process they also got the likeness of a Lucasfilm artist (Joe Johnston) immortalized in plastic. The Spacetrooper has what may be the best Stormtrooper helmet we've ever seen on a figure. Plus, there's the additional backpack and the distinctive weapon."

Paul Harrison: "This figure also did not make it to my overall final top 10, but I do have to give the figure the proper credit it deserves. While very long overdue, the figure got slightly overlooked by me with all of the other great action figures that joined him in wave 5. I acknowledge the Spacetrooper's popularity and how special he is to fans of the original Star Wars film and he is worthy of such a high place in our ranking."

Chuck Paskovics: "Another classic figure that has always intrigued me. We didn't see a lot of variety in the Stormtroopers back then, and seeing this guy lurking around the exterior of the Death Star always made me want him in plastic form!"
HONORABLE MENTIONS:
The following is a list of some our favorites that were barely edged out of the final Top 10 list (and they are listed in alphabetical order). You can also read our reviews on these figures as well by clicking on their collection numbers.
Ak-rev (BD 5)
Chewbacca (BD 3)
Clone Trooper (Coruscant Landing Platform) (BD 17)
Episode III Concept Art Anakin Skywalker (BD 48)
General Grievous (BD 25)
Leektar & Nippet (BD 4)
Pons Limbic (BD 35)
Trinto Duaba & Dice Ibegon (BD 37)
Ugnaught (BD 43)
Wioslea (BD 36)
How do your favorites rank in comparison to our choices?
Discuss HERE in our forums!