2009 SDCC: Hasbro The Clone Wars NEW FIGURES!
Posted by Paul | July 22, 2009 at 06:07 PM ET
Jedi Temple Archives is here to bring you the latest Hasbro Star Wars news (among many other licenses)! We have gotten our hands on a whole bunch of new The Clone Wars figure photos! This line continues to impress! Click through to see all the new images!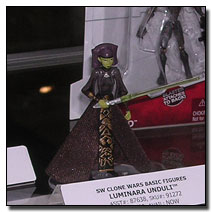 Related Links
-Click HERE to return to the home page-