It's been quite a while since we have heard something new from ACME Archives with regards to their popular character keys. We are happy to report that The Empire Strikes Back fans' patience has finally paid off and we are getting Luke Skywalker (Bespin Fatigues) as the next key! Click through for the image and pre-order details!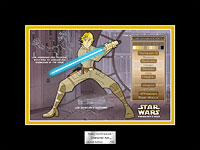 Acme Archives Limited is proud to unveil this long awaited installment in our
Star Wars Original Trilogy Character Key™ line:
LUKE SKYWALKER

This Limited Edition Character Key will be comprised of an edition of only 750 pieces, making this a truly collectible item.

PRE-ORDER*

Pre-Sale for this Key will begin on
MONDAY MAY 11th @ 11am PST
*pre-orders expected to ship starting 6/23

GET A GLIMPSE OF OUR NEW CHARACTER KEY™ PACKAGING
WHEN YOU GO TO PRE-ORDER ON MONDAY!
For more information, please visit ACME Archives character key website!