My intention was to post this days ago, but with the Fans' Choice Poll nightmare I have been preoccupied fielding hateful emails which have included threats of lawsuits, death, and general disgust for me and the site. Then there are the social media and forums posts. I appreciate all of the heads up from our readers, but it is all meaningless to me. I called something out and it's my duty to do so. I have championed for the return of The Vintage Collection for half a decade now (when others remained silent), and our collective interests – super-articulated 3.75" figures – remain one of the most important passions to which I cling. (These "people" have yet to realize that their hatred has no affect me. There is nothing they can say that will rattle me. In fact, it's only helping to get JTA's name out there more. We will surely gain new followers from this. All press is good press as far as I am concerned. It might help to know that I am like Judge Judy in a specific way, I don't read the "fan mail" with the hate and criticisms. Anyway, as I stated, I have been meaning to post this for a while now. (more....)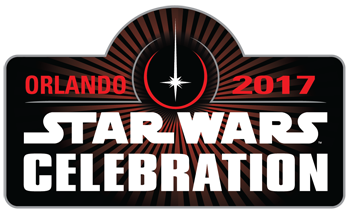 I didn't want to go to Star Wars Celebration Orlando. That shouldn't be a surprise to those that know me best. Conventions just aren't my scene. Sure, it might be cool to brush elbows with the stars and root through the boxes and boxes of POTF2 figures that dealers just refuse to liquidate, but generally speaking I would much rather be writing for the site.... at home. I despise long lines, and I loathe when licensees make it a complete nightmarish disaster to get their exclusive (Gentle Giant LTD. – I am talking DIRECTLY to you.) I could complain about what I don't like all day, but these complaints coupled with the fact that I really didn't expect anything revolutionary coming from Hasbro left me feeling cold from the start. Thank goodness the weather was mild for the most part. I would have surely died otherwise. Ask Chuck, I was on his last nerve wanting to fly back home after the first day, and not wanting to do anything convention related. (Sorry Chuck.)
Thankfully, there were panels I was interested in attending. The Disney Parks panel certainly added a little lift in my step. They are knocking it out of the park when it comes to 3.75" collectors. And in their small presentation there were more things that interested me than what Hasbro has done the last couple of years. Then there was the Rebels panel which showed us the first episode of the final season coming soon to television. It was enjoyable, sort of, and reminded me of a pivotal scene in The Last Crusade. Then came the Hasbro panel. I was rolling eyes and huffing and puffing as soon as they began. Then, when all seemed lost, Hasbro announces the greatest thing for the line in five years (with an EXTREMELY EMOTIONAL video no less – those jerks!). The return of The Vintage Collection was REAL. All those fights in the comments proved worthy of remaining steadfast that I knew I was right. No more arguments that Hasbro can't cost it out… that profit margins are too much of a risk for this scale…. that the 3.75" collecting community has gone away and there aren't enough people to support it. It was ALL garbage. The fact, as I have stated for the last five years, is that Hasbro always WANTED to bring it back and just wanted to find the right time to release it. Initially, I was furious that it wasn't 2017, but I have now conceded that 2018 is an even better year for it. Next years is the official anniversary of the Kenner line. How sweet is that? There are a lot of great things to look forward to next Spring. It is believed the line will run for another three years (at the minimum), produce anywhere from 25-40 characters a year (expect the repacks), and some great characters which I really can't reveal without punishment are on tap to make longtime collectors extremely happy. (Hint: one of them ISN'T Ben Skywalker.)
We will be reaching out to Hasbro as often as we can to offer our opinions and suggestions on how to make the most of TVC's return. If you haven't already, be sure to place your votes for the action figures (already produced) you want to re-released in gorgeous TVC packaging. We will be tallying up the winners and sending them off to Hasbro so they have a good idea of what the collecting community wants to see. The Hasbro panel was Saturday and I developed a new energy for Celebration and was finally excited to be there. Too bad there was only one day left. (See, it's ALWAYS Hasbro's fault.) 😊
While The Vintage Collection's return was probably the highlight for all collectors who attended Star Wars Celebration, I would be remiss if I didn't mention the best part of Star Wars Celebration Orlando for Chuck and me.
We must have met close to 200 readers of Jedi Temple Archives. And it may have been more. For me, it was absolutely incredible to see the faces behind names like Rum Sleg, Rivesjunctionite, Indiana Skywalker, Thunderstrukd , and Josh Makison (thanks for the custom figure Josh) among so many more which I just cannot recall at this moment (please don't feel bad if I didn't mention you by name). To get to catch up with so many people who add so much priceless value to Jedi Temple Archives overwhelmed me and I just want to let you know how thankful I am for all of you. That comes from the bottom of my heart. We even met a ton of people who proudly describe themselves as "longtime lurkers" and we were just as excited to meet them too. Thank you for walking up to Chuck and me and introducing yourselves. It was our distinct pleasure to meet you. I know my sense of humor is sometimes only funny to myself, but I appreciate you continuing to patronize our site despite my strong opinions, sarcastic personality, ridiculous "humorously quirky" anecdotal store reports and man-baby whining. It's all part of the mix to bring in the readers. And if our traffic reports are right it's working.
So, thank you once again. You will see a less acidic attitude toward 6" going forward. But I am not sure if that matters. Once the return of The Vintage Collection was announced I don't see our biggest critics (of us criticizing the 6" line) anymore. It's like they went into hibernation or something. It's OK, you were wrong, but you're totally still welcome here. And we recognize your importance in Star Wars collecting. Even the forumites (I am being nice – I want to use another term) who come here to see what I am posting and then start a thread tearing me down in their home forums. And even the sub-tweeters. Yes, even they have relevance. We love all collectors just like Hasbro loves Princess Leia. I hope that came out right. And 3.75" super-articulated collectors: it's YOUR time to step up to the plate. If you play chicken with this line only you will be left to blame. Let's show Hasbro we're in it for good. Anyway, we want to foster a strong collecting community here and you're all an important part of the community that makes up Jedi Temple Archives.
Godspeed,
Paul Harrison