Name: Boba Fett/RA-7 Droid
Collection: 30 (77-07)
Number: N/A (Walmart Exclusive)
Source: Expanded Universe (Marvel Comics' Star Wars #81)
Availability: January 2008
License: Hasbro
Everyone believes Boba Fett is dead, eaten by the Sarlacc in the Pit of Carkoon. But the bounty hunter miraculously survives his ordeal and lies unconscious outside the pit, covered in mucus and sand. The Jawas and their RA-7 droid find him and, believing him to be a droid or cyborg, bring him onto their sandcrawler. Fett awakens with no memory, until Han arrives to rescue the stolen R2-D2 from the Jawas. Upon hearing Han's name, Fett's memory quickly returns... with a vengeance!
There are many things we are thankful for in life. And while there are many more important things in life like friends and family, we are extremely thankful for some things that Hasbro has created for us. One item in particular that makes us inordinately happy is the Walmart exclusive Boba Fett/RA-7 Droid Comic Packs set from the 30 (77-07) line. Many disagree with us because one half of the set dates back to 1999's POTF2 [FF/TKC] Death Star Droid figure and that alone makes the set inferior by more modern standards. But let us tell you that the comic-inspired Boba Fett is reason enough to purchase this set and it's absolutely one of the best versions of Boba Fett your collection will ever see. Boba Fett is nostalgic, brilliant and extremely colorful. And although he has Sarlacc mucus on his armor, you could instead pretend it's some sort of battle-damages.... or something else. You decide. The Comic Packs version of Boba Fett is reminiscent of the original 1979 vintage figure. It slightly favors the animated debut Boba Fett we saw in The Star Wars Holiday Special. And it is just overall one of the most attention grabbing versions we've come across in years. Medicom Toys made a Boba Fett Kubrick multipack that contained multiple versions of Boba Fett. We'd like for Hasbro to do the same things for us in the basic figure scale. We're getting a ton and even never before released versions as well. This is one of the standout versions of Boba Fett (and a very rare appearance as well).
Boba Fett is a significant repaint of 2004's VOTC Boba Fett figure. This is figure is extraordinarily colorful and bright. It catches your eye from a mile away and it's been flawlessly painted at the factory level with an incredible attention to the details in the comics up to an including the Sarlacc mucus that adorns Boba Fett's armor. As you know, this sculpt of Boba Fett is incredible and comes super-articulated including a ball-socket head, two ball-jointed shoulders, two swivel forearms, swivel waist, two swivel hips, two ball-jointed knees and two ball-jointed ankles. He has the ability to be posed in a variety of options. But the inclusion of ball-jointed hips in this sculpt would render this sculpt as definitive. What can we all do to make Hasbro give us an incredible and definitive version of Boba Fett with ball-jointed hips? We'd love to know what we can do to make this come to pass. To be honest, the figure currently still isn't 100% perfect (aside from our wish of him having ball-jointed hips). Boba Fett does have a lean to the side, but this can be easily diminished or fixed by playing with the included ankle and knee articulation. We know that the earliest Comic Packs based on Marvel have been heavily criticized by collectors for Hasbro's use of crazy colors. And you may feel similarly about this Boba Fett. But if there is anything we can sell to you to give this version of him a chance, well, that's exactly what we're going to try to do.
We understand if you have complete reservations about Boba Fett's counterpart. This RA-7 Droid is quite colorful too. But despite its cheery "disposition" you will likely be a lot less interested in this figure than Boba Fett because of how "old'" the figure is. (Don't let the 2007 date stamp fool you.) Hasbro unfortunately resurrected the now-ancient 1999 POFT2 [G/FF] sculpt and as you know, the figure is limited with only six points of swivel articulation. The droid is essentially all purple except for a few minor details here and there and we suppose it looks like the character than converses with Boba Fett after he regains consciousness from beginning to be digested in the Sarlacc. The figures look good together solely because of their paint jobs. But as far as detail and articulation are concerned, they are really night and day. Unfortunately, this is the only sculpt Hasbro has of an RA-7 droid and this is what we're going to have to expect until they make a new sculpt. (Editor's Note: Hasbro released 5D6-RA7 and MB-RA-7 as two Build A Droid figures in The Legacy Collection. Their sculpts are incredible.) While you may not be interested in an antiquated sculpt of the RA-7 Droid, we can tell you that the retail of this Comic Packs set is solely worth it for the Boba Fett figure alone. That is how much we love the Marvel Comics' inspired version of Boba Fett. We're totally enamored of this figure for the paint job alone. And it represents Boba Fett in a vintage, albeit silly, light. We give this set 5 stars just because of Boba Fett! (Editor's Note: Special thanks to Jayson Krebsbach from Yakface.com for reference photos editing help. All photography by Jedi Temple Archives.)
Collector Notes
Boba Fett/RA-7 Droid
Assortment Number: 87560/87557
UPC: 653569270928
Retail: $9.99 USD
Market Value: Click here to check the latest prices based on

listings.
Boba Fett
Status: Boba Fett is a repaint of 2004's VOTC Boba Fett figure.
Articulation Count: 22 points (14 areas of articulation)
Articulation Details: ball-socket head (1), ball-jointed left shoulder (2), ball-jointed right shoulder (2), ball-jointed left elbow (2), ball-jointed right elbow (2), swivel left forearm (1), swivel right forearm (1), swivel waist (1), swivel left hip (1), swivel right hip (1), ball-jointed left knee (2), ball-jointed right knee (2), ball-jointed left ankle (2), ball-jointed right ankle (2)
Accessory Count: 2
Accessory Details: removable jetpack, EE-3 sawed-off blaster rifle
Date Stamp: 2004
RA-7 Droid
Status: RA-7 Droid is a repaint of 2007's TAC RA-7 Droid Saga Legends figure as evidenced by the updated 2007 date stamp. This figure is in turn a slight retool and repaint of 1999's POTF2 [FF/TKC] Death Star Droid figure.
Articulation Count: 6 points (6 areas of articulation)
Articulation Details: swivel head (1), swivel left shoulder (1), swivel right shoulder (1), swivel waist (1), swivel left hip (1), swivel right hip (1)
Accessory Count: None
Accessory Details: None
Date Stamp: 2007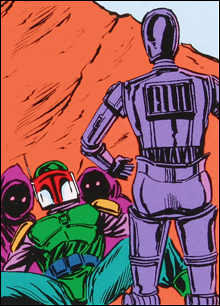 30 (77-07) Comic Packs (Internet Exclusive)
30 (77-07) Comic Packs Wave 1
30 (77-07) Comic Packs Wave 2
30 (77-07) Comic Packs Wave 3
30 (77-07) Comic Packs Wave 4
30 (77-07) Comic Packs Wave 5
30 (77-07) Comic Packs (Walmart Exclusives Wave 1)
30 (77-07) Comic Packs (Walmart Exclusives Wave 2)