Name: Shaak Ti
Collection: The Clone Wars [Shadow Of The Dark Side]
Number: CW31
Source: The Clone Wars (Season 3 Episode 1: Clone Cadets)
Availability: November 2010
License: Hasbro
Jedi Master Shaak Ti trains clone troopers on Kamino. The Jedi General observes the squads during training exercises, assessing their individual skills and ability to work as a team. With her colorfully patterned lekku, she is a striking figure who moves with agility and precision when demonstratng battle techniques.
2010 has been a banner year for Shaak Ti. She got some big love in the Legacy Collection as basic figure Shaak Ti (BD61) in the last Expanded Universe wave of the line (In fact, she was the last figure of the entire line.) And then Hasbro decided to make her a candidate in the Legacy Collection's 2010 Edition of the Geonosis Arena Showdown sets as Shaak Ti/Geonosian Warrior (4 of 6) and the bonus to this set was that she came with enhanced articulation and a more accurate paint job. And lastly Hasbro entered her into The Clone Wars line with mostly satisfying results. For a character that made a big stinkand saw a ton of action in Tartakovsky's Clone Wars (and in fact led us right up to the opening crawl of Star Wars Episode III: Revenge Of The Sith), it's amazing how much popularity she has garnered for having all of her scenes from Episode III deleted. But we're thankful that her character has remained so popular just the same because she truly is a remarkable Jedi Master. Hasbro (and Filoni for that matter) have kept Shaak Ti somewhat faithful to her live action appearances and have designed a spectacular animated version of her as she appeared in The Clone Wars. She varies most in the animated series with different eyes. Lucas gave her black eyes (including the whites) and Filoni gave her blue human-looking eyes. We are impressed to say the least even though she has one glaring error with the action figure's paint job.
Never have we seen a more brilliant use of soft-goods on an action figure in Hasbro's very fruitful and long history. The soft-goods skirt is intricately cut from a very soft linen-like material and has the most beautiful drape you will ever see on an action figure. It is so impressive that we bet you'll be unable to stop checking it out for yourself. It has the most perfect aged look to it and has been dyed in a very pale orange color. She also comes with a dark brown outer robe that is standard to what has been released before, but it has been cut with a new fit that hugs her body closely creating a stunning silhouette. This allows her to look more natural and not have that "bulkiness" that plagues so many other Jedi in the toy line. The skirt is helped to lay flat by a heavy and long cod piece colored in a mauve-orange-pink blend that falls right to the middle of her boots. She also comes with matching tabards that fall halfway down the length of her cod piece. Shaak Ti has more pieces than the average action figure for sure (especially in The Clone Wars line). She has femininely sculpted arms and hands and her right hand in particular is posed in some Force-wielding mannerism. (We love it!)
So Shaak Ti fails in one tiny area. "How" you ask? She has eyebrows unfortunately. While Filoni and company didn't make Shaak Ti's facial features exactly faithful to her realistic appearance, they still did a really great job on making her look like "Shaak Ti." But Hasbro decided to not only give her pupils (and as we have mentioned her eyes are all black in the films) but also gave her expressive eyebrows. Thankfully, they don't cause too much damage in the figure's aesthetics, but it just isn't accurate to her The Clone Wars appearance. Still, Hasbro designed a beautiful portrait for Shaak Ti. This Togruta has ornate horns and they have been painted flawlessly in the alternating navy blue and white zebra-like pattern that is so distinct. Her portrait has been finished off with very fine gold jewelry details found at the base of her horns and forehead. While simply painted, the light makes them glow. Would we love to see a The Clone Wars version of Shaak Ti without eyebrows? Yes, we would absolutely. But there is no reason why you can't thoroughly enjoy this version of her. Hasbro has once again upped their game in this line and it's just simply amazing how the equality of The Clone Wars line has increased. Shaak Ti is a prime example of this.
Collector Notes
Shaak Ti
Status: Shaak Ti is an all-new figure.
Articulation Count: 18 points (12 areas of articulation)
Articulation Details: ball socket head (1), ball-jointed left shoulder (2), ball-jointed right shoulder (2), ball-jointed left elbow (2), ball-jointed right elbow (2), swivel left wrist (1), swivel right wrist (1), swivel waist (1), swivel left hip (1), swivel right hip (1), ball-jointed left knee (2), ball-jointed right knee (2)
Accessory Count: 3
Accessory Details: lightsaber, scarf, soft-goods Jedi robe
Date Stamp: 2010
Assortment Number: 21465/94736
UPC: 65356952541
Retail: $7.99 USD
Market Value: Click here to check the latest prices based on

listings.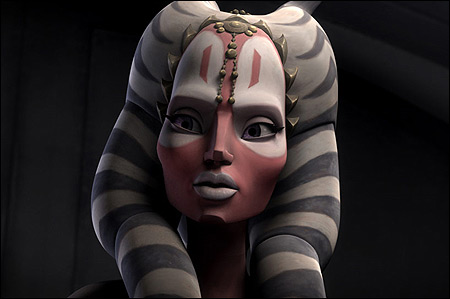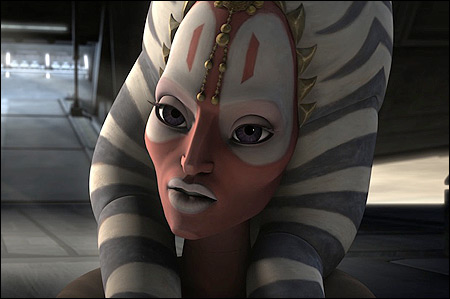 The Clone Wars [Shadow Of The Dark Side] Wave 4 (Wave 17)