Name: Rodian Jedi/Battle Droid
Collection: Legacy Collection
Number: 2 of 6
Source: Expanded Universe (Jedi Council: Acts of War)/Attack Of The Clones
Availability: October 2010
License: Hasbro
The Jedi Knights rush to Geonosis to rescue Obi-Wan, Anakin and Padmé from execution. The Jedi brandish their lightsabers against the Geonosian warriors and the massive army of battle droids, super battle droids and droidekas. All hope seems lost that any Jedi will survive this battle, then Yoda arrives with an army of clone troopers. Although many Jedi are lost that day, others survive this climactic battle that ushers in the Clone Wars.
Hasbro makes it hurt so good for collectors sometimes. The Geonosis Arena Showdown TARGET exclusives are really helping to create a new appreciation for all things "Attack Of The Clones," the Star Wars film that tends to get the worst rap of all the prequels. But Jedi are extremely popular amongst Star Wars collectors and dare we say it, these sets are so much more impressive than the popular Order 66 sets that were released during the 30 (77-07) line (as far as TARGET exclusives are concerned). The sets are fairly priced while providing opportunities to get a plethora of new Jedi, quick additions to our droid armies and some cool updates to the most popular Separatist villains the Star Wars line has ever seen. But what happens when Hasbro goes off the beaten path to introduce (for the first time….again) a Jedi Knight that didn't appear in Attack Of The Clones thus making the one Geonosis Arena Showdown sets that isn't based from Episode II? Well, if you ask us, it makes for a really awesome collection. The Rodian Jedi (yes - that is how he is named) did not appear in Attack Of The Clones (at least not from any stills we are privy to) and Hasbro decided to include him in the 2010 Edition of the Geonosis Arena Showdown. And frankly, he has quickly become one of our favorite figures from this second wave.
You probably think that this is just Greedo's head on a Jedi body, but you would be wrong. And as a second guess you might think that Hasbro dusted off the Rodian Jedi head from the 2003 Clone Wars Deluxe line, but you would be even more wrong. Hasbro has given this spectacular figure an all-new head sculpt and it's a head sculpt that we wish they would have used on other obscure Rodian characters, like Pax Bonkik for example. Greedo's head is very distinct and very few other Rodians look exactly like him. In other words, it's easy to pick Greedo out from a lineup. This new Rodian Jedi is super-articulated. And his body also utilizes the Luke Skywalker (New Jedi Order) figure from the TAC The Jedi Legacy Evolutions set like other Jedi from this series have as well. Between the phenomenal paint job, expertly sculpted Rodian hands and a great new head sculpt, the Rodian Jedi will likely be the standout figure in this collection for you as well. The figure offers so much and we encourage you to take it what it is giving you. The Rodian Jedi has made a few appearances in the Expanded Universe, but our best guess is that this particular Jedi can be sourced to Jedi Council: Acts Of War. But he also looks a lot like the figure that was included in the Deluxe Jedi Knight Army set in 2003's Clone Wars line. (By the way, we would really love to get that blue Twi'lek Jedi Knight in the same set now in super-articulated status, Hasbro!)
As a bonus, Hasbro throws in another generic "red" Battle Droid. The good news is that Hasbro has corrected the eyes (or we should actually say given the figure eyes). They are much smaller and properly placed on the figure (than what we have seen on the "Shadow Of The Dark Side" Saga Legends Battle Droid 2-Pack, although those figures have been corrected too now). The Battle Droid is another fantastic figure as well. Many collectors have complained about its rubbery legs, but the figure can do so much and it is done so good, we'll make an exception that its body is a little too rubbery in nature. Despite its softness, the Battle Droid can be posed in an array of configurations, up to and including collapsing down exactly the same way we saw these droids do this in The Phantom Menace. The two figures interact well together and even though it may not be 100% accurate to include them with the other 10 figures, there is no denying that they look awesome as part of the set. The Rodian Jedi/Battle Droid Geonosis Arena Showdown set comes highly recommended by us and we hope that Hasbro uses this Rodian head sculpt again soon. They did a really great job on it and more importantly, it looks so very different from Greedo. It will be interesting if this series has more life in it. We still think there are quite a few Jedi that need to get updated and this is the place to do it for sure!
Collector Notes
Rodian Jedi/Battle Droid (2 of 6)
Assortment Number: 97647/97645
UPC: 653569499510
Retail: $12.99 USD
Market Value: Click here to check the latest prices based on

listings.
Rodian Jedi
Status: Rodian Jedi is a kit-bashed figure that utilizes the body of the Luke Skywalker (New Jedi Order) figure from 2008's TAC The Jedi Legacy Evolutions set with an all-new head sculpt and new hands. The figure has also been repainted.
Articulation Count: 22 points (14 areas of articulation)
Articulation Details: ball-socket head (1), ball-jointed left shoulder (2), ball-jointed right shoulder (2), ball-jointed left elbow (2), ball-jointed right elbow (2), swivel left wrist (1), swivel right wrist (1), swivel waist (1), swivel left hip (1), swivel right hip (1), ball-jointed left knee (2), ball-jointed right knee (2), ball-jointed left ankle (2), ball-jointed right ankle (2)
Accessory Count: 1
Accessory Details: lightsaber
Date Stamp: 2008
Battle Droid
Status: Battle Droid is a repaint of the figure from 2009's Joclad Danva/Battle Droid Geonosis Arena Showdown (4 of 6) set. This time Hasbro added photoreceptors to the paint operations scheme. This figure should have came with a removable backpack instead of an antenna.
Articulation Count: 12 points (12 areas of articulation)
Articulation Details: ball-socket head (1), sliding neck post (1), ball-socket left shoulder (1), ball-socket right shoulder (1), hinge-jointed left elbow (1), hinge-jointed right elbow (1), ball-socket left hip (1), ball-socket right hip (1), hinge-jointed left knee (1), hinge-jointed right knee (1), hinge-jointed left ankle (1), hinge-jointed right ankle (1)
Accessory Count: 2
Accessory Details: droid blaster, removable antenna
Date Stamp: 2008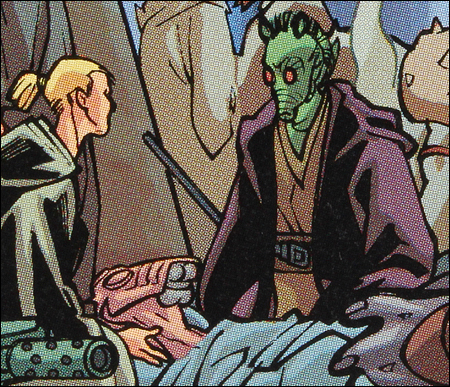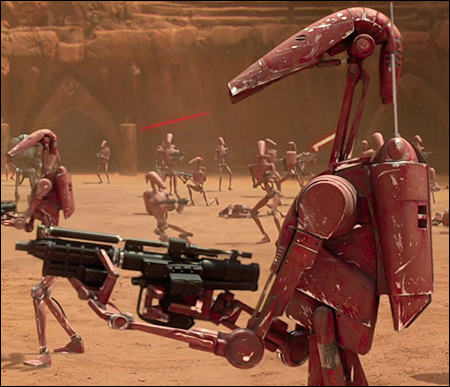 Legacy Collection Geonosis Arena Showdown (2010 Edition)
Legacy Collection Geonosis Arena Showdown