Name: Magistrate Greef Karga
Collection: The Black Series [Phase IV]
Number: TM24
Scale: 6"
Source: The Mandalorian
Availability: January 2023
License: Hasbro
Once an expeditor for the Bounty Hunters Guild, Greef Karga ran the trade on Nevarro. Now Magistrate of Nevarro, Greef is cleaning up that rough-and-tumble world.
Like all of the other Hasbro Star Wars lines thus far. The Black Series 6-inch line uses existing tooling whenever possible, much to the chagrin of the collecting community. But when enough forethought, excellent design, and good planning are part of the equation, the final results of the tweaked previously existing parts often work well. The case and point here is the Magistrate Greef Karga action figure. Hasbro took about 50% of the 2020 TBS [P4] Greef Karga (TM06) figure, specifically the arms, legs, and cod section, and then added a new head sculpt and torso to create Magistrate Greef Karga, a costume-changed version of the character from The Mandalorian. The figure looks excellent and is realistic to actor Carl Weathers. Although the two different outfits on this character aren't altogether different, the new and overlayed costume parts do wonders to give each distinction and character. The robe portion accessory is easily removable, and underneath, you'll find how similar the figure is to the first release. Magistrate Greef Karga has a functioning holster and a new skirt section that goes over the cod section of the figure, and they designed the weapon to fit nicely and be functional in the action figure's right hand. The articulation system is well-designed, and the figure achieves multiple poses easily and earnestly. You won't fight with this figure too much because it has an excellent center of gravity and is weighty and dense. The new head sculpt is faithful to the first action figure release, although this time sports a different expression and facial hair. But side by side, they kept the other proportions and features accurate to the actor. We don't believe that Magistrate Greef Karga is an exciting action figure. Still, it is indeed a beautiful one, and fans of The Mandalorian will likely want this version of the character in their collections.
Collector Notes
Magistrate Greef Karga
Status: Magistrate Greef Karga is a retool of 2020's TBS [P4] Greef Karga (TM06) figure. This time the figure comes with an all-new portrait and torso. The arms, legs, and cod section are all reused. The figure has also been completely repainted.
Articulation Count: 28 points (17 areas of articulation)
Articulation Details: ball-socket head (1), reverse ball-socket neck (1), ball-jointed left shoulder (2), ball-jointed right shoulder (2), ball-jointed left elbow (2), ball-jointed right elbow (2), ball-jointed left wrist (2), ball-jointed right wrist (2), ball-jointed torso (2), ball-socket left hip (1), ball-socket right hip (1), swivel left thigh (1), swivel right thigh (1), ball-jointed left knee (2), ball-jointed right knee (2), ball-jointed/"rocker" left ankle (2), ball-jointed/"rocker" right ankle (2)
Accessory Count: 2
Accessory Details: removable robe shell, blaster pistol
Date Stamp: N/A
Assortment Number: F5523/E8908
UPC: 5010994110543
Retail: $24.99 USD
Market Value: Click here to check the latest prices based on

listings.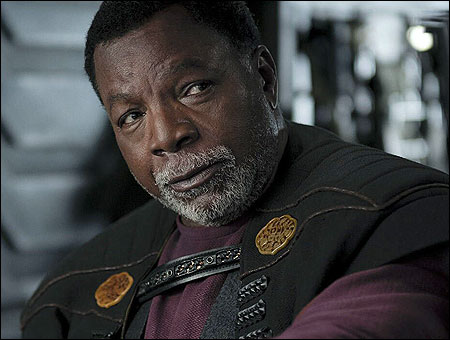 The Black Series [Phase IV] Wave 9