Name: Wicket
Collection: The Black Series [Return Of The Jedi 40]
Number: N/A
Scale: 6"
Source: Return Of The Jedi
Availability: February 2023
License: Hasbro
Well. The all-new Wicket figure for The Black Series 6-inch line has about the same plusses as it does minuses. It's not a terrible figure by any means, but Hasbro took shortcuts with the figure's deco, resulting in, in our opinion, an unfinished action figure. Hasbro worked in respectable articulation for a character with such short stature. But if you have any of the past Ewoks in the lineup thus far, you should know what you're getting here. The sculpting is better than average here, but the ghastly white face meant to replicate the on-screen character's fur doesn't translate as well as we'd hope. From a distance, the figure looks nice, especially while wearing its cowl. But when you remove the cowl, you'll see what we mean when we say the deco doesn't have a great interpretation. Hasbro also included a decent number of accessories with Wicket. In addition to the standard removable cowl and spear, we also get a bow, arrow, club, and torch. Hasbro needed to make up for the plastic saved on the character and apply it to its accessories. We don't think Wicket is terrible, but we don't believe you'll be cheering for its final delivery. Maybe you will. The packaging is, of course, the icing on the cake here. Hasbro appears to have done their best recreating the card art of 40 years ago, but we don't understand why they can't better center the character in the limited space to the adjacent right where they place the figure. We've noticed this trend with all vintage Kenner-inspired packaging lately. It seems the art department isn't paying close enough attention to this critical and crucial detail. Perhaps the weak selection of products made to support the 40th Anniversary of Return Of The Jedi is hurting our full appreciation of this figure. We're not sure. But again, we'd like to remind you that Wicket isn't a bad or disappointing action figure. It could use some tweaking, but it also feels like a fair addition to the 6-inch action figure line.
Collector Notes
Wicket
Status: Wicket is an all-new figure.
Articulation Count: 22 points (13 areas of articulation)
Articulation Details: ball-socket head (1), reverse ball-socket neck (1), ball-jointed left shoulder (2), ball-jointed right shoulder (2), ball-jointed left elbow (2), ball-jointed right elbow (2), ball-jointed left wrist (2), ball-jointed right wrist (2), ball-jointed torso (2), ball-socket left hip (1), ball-socket right hip (1), ball-jointed/"rocker" left ankle (2), ball-jointed/"rocker" right ankle (2)
Accessory Count: 6
Accessory Details: removable cowl, spear, bow, arrow, club, torch
Date Stamp: N/A
Assortment Number: F7050/F6853
UPC: 5010996133151
Retail: $24.99 USD
Market Value: Click here to check the latest prices based on

listings.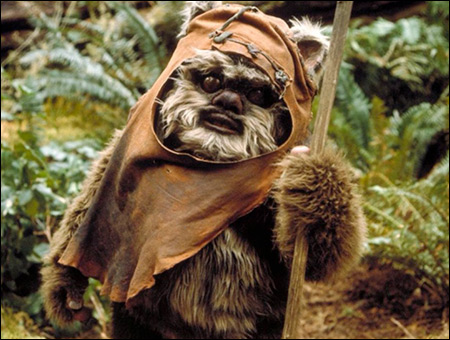 The Black Series [Return Of The Jedi 40] Wave 1