Name: Battle Droid 2-Pack
Collection: Star Wars [Shadow Of The Dark Side]
Number: SL20
Source: Attack Of The Clones
Availability: August 2010
License: Hasbro
Battle Droids are the perfect soldiers in battle – efficient, loyal and fearless. Their limited cognitive abilities make them easy to control and willing to follow any order they are given. They fight without hesitation and are deployed in vast numbers that overwhelm opponents.
During the Saga Legends event of 2007 (and quite an event it was) collectors were treated to a plethora of Star Wars action figures that either didn't see heavy enough release during their original tenure in the line and a ton of army-building favorites as well. The Battle Droids from both Episode I and Episode II saw heavy release as Hasbro released multiple running changes of them to help give collectors some diversity in their collections. Those Battle Droids were aesthetically pleasing to look at, but they severely lacked in articulation. Hasbro has wanted for a while to start a new Battle Droid body from the ground up and all of that came to pass with the release of the TARGET exclusive Geonosis Arena Showdown two-packs. Specifically, fans were treated to all all-new Battle Droid Commander in the Mace Windu/Battle Droid Commander (3 of 6) set and a regular Battle Droid in the Joclad Danva/Battle Droid (4 of 6) set. These droids were awesomely executed, but they weren't problem free. The plastic from which they were molded was too rubbery and they were quite stubborn when trying to pose them. The Battle Droid Commander has much too big photoreceptors for its head and the regular Battle Droid came without photoreceptors altogether. But the droids were a marked improvement from all other previous releases. Perhaps the most exciting thing about them was that they could be folded down just like we saw in Episode I. This is quite an amazing level of engineering in such a small action figure. (But fans really wanted the tan/beige droids to to utilize this feature more accurately.
To our surprise, Hasbro decided to release these droids in the 2010 Saga Legends line. What's more, Hasbro has included both the Battle Droid Commander and Battle Droid and included them in a two-pack just like they have done since 2006. This is quite a nice gesture. These are new sculpts that Hasbro probably needs more time to amortize costs on and they are super-articulated which always tend to be the more expensive figures. And we got two of them in one pack. You should be able to see that this is essentially a gift. Even with the Geonosis Arena Showdown sets you would have to spend over $26.00 to get both of them and now you only need to buy one basic figure for $6.99 to get both of them now. Both droids are slightly repainted from their original appearance in the TARGET exclusive sets. Hasbro was also kind by providing two bio/stats cards (one for each droid) in addition to two action figure stands. And since Hasbro hasn't changed the quality of plastic to make them, you will indeed need these action figure stands to get them to stand upright. But as Hasbro has stated before, the double pronged stands do wonders for these action figures. Once you place each foot on the respective foot peg, that Battle Droid isn't going anywhere. In fact, it is only when you place the Battle Droids on this stand that you can start appreciating its level of articulation. Once you get the legs to hold still, you are able to realize the mobility of this figure on a whole new level. The figure is quite an amazing accomplishment. These Battle Droids truly show Hasbro at their finest. Not going the cheap way, it's evident they take pride in the way they approach action figures for collectors.
Each Battle Droid has its unique backpack and both have their signature droid blasters. The guns fit well in their hands and you can pose the droids with their weaponry in hand to look like they jumped right out of the screen and into your collection. Overall, we are thoroughly impressed with the final product. We stated that they aren't perfect and it's unfortunately true. Hasbro absolutely must fix the size of their photoreceptors. Looking like they have been dilated by the local Geonosian opthamologist, Hasbro needs to do anything they can to nip this in the bud so we don't get these exaggerated "eyes" for the next 5 years. (Because you know that these will be in the Saga Legends line for a very long time.) And we really hope Hasbro can bite the bullet and cast these beautiful figures in a stiffer plastic. It is truly a shame that these near-perfect action figures are limited by the material from which they were cast. We have heard Hasbro's explanation many times on why softer plastics must be used, but the Battle Droids are a perfect reason that there should be an exception to the rule made. In conclusion, we absolutely love the Battle Droid 2-Pack in the Saga Legends line. We hope that Hasbro repaints them in tan for Episode I fans. But the current issue should make fans of Episode II very happy. We have some really great and well-made action figures from Episode II now and it is incredibly cool that we have near-definitive versions of the main adversaries from the film in our collections now. Tweaks will likely be made to improve them somewhere down the road we bet. Let's just be patient and see what Hasbro can do for us. (Editor's Note: Hasbro updated the photoreceptors on both the Battle Droid and Battle Droid Commander to make them screen accurate. See the comparison photos in gallery above!)
Collector Notes
Battle Droid 2-Pack
Assortment Number: 24951/21115
UPC: 653569528340
Retail: $7.99 USD
Market Value: Click here to check the latest prices based on

listings.
Battle Droid
Status: Battle Droid is a repaint of the Battle Droid figure from 2009's LC Joclad Danva/Battle Droid (4 of 6) Geonosis Arena Showdown set.
Articulation Count: 12 points (12 areas of articulation)
Articulation Details: ball-socket head (1), sliding neck post (1), ball-socket left shoulder (1), ball-socket right shoulder (1), hinge-jointed left elbow (1), hinge-jointed right elbow (1), ball-socket left hip (1), ball-socket right hip (1), hinge-jointed left knee (1), hinge-jointed right knee (1), hinge-jointed left ankle (1), hinge-jointed right ankle (1)
Accessory Count: 2
Accessory Details: droid blaster, removable backpack
Date Stamp: 2008
Battle Droid Commander
Status: Battle Droid Commander is a repaint of the Battle Droid Commander figure from 2009's LC Mace Windu/Battle Droid Commander (3 of 6) Geonosis Arena Showdown set.
Articulation Count: 12 points (12 areas of articulation)
Articulation Details: ball-socket head (1), sliding neck post (1), ball-socket left shoulder (1), ball-socket right shoulder (1), hinge-jointed left elbow (1), hinge-jointed right elbow (1), ball-socket left hip (1), ball-socket right hip (1), hinge-jointed left knee (1), hinge-jointed right knee (1), hinge-jointed left ankle (1), hinge-jointed right ankle (1)
Accessory Count: 2
Accessory Details: droid blaster, communications antennae
Date Stamp: 2008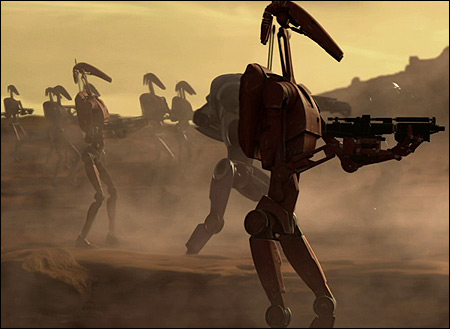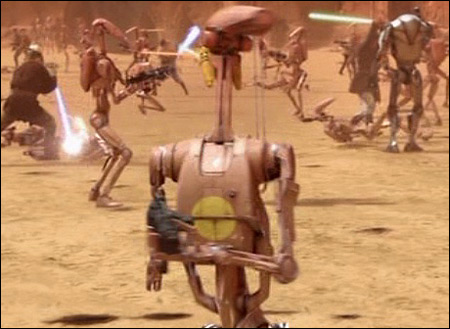 Star Wars [Shadow Of The Dark Side] Saga Legends Wave 2
Star Wars [Shadow Of The Dark Side] Saga Legends Wave 2.5