Name: Fennec Shand
Collection: The Vintage Collection
Number: VC221
Source: The Book Of Boba Fett
Availability: May 2022
License: Hasbro
Whether you find all of the repulsive content under Disney Star Wars good or not, you should be able to separate criticisms between love or loathing of Disney Star Wars and the excellent action figures Star Wars makes to support the entertainment. Fennec Shand is a perfect example of this. The Book Of Boba Fett was universally mocked and panned, and very few fans of the classic Boba Fett character appreciated its content. Regardless, the series introduced new or new live-action versions of previously seen characters in other Star Wars sources. The bounty hunter and assassin made her first appearance in The Mandalorian but has a more prominent role in The Book Of Boba Fett. Hasbro placed the action figure on a card sporting The Book Of Boba Fett entertainment logo. The action figure is a triumph and pushes boundaries not often seen in The Vintage Collection line. The closest we've come to what Hasbro did for Fennec Shand, they attempted with 2011's TVC Zam Wesell (VC30) figure, but different. We'll get to all of that in a few moments. But before we begin, let us start by confirming that this figure is not one to pass over as it will be a tragic oversight on your part.
Hasbro designed Fennec Shand similarly to the most recent action figures released in The Vintage Collection lineup. We mean that the figure has ball-socket hips that function much better than the awful ball-jointed hips that made posing nearly impossible. So, Hasbro created Fennec Shand under that fresh slate approach. The likeness is stunning, and the Photo Real technology brings out that brilliantly. There are complex paint operations just in the head sculpt. You'll see how much effort they expended in coloring the portrait, from the braiding to the hairstyle. But Hasbro tried something new here. The character has a long braid, and it's visible whether wearing the helmet or not. And because Hasbro graciously included two portraits with this figure (helmeted and un-helmeted), they worked in a removable braid "accessory" to use with either head attachment, not unlike the "handkerchief hanging down" and "handkerchief worn up" accessories with Zam Wesell. And not unlike Zam Wesell either, we're astounded that Hasbro included two head sculpts with Fennec Shand. We don't take this "gift" for granted. They might have sculpted a removable helmet, which would have been too big and aesthetically displeasing.
Hasbro gave Fennec Shand three other accessories as an alternate head sculpt wasn't enough. They included a larger strapped blaster rifle, a smaller blaster, and a bottle of spotchka. The crystal bottle of spotchka is a wise inclusion here because following the rescue of Grogu from Gideon's Imperial remnant, and Fennec Shand drank from a bottle of spotchka after Shand and Boba Fett seized control of Jabba's Palace from Bib Fortuna. So, you can have your action figure celebrate with Boba Fett as two bounty hunters who took over the infamous palace on Tatooine. All of the accessories interact wonderfully with Fennec Shand, and it shows that Hasbro can make collectors happy when they create with a generous spirit. They need to expand larger action figure budgets on more figures, especially characters from the Original Trilogy. It's a powerful way to keep collectors engaged in The Vintage Collection, especially when prices increase to unaffordable numbers. Fennec Shand is the first The Vintage Collection figure on The Book Of Boba Fett entertainment logo. Honestly, the card art doesn't look attractive, but maybe collectors need more time to get used to the new logo. But it seems like it hogs the limelight of the character photo.
Collector Notes
Fennec Shand
Status: Fennec Shand is an all-new figure.
Articulation Count: 28 points (17 areas of articulation)
Articulation Details: ball-socket head (1), reverse ball-socket neck (1), ball-jointed left shoulder (2), ball-jointed right shoulder (2), ball-jointed left elbow (2), ball-jointed right elbow (2), ball-jointed left wrist (2), ball-jointed right wrist (2), ball-jointed torso (2), ball-socket left hip (1), ball-socket right hip (1), swivel left thigh (1), swivel right thigh (1), ball-jointed left knee (2), ball-jointed right knee (2), ball-jointed/"rocker" left ankle (2), ball-jointed/"rocker" right ankle (2)
Accessory Count: 5
Accessory Details: interchangeable helmeted portrait, removable braid, strapped blaster rifle, blaster rifle, crystal bottle
Date Stamp: N/A
Assortment Number: F4471/E7763
UPC: 5010993981823
Retail: $13.99 USD
Market Value: Click here to check the latest prices based on

listings.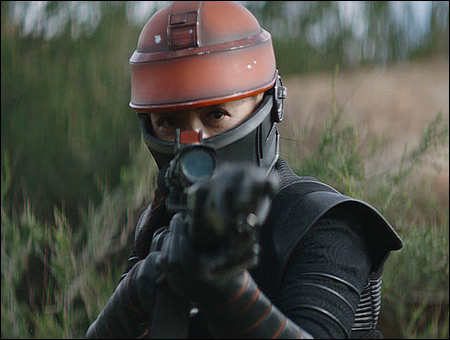 The Vintage Collection Wave 33