Visual Analysis!
Detailed Visual Analysis!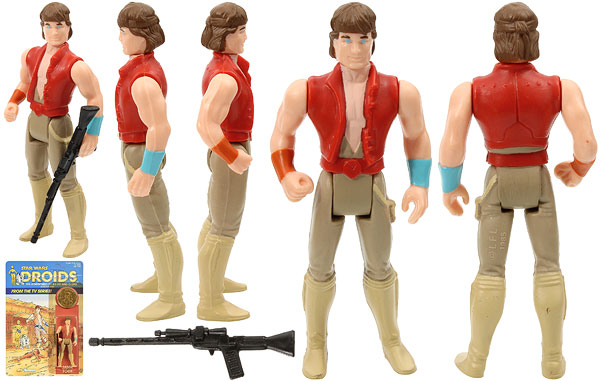 General analysis!
A teenage orphan who purchases R2-D2, C-3P0 and KEZ IBAN at an auction in TYNE's HORKY. Later he helps KEZ IBAN regain his kingdom as MON JULPA, the lost prince.
Let's get physical, physical! Many of the DROIDS characters' action figure designs have evident and strong inspiration from the decade of excess; the 80s. Jann Tosh looks like he just left aerobics class at the local gym. But the orphaned hero eventually becomes a main character in the DROIDS television show. Like so many other characters in the story's timeline, Jan Tosh also encounters See-Threepio (C-3PO) and Artoo-Detoo (R2-D2). They carry on through many adventures in the short-lived TV series. Jann Tosh plays a principal role in DROIDS, and you'll find that the character's background has some interesting connections to the Prequel Trilogy. There are quite a few ties between the DROIDS television series and STAR WARS EPISODE I: THE PHANTOM MENACE. We learn that Thall Joben and Jord Dusat are speeder racers, the predecessor to the pod racer. And then we know that Jann Tosh was born on Naboo. His family comprises four other members, and sadly all die in a speeder crash about two decades before the Battle of Yavin. He then came under the care of Putch Gundarian but asked Jann to call him Uncle Gundy for short, although they shared no blood relation. Throughout his many adventures, Jann Tosh comes in contact with Kez-Iban, and the rest is history. As an action figure, Jann Tosh looks good, but Kenner should have given the character a little more deco, like a red headband, for example. If Kenner could give each arm on the figure a uniquely-colored armband, they could expend the extra money to paint the headband the correct color too. It's brown, the color of the figure's hair, and it looks odd not to be a different color. Jann Tosh comes with the long blaster rifle that initially came with the 1980's ESB IG-88 (Bounty Hunter), but this time cast in black plastic.
Collector Notes!
Name: Jann Tosh
Collection: Droids
Source: Droids
Release: 1985
Status: Jann Tosh is an all-new figure.
Articulation Count: 5 points (5 areas of articulation)
Articulation Details: swivel head (1), swivel left shoulder (1), swivel right shoulder (1), swivel left hip (1), swivel right hip (1)
Accessory Count: 1
Accessory Details: black IG-88 (Bounty Hunter) blaster rifle
Date Stamp: 1985
Assortment: No. 71840
UPC: N/A
Retail: $2.99 USD
Market Value: Click here to check the latest prices based on

listings.
Research Droids Data Analysis!
Related Data Files!