Visual Analysis!
Detailed Visual Analysis!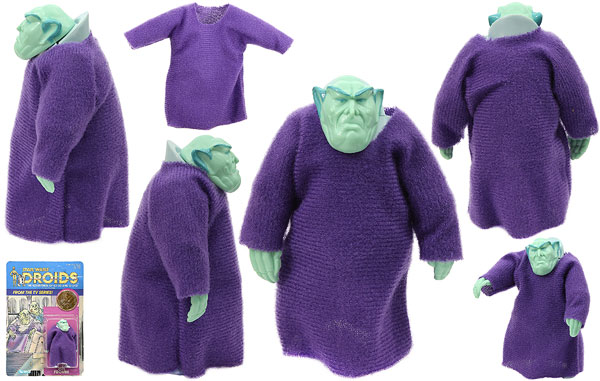 General analysis!
A 900-year-old convict who is the notorious leader of an underworld gang of thugs and cutthroats.
It seems that Sise Fromm doesn't develop too many meaningful relationships. Whether an arch-enemy of a protagonist in DROIDS or working side-by-side with a bounty hunter like Boba Fett, Sise Fromm ends up becoming enemies with all that encounter the portly character. The basis of the character feels rooted in a hybrid of both Yoda and Jabba The Hutt with lots of mob influence. That's an interesting mix of good and ugly, but if you read more about the character through various sources, you'll find that Sise Fromm captures these characters' traits and characteristics in one way or the other. There are many visual incarnations of Sise Fromm through the creation of DROIDS. Ultimately, Kenner went with the "roundest" version of the character and the most straightforward color scheme of all the action figures in the DROIDS line. The figure is the first to come with a purple muumuu. We hope that we never see such a hideous garment on another action figure ever again in the 3.75" STAR WARS action figure line. But all kidding aside, Sise Fromm appears foreboding and evil as the on-screen character does in DROIDS. Sise Fromm doesn't come with any weapons, but that's because the character delegates most of his evilness for others to enact or implement. Sise Fromm is a fun addition to the DROIDS line. But it feels like the series needs a true villain to make the story arc a little more interesting.
Collector Notes!
Name: Sise Fromm
Collection: Droids
Source: Droids
Release: 1985
Status: Sise Fromm is an all-new figure.
Articulation Count: 5 points (5 areas of articulation)
Articulation Details: swivel head (1), swivel left shoulder (1), swivel right shoulder (1), swivel left hip (1), swivel right hip (1)
Accessory Count: 1
Accessory Details: soft-goods purple muumuu
Date Stamp: 1985
Assortment: No. 71820
UPC: N/A
Retail: $2.99 USD
Market Value: Click here to check the latest prices based on

listings.
Research Droids Data Analysis!
Related Data Files!