Visual Analysis!
Detailed Visual Analysis!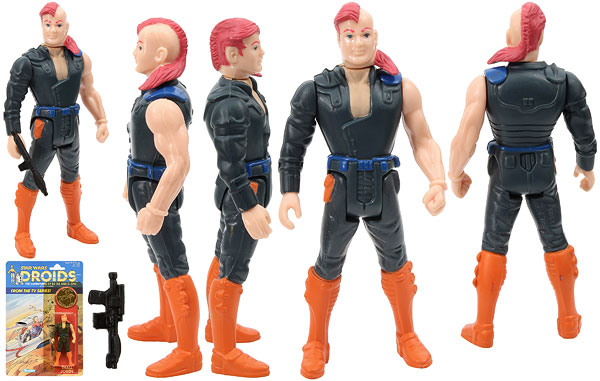 General analysis!
From the planet INGO, THALL is the one-time master of C-3P0 and R2-D2. He defeats TIG and SISE FROMM and the TRIGON ONE.
When you hear Star Wars fans claim that George Lucas ignored the Expanded Universe, you needn't look further than Star Wars Droids. Nearly a decade and a half before Star Wars Episode I: The Phantom Menace hit theaters, Lucasfilm created a character named Thall Joben, a character passionate about speeder racing. He is also from the planet Ingo. And we know from the new DROIDS cartoon series that he is a one-time master of C-3P0 and R2-D2. As the main protagonist in DROIDS, Thall Joben defeats Tig Fromm and Sise Fromm and the Trigon One." We also see Thall Joben wield a lightsaber, which explains why Kenner based Artoo-Detoo (R2-D2) on 1985's POTF Artoo-Detoo (R2-D2) with pop-up Lightsaber figure. It all makes sense. From a design perspective, Thall Joben has an 80s punk vibe. The neon red hair is shaved on one side, a typical hairstyle among those in the 80s punk movement. Unfortunately, it dates this figure and the series. The figure is muscular and is wearing a predominantly navy blue outfit with short sleeves and long pants, with bright orange boots. The character's appearance is striking, and Thall Joben stands out amongst many of the figures in the line. Kenner designed Thall Joben with a bizarre posture. The figure's legs bend backward to get the figure in an upright position. Aside from this oddity, the figure looks excellent. Interestingly, Thall Joben comes with a solid black Stormtrooperblaster; the same is true with Boba Fett and Kez-Iban.
Collector Notes!
Name: Thall Joben
Collection: Droids
Source: Droids
Release: 1985
Status: Thall Joben is an all-new figure.
Articulation Count: 5 points (5 areas of articulation)
Articulation Details: swivel head (1), swivel left shoulder (1), swivel right shoulder (1), swivel left hip (1), swivel right hip (1)
Accessory Count: 1
Accessory Details: black Imperial Stormtrooper blaster
Date Stamp: 1985
Assortment: No. 71790
UPC: N/A
Retail: $2.99 USD
Market Value: Click here to check the latest prices based on

listings.
Research Droids Data Analysis!
Related Data Files!