Name: Sith Trooper
Collection: The Black Series [Phase III]
Number: 92
Scale: 6"
Source: The Rise Of Skywalker
Availability: October 2019
License: Hasbro
In its ultimate push towards galactic conquest, the First Order readies an army of elite soldiers that draw inspiration and power from a dark and ancient legacy.
It's a sea of red. And that's because The Black Series [Phase III] 6" Sith Trooper figure has been released three different ways so far. But will there be more? Part of the Triple Force Friday marketing scheme, the Sith Trooper is available in both a standard The Black Series [Phase III] box (with number 92), and a "Carbonized" version which features exquisite shiny deco that has metallic properties. But the standard release (without the fancy deco) also has a variation. You can find it in both the standard "red and black" box and well as a limited released "First Edition" white box. The packaging artwork notably "pops" and looks nicer on the white box. There is clarity on that version that's not visible in the style we've seen the figure packaged in since 2015. First released as a 2019 San Diego Comic-Con exclusive, the Sith Trooper now only comes with two accessories. Other than the fewer accessories, this version of the Sith Trooper is identical to the SDCC exclusive release. Let's take a closer look at this interesting red variation of the "all-white" First Order Stormtrooper because we know it's a 6" figure you're going to enjoy in your collection.
We still don't know much about the Sith Trooper or its role in The Rise Of Skywalker. Disney has maintained a significant level of secrecy once again for most of the characters in the final installment of the Skywalker saga. It feels like Episode VII and Episode VIII all over again. So until the film is released, this is what we can expect. The Black Series [Phase III] Sith Trooper is an excellent interpretation of the character, and the design of it should make collectors quite happy. Although the figure is a straight repack of the San Diego Comic-Con exclusive Sith Trooper (Save for the accessories), the character isn't too different than a newly colored First Order Stormtrooper with different gear. Hasbro tooled an all-new figure because they wear revised armor (from helmet to boot). And you'll find parallel scoring lines sectionally throughout the armor. You'll also find different features that make it different from a basic First Order Stormtrooper. Bright, eye-catching, and extremely red, the Sith Trooper is becoming increasingly popular for collectors eagerly anticipating the release of Episode IX in theaters.
For less money, you get the same figure with fewer accessories. And that's about it. You will have to weigh if this is worth purchasing the figure again or not. We think it is. You'll likely want to "army build" this figure as more than one is required to populate your collection. Plus, it's a unique character for the Star Wars line. It has a strong collectible vibe to it. There are some highlights of the Sith Trooper. The figure has excellent and fluid movement. It's an all-new sculpt, and the figure utilizes the new "butterfly" shoulder joint. This allows you to push the shoulders behind the character a bit more than the standard figures allow thanks to the flexibility of these premium joints. All of the figure's joints move very easily, and you can achieve a wealth of positions simple and without struggle, thanks to its excellent articulation system. It will be interesting to see if the packaging variation gimmick will go over well with the collecting community and if Hasbro will continue it in the future. Regardless of how the figure arrives in your collection, the color or shape of the box, you'll want the character displayed in your collection. It's a vibrant character.
This sample has been provided to us by Entertainment Earth.

Collector Notes
Sith Trooper
Status: Sith Trooper is a straight repack of 2019's TBS [P3] Sith Trooper San Diego Comic-Con exclusive figure.
Articulation Count: 30 points (19 areas of articulation)
Articulation Details: ball-socket head (1), hinge-jointed neck (1), ball-jointed left shoulder (2), ball-jointed right shoulder (2), swivel "butterfly left shoulder (1), swivel "butterfly right shoulder (1), ball-jointed left elbow (2), ball-jointed right elbow (2), ball-jointed left wrist (2), ball-jointed right wrist (2), ball-jointed torso (2), ball-socket left hip (1), ball-socket right hip (1), swivel left thigh (1), swivel right thigh (1), double hinge-jointed left knee (2), double hinge-jointed right knee (2), ball-jointed/"rocker" left ankle (2), ball-jointed/"rocker" right ankle (2)
Accessory Count: 2
Accessory Details: First Order blaster A, First Order blaster B
Date Stamp: N/A
Assortment Number: E4078/E4071
UPC: TBD (Regular Edition)/TBD (First Edition)
Retail: $19.99 USD
Market Value: Click here to check the latest prices based on

listings.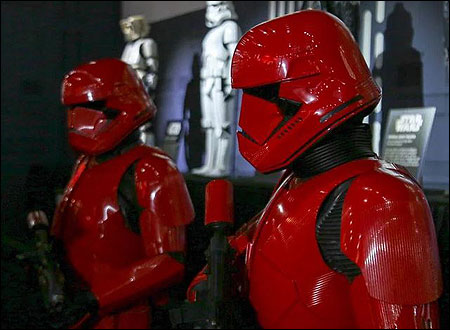 The Black Series [Phase III] Wave 22 (Wave 31)