Name: Janek Sunber/Amanin
Collection: The Legacy Collection
Number: N/A (Comic Packs) (Exclusive)
Source: Expanded Universe (Star Wars: Empire #16)
Availability: February 2009
License: Hasbro
Lieutenant Janek Sunber faces jealous Imperial officers and fierce Amanin aliens on the jungle world of Maridun. Determined to make something of himself, Sunber joins the infantry, where his tactical skills draw everyone's notice. His commander rewards him with promotions and the Amanin honor his courage, but others respond with resentment and betrayal. There's no shortage of battles, bloodshed and bravery as everyone fights "To the Last Man."
The Comic Packs line is a very important medium for all collectors. Not only do they thrill lovers of the Expanded Universe, they also give "movie only" collectors a chance to get figures that might not otherwise make it into the basic figure line. Enter the Janek Sunber/Amanin set. Fans of the Original Trilogy were thrilled with the announcement that Hasbro was going to revisit the Amanin species in action figure form. And while the version isn't meant to be based on the Star Wars Episode VI: Return Of The Jedi character to a tee, it is still a solid action figure that blows away the previous Amanin action figures we have received thus far. It is truly a sight to behold. Amanin is large and foreboding and he is a magnificent creature that fits into any collection no matter its focus. While this creature has some extra gear that the bounty hunter from Episode VI didn't, these extra pieces looks like a natural progression to what this species would indeed use in the wild (or at the very least off screen). The comics portrayed them a truly predatory reptilian-like species and they caused a good amount of grief for the Galactic Empire. And Hasbro translated the species beautifully with all-new tooling. It is so nice to get an exclusive where the tooling is 100% new for at least one of the figures in the set. It clearly makes the pack worthwhile for collectors and we are a hard group to please. Hasbro decided to give Walmart another crack at a trio of Comic Packs. Although the exclusive sets (from the 30 (77-07) line) were less than impressive and very slow sellers, Walmart certainly didn't get the short end of the stick this time around. This second set of exclusives worked out much better because Hasbro decided to revisit the way they tackled their exclusive Comic Packs by adding much more value for the money while including new sculpts or retools instead of just simple repaints.
Amanin is a completely new figure with seven points of articulation, although you may only see six distinct points. His tail, however, is made of a rubbery substance that contains a bendable wire and this is what we refer to as the seventh point. Amanin is beautifully painted from head to toe and his alternating stripes of green on his back are perhaps the most stunning part on him. Amanin is tall and towers over all members of the Imperial army. He comes accessorized with a great big and tall staff as well as a skull necklace. The necklace contains the souvenirs from his victims and shows off the head-hunting lifestyle of this lethal species. Amanin has amazingly sculpted hands and they are huge (as they should be) in comparison to his frame. The long figures are alarming and his oversized arms and hands are such a striking contrast from his rather proportionate legs and feet. Amanin has been given such an incredible paint job. There is a wealth of final washes to help accent all of the details the sculptors included to give this creature unprecedented realism. The Amanin has an almost expression that warns of an impending strike. It is actually mind-blowing how well this action figure was designed. And we are thankful to Hasbro for all of the attention they gave this action figure. Amanin absolutely towers over the Amanaman figure from the 2001 POTJ Amanaman & Salacious Crumb Deluxe figure set. It is a shame because the sculpt was pretty accurate to the movie version of Amanaman (except for the scale of course). But there is no denying that this Comic Packs version of Amanin is the superior figure by far. It is evident that Hasbro has really taken a lot into consideration to get this scale just right. If we needed to pick at anything, we would have wished for a few more points of articulation (like elbow joints for example). As a finishing touch, Amanin's red eyes are very absent looking and add to his chilling demeanor and personality.
Janek Sunber is a surprisingly great figure as well. He is a little bit too pale, but he is made up of some fine parts of previously released figures (as well as some of his own new parts). He has an excellently painted battle-damaged uniform, full of splatters of dirt and various damages from war. His Imperial cap does look a little bit too big for his head but it doesn't detract that much from the overall presentation of the figure. He can stand very well and he can hold his gun without issue too. His one and only setback is his swivel elbows. We would rather Hasbro not give us any elbow joints that to include swivel joints in this portion of an action figure's body. It never seems to look right in our opinion. We are not sure if the red on his uniform is meant to be blood or not, but it looks like he has seen more than his fare share of violence. He didn't come across as this dirty in the comics, but we suppose Hasbro has modeled it accurately based on their source materials. Janek Sunber uses the middle section of 2006's TSC Moff Jerjerrod (SAGA 040) and of course has new legs and a new head. The good news is that the knees are now ball-jointed. This exclusive Comic Packs set will definitely be appreciated by Original Trilogy collectors and well as all other collectors too. This set is a nod to the characters contained within the vintage line and these new Expanded Universe action figures reinvent the "old" or "established" characters that we have grown to love. And they are certainly welcome into our collections. These exclusive Comic Packs sets were shipped in very high numbers, but they have also sold very well. We recommend finding a way to get this set into your collections because it is truly one of the better Comic Packs we have seen in quite some time. If you pass on this set we can guarantee that you will be very disappointed. This is one set not to miss!
Collector Notes
Janek Sunber/Amanin
Assortment Number: 87883/87504
UPC: 653569384250
Retail: $12.99 USD
Market Value: Click here to check the latest prices based on

listings.
Janek Sunber
Status: Janek Sunber is a kit-bashed figure that utilizes the upper body of 2006's TSC Moff Jerjerrod (SAGA 040) with an all-new head sculpt and legs. The figure has also been repainted.
Articulation Count: 14
Articulation Details: ball-socket head, 2 swivel shoulders, 2 swivel elbows, 2 swivel wrists, swivel waist, 2 swivel hips, 2 ball-jointed knees, 2 ball-jointed ankles
Accessory Count: 2
Accessory Details: removable Imperial cap, blaster
Date Stamp: 2004
Amanin
Status: Amanin is an all-new figure.
Articulation Count: 7
Articulation Details: 2 ball-jointed shoulders, 2 swivel wrists, 2 swivel hips, bendy tail
Accessory Count: 3
Accessory Details: spear, skull necklace, satchel
Date Stamp: 2008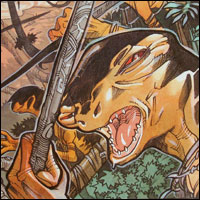 The Legacy Collection Comic Packs Wave 1
The Legacy Collection Comic Packs Wave 2
The Legacy Collection Comic Packs Wave 3
The Legacy Collection Comic Packs Wave 4
The Legacy Collection Comic Packs Wave 5
The Legacy Collection Comic Packs (Walmart Exclusives)