Name: Battle Droid
Collection: The Black Series [Phase III]
Number: 83
Scale: 6"
Source: The Phantom Menace
Availability: February 2019
License: Hasbro
Rather than use flesh-and-blood warriors, the Separatists prefer mindlessly loyal soldiers that are easily controlled. Battle droids are dim-witted and no match for clone troopers or Jedi, but they weren't designed to be smart – they were designed to overwhelm Republic civilians through sheer numbers, something they do very effectively.
It's a bit difficult to process that it took Hasbro seven years to get the first Battle Droid into The Black Series 6" line. A sculpt that can be amortized countless times seems like the one to rush tooling first. But instead, they waited much too long to show this Prequel trilogy character the love it deserves. Based on the character from Star Wars Episode I: The Phantom Menace (and Star Wars Episode III: Revenge Of The Sith for that matter), the Battle Droid is another fantastic release and 6" collectors are going to love it. We'd claim that this figure is almost perfection in a box, but aside from wishing there was a tad more articulation in the hips and knees (360-degree movement to be specific), the Battle Droid is a figure that 6" collectors are going to want to army build as quickly as they can. With an astounding 30 points of articulation including premium ball-jointed articulation and a paint job that is as beautiful as the tooling, the Battle Droid ranks up there with some of Hasbro's greatest 6" figures of all time.
You can pose the Battle Droid in some pretty energetic action poses thanks to the figure's articulation. It holds its poses well thanks to great anchoring in the sculpt and a sleek design. Some poses require a little more attention than others, but generally speaking, the Battle Droid can attain almost any position you require. Whether folded up or blasting the Gungans on Naboo, the Battle Droid can do it all. The Battle Droid is also adequately accessorized. It comes with a removable backpack that snaps on firmly to the figure's dorsal side. And it comes with articulated antennae which is a very nice touch. You can remove the backpack and replace it with the longer antennae attachment, so you're able to own both kinds of B1 battle droids in your collection. The figure also comes with its signature droid blaster. Precise articulation allows the Battle Droid to hold it with one hand or two. These are all small gifts from Hasbro. They've done a wonderful job with it. Oh, and the final paint operations showing battle-damage accent the figure beautifully too.
We wonder how soon Hasbro will take advantage of the Battle Droid's tooling and produce other "planet-specific" B1 battle droids from the rest of the universe. In the 3.75" range, the old Hasbro produced a ton of Battle Droid action figures throughout the years to help flush out the line. Security Battle Droids, Battle Droid drivers, Kashyyyk Battle Droids, assault Battle Droids, Battle Droid assassins, Geonosis Battle Droids and firefighter Battle Droids instantly rush to the mind of what Hasbro might produce in the 6" range if they need a good retailer exclusive or a new figure to fill out a new case assortment. Their options are almost limitless, and we hope they take advantage of all the cool Battle Droid characters they can produce for 6" lovers. Owning a diverse Battle Droid army is something that is enjoyable for Star Wars collectors. The Battle Droid is a wonderful addition to the 6" line. If we were gambling people, we'd say the red/maroon Geonosis Battle Droid is next in the line. And then that means the Battle Droid Commander would follow. Or maybe they'll be released in a two-pack one day.
Collector Notes
Battle Droid
Status: Battle Droid is an all-new figure.
Articulation Count: 30 points (21 areas of articulation)
Articulation Details: ball-socket head (1), hinge-jointed movement processor (1), bal-jointed neck (2), slide-out neck post (1), ball-jointed left shoulder (2), ball-jointed right shoulder (2), swivel left bicep (1), swivel right bicep (1), ball-jointed left elbow (2), ball-jointed right elbow (2), ball-jointed left wrist (2), ball-jointed right wrist (2), ball-socket torso (1), ball-socket left hip (1), ball-socket right hip (1), hinge-jointed left knee (1), hinge-jointed right knee (1), swivel left lower leg (1), swivel right lower leg (1), ball-jointed/"rocker" left ankle (2), ball-jointed/"rocker" right ankle (2)
Accessory Count: 3
Accessory Details: removable backpack, removable antenna, droid blaster
Date Stamp: N/A
Assortment Number: E4085/B3834
UPC: 630509779840
Retail: $19.99 USD
Market Value: Click here to check the latest prices based on

listings.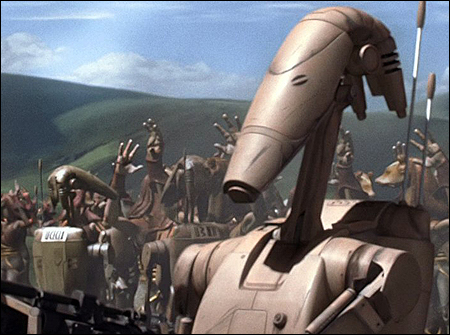 The Black Series [Phase III] Wave 20 (Wave 29)