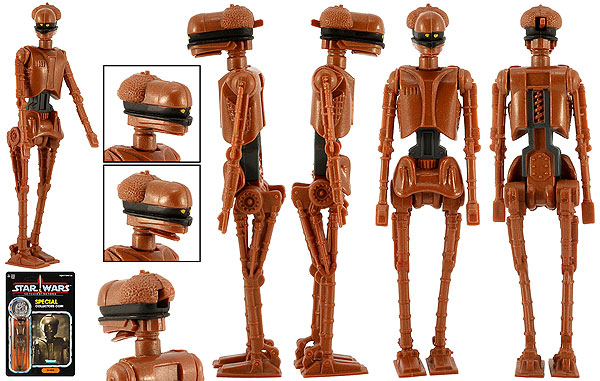 Feared and hated robot who supervised the torture of uncooperative droids in JABBA THE HUTT's dungeon.
EV-9D9 was one of three THE POWER OF THE FORCE figures that made its debut in the RETURN OF THE JEDI line thanks to a SEARS exclusive. EV-9D9 is a wonderfully tall female-programmed robot that spoke in a computerized voice. She ran a tight ship in Jabba's dungeon and gave surly orders to the Gamorrean Guards to where the droids would serve Jabba The Hutt. EV-9D9 is a picture perfect example of how I perceived the new figures that made up THE POWER OF THE FORCE line: large. EV-9D9 towers over most figures in the Kenner Star Wars line. Her copper-colored body is accented with gray and black, and her photoreceptors are yellow. I loved how Kenner gave her an articulated lower jaw, all thanks to a lever that stuck out behind her head. Sadly, as cool as EV-9D9 is, she came with one major production flaw. Her left arm is notorious for breaking off. Even the slightest movement attempting to articulate the arm can result in permanent breakage. If you have an unbroken sample, you should probably never attempt to articulate the arms. The risk of damage is too great. Hasbro made one modern version of EV-9D9 in 1997's THE POWER OF THE FORCE "2" [GREEN/FREEZE FRAME] line and they never attempted her since. I feel she is in desperate need for a modern update. We're more than two decades out from the first and only modern version, and technology today would give us a definitive version. 1985's THE POWER OF THE FORCE EV-9D9 is a nice action figure, but it's more of a display piece than anything else. It's a shame you can't "play" with this figure like you can most others.
Hasbro's Most Definitive Modern Counterpart: 1997's The Power Of The Force "2" [Freeze Frame/The Kenner Collection] EV-9D9 figure.
Name: EV-9D9
Collection: The Power Of The Force
Source: Return Of The Jedi
Release: 1985
Status: EV-9D9 is an all-new figure.
Assortment: No. 93800
UPC: N/A
Retail: $2.99 USD
Alternate Card Art Details:
• EV-9D9

• Trilogo

• Character name pill and figure backer are light blue.
Market Value: Click here to check the latest prices based on

listings.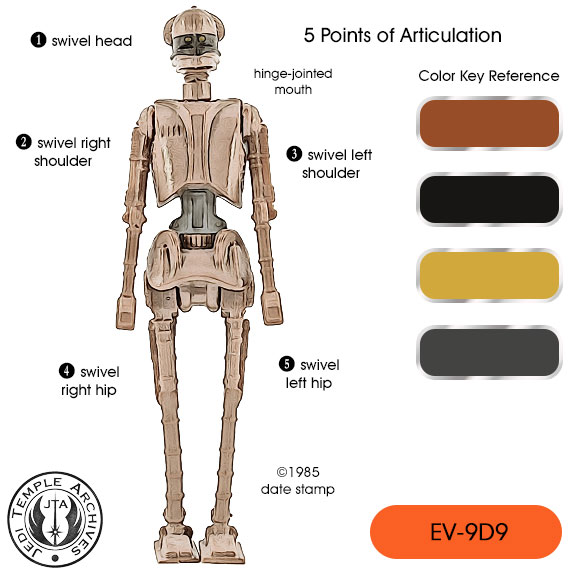 Figure Release Information
Major Figure Variations (loose): None
U.S. Card Back Release Information (confirmed to exist)
U.S. Card Back information derived from the Kellerman Book Matrices and confirmed samples
Research Droids Data Analysis