Name: Luke Skywalker & Yoda
Collection: Forces Of Destiny
Number: N/A
Scale: 11-Inch Figures
Source: The Empire Strikes Back
Availability: TBD
License: Hasbro
Luke will become one of the greatest Jedi the galaxy has ever seen. He learns the ways of the Force from Yoda, a Jedi Master.

It's a safe bet that most Star Wars collectors are likely to prefer any iteration of Luke Skywalker in his Bespin fatigues. And as one of the few male characters in the Forces Of Destiny line, he's the choice for both the animated short and the doll line Hasbro produces. Sadly, Forces Of Destiny did not meet sales expectations, and the backlog of product on store shelves from wave 1 prevented any wave 2 products from arriving on store shelves. Most purchases have to be made online if you're looking to secure the figures. It's sad, but the Forces Of Destiny Luke Skywalker & Yoda Figures & Friends set is done extremely well. Yes, these two figures are wide-eyed girly versions of the characters we love from Star Wars Episode V: The Empire Strikes Back, but in our assessment, they're beautiful figures, and we find it a shame that this line won't continue because Hasbro is making high-quality figures for a new generation of fans. But the animated shorts didn't catch on as they should have, and it appears that young girls are interested in other things than this line. Luke Skywalker & Yoda brings together teacher and student, and the final product is very nice. Let's take a closer look at the figures in this two-pack.
Luke Skywalker comes with a soft-goods jacket. And when you remove the jacket, the action converts him instantly into his "Jedi Training" appearance. We don't have any action figures that are capable of such a screen-accurate and awesome feature. So it's nice to see it incorporated into this 11-inch figure line. His tank top is colored in a lighter tan, and his arms are muscular just like we see in Episode V. Other accessories include a removable belt/holster combination ) and it also houses a blaster pistol when not in use. It's easily removable and is easily re-attachable. He also comes with a lightsaber hilt and blue lightsaber blade to complete a lit lightsaber. The hilt comes with a ring so you can hang it from his belt. That's an incredible amount of detail for a younger toy for kids. Luke Skywalker has a very nice likeness. Of course, it doesn't look like Mark Hamill, and it doesn't necessarily look like the character in the animated shorts. But the figure is painted beautifully and cleanly, and it's hard to criticize the deco on it. You're probably going to have to admit how great it looks too. With a wide range of movement thanks t 20 points of articulation, Luke Skywalker can achieve a wonderful amount of poses which makes any Star Wars collector happy.
The Figures & Friends assortment contains an extra smaller figure. Because of this, the MSRP is about $5.00 more. Luke Skywalker & Yoda obviously fall under the Figure & Friends assortment too, and we feel that this Yoda is worth the extra $5. Yoda comes with a removable soft-goods cloak and four points of articulation. There isn't a blue cargo back to carry him on Luke's back, but you can still make him interact with Luke Skywalker easily. You have other options than just Luke Skywalker carrying him around. For $24.99 you do get a great deal of value here. But there isn't enough to engage a new generation of fans which is quite sad. We hope that Hasbro and Lucasfilm can figure out how to make the Star Wars toy line more interesting to all types of collectors from varying age groups. What's so disappointing is that the Forces Of Destiny figures come with outfits that are sewn with precision and the mix of plastic and soft-goods accessories in this line are seamless in interaction. It can't be argued that Hasbro didn't think this line through with great forethought and care. They absolutely did. The paint operations only seal the deal here as they look marvelous and have no overspray or errors. Even Luke Skywalker's molded hair looks stunning. Luke Skywalker & Yoda are fine additions to the Forces Of Destiny line. Hasbro was smart to focus on so many Original Trilogy characters in this line. But it looks like we won't be seeing any more from this line going forward and that upsets us a bit!
Collector Notes
Luke Skywalker & Yoda
Assortment Number: C2944/C1627
UPC: 630509575183
Retail: $24.99 USD
Market Value: Click here to check the latest prices based on

listings.
Luke Skywalker
Status: Luke Skywalker is an all-new figure.
Articulation Count: 20 points (12 areas of articulation)
Articulation Details: ball-socket head (1), ball-jointed left shoulder (2), ball-jointed right shoulder (2), ball-jointed left elbow (2), ball-jointed right elbow (2), ball-jointed left wrist (2), ball-jointed right wrist (2), swivel waist (1) (inhibited movement), swivel left hip (1), swivel right hip (1), ball-jointed left knee (2), ball-jointed right knee (2)
Accessory Count: 7
Accessory Details: removable soft-goods jacket, left boot, right boot, belt/holster combination, lightsaber hilt, lightsaber blade, blaster
Date Stamp: 2017
Yoda
Status: Yoda is an all-new figure.
Articulation Count: 4 points (4 area of articulation)
Articulation Details: swivel left shoulder (1), swivel right shoulder (1), swivel left hip (1), swivel right hip (1)
Accessory Count: 1
Accessory Details: soft-goods cloak
Date Stamp: 2017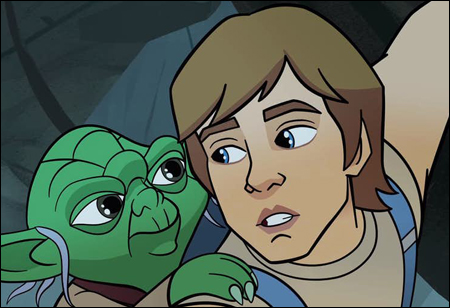 Forces Of Destiny Basic Figures Wave 1
Forces Of Destiny Figures & Friends Wave 1
Forces Of Destiny Adventure Figures Wave 1