In retrospect, it's surprising to realize that we didn't get our second Rebel pilot figure until 1984 (when you compare it to 1979's STAR WARS Luke Skywalker: X-Wing Pilot figure). Sure, some consider Nien Nunb a pilot figure, but I'm talking about an actual pilot in a flight suit that commands a Rebel Alliance vehicle by himself or herself. Hasbro released the B-Wing Fighter and B-Wing Pilot back to back, so we had immediate play value with the B-Wing Pilot figure. Otherwise, he isn't an essential action figure by any means. I love the bright red outfit, and the helmet was a fresh take that we hadn't seen up to that point. The figure looks as standard as the Kenner action figures come, but his center of gravity is a bit off, and I always had difficulty posing him in my collection. Thank goodness many kids had the B-Wing Fighter for him to sit inside, but I was not one of those fortunate kids. I also find it interesting that Kenner paired him with an Endor blaster pistol, but it seems as if most of the pilot figures came with a smaller weapon. It's difficult to know for sure who specifically this B-Wing Pilot is, but Hasbro named their release of him Keyan Farlander in THE VINTAGE COLLECTION.
Hasbro's Most Definitive Modern Counterpart: 2011's THE VINTAGE COLLECTION B-Wing Pilot (Keyan Farlander) (VC63) figure.
Name: B-Wing Pilot
Collection: Return Of The Jedi
Source: Return Of The Jedi
Release: 1984
Status: B-Wing Pilot is an all-new figure.
Assortment: No. 71280
UPC: N/A
Retail: $2.99 USD
Alternate Card Art Details:
• B-Wing Pilot

• Trilogo

• Character name pill and figure backer are light green.
Market Value: Click here to check the latest prices based on

listings.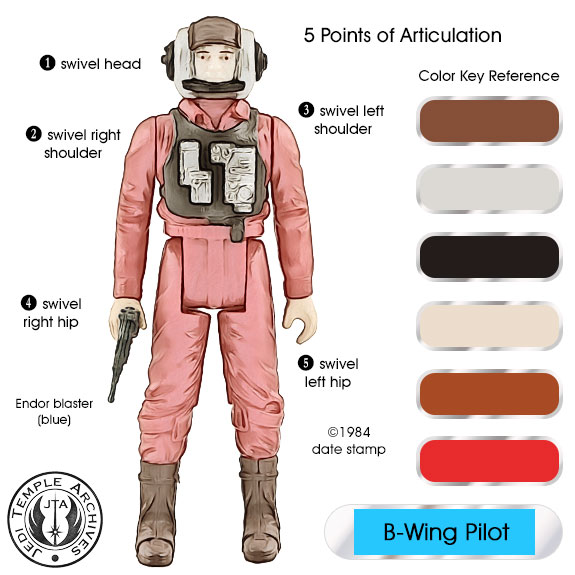 Figure Release Information
Major Figure Variations (loose): None
U.S. Card Back Release Information (confirmed to exist)
ROTJ-77A
ROTJ-79A

ROTJ-79B
POTF-92
U.S. Card Back information derived from the Kellerman Book Matrices and confirmed samples
Research Droids Data Analysis