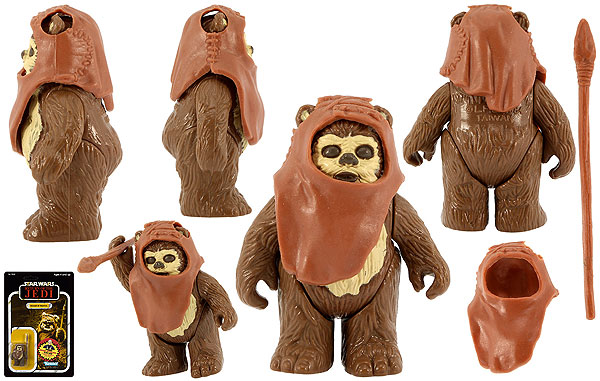 Wicket W. Warrick is my most favorite Ewok. I remember getting him as a birthday gift one year, perhaps for my tenth birthday in 1984. I was impressed at a young age by his small stature and how incredible he looked next to R2-D2 and Princess Leia Organa (In Combat Poncho). But what impressed me the most was his sculpting and deco. The figure truly looked like the onscreen Ewok from RETURN OF THE JEDI. In my opinion, Kenner nailed the likeness of the character and doubled down on it with an impressive paint job that added the perfect amount of personality to the figure. The removable cowl and spear finished the action figure beautifully, and I couldn't wait for Kenner to add more Ewoks to the STAR WARS ACTION FIGURES line. Little did I know at the time that four more had yet to arrive. Wicket W. Warrick received the most screen time of any other Ewok in Episode VI, so I was surprised that Kenner made Chief Chirpa and Logray (Ewok Medicine Man) before him. But Wicket W. Warrick was worth the wait. And I still love the figure today. Hasbro has made some pretty good modern versions of Wicket W. Warrick, but if you want authenticity, it seems you have to sacrifice articulation, and vice versa.
Hasbro's Most Definitive Modern Counterpart: 2010's THE VINTAGE COLLECTION Wicket (VC27) figure.
Name: Wicket W. Warrick
Collection: Return Of The Jedi
Source: Return Of The Jedi
Release: 1984
Status: Wicket W. Warrick is an all-new figure.
Assortment: No. 71230
UPC: N/A
Retail: $2.99 USD
Alternate Card Art Details:
• Wicket W. Warrick

• Trilogo

• Card art is almost sepia tone-like when compared to the Kenner version.

• Character name pill and figure backer are lime green.
Market Value: Click here to check the latest prices based on

listings.
Figure Release Information
Major Figure Variations (loose): None
U.S. Card Back Release Information (confirmed to exist)
ROTJ-77A
ROTJ-79A

ROTJ-79B
POTF-92
U.S. Card Back information derived from the Kellerman Book Matrices and confirmed samples
Research Droids Data Analysis