The Imperial TIE Fighter Pilot is another one of my all-time favorite vintage Kenner figures. I remember how long we had to wait as kids until we had a proper pilot for all of the Imperial TIE Fighters Kenner released before him. I specifically recall that I thought he looked a whole lot like an AT-AT Driver, but more like a negative of an AT-AT Driver instead. I found it odd that the figure came packaged with the same weapon as the (Twin Pod) Cloud Car Pilot. I often wondered why he didn't come with the Stormtrooper blaster instead. It always disappointed as a kid that all of the members of the Galactic Empire lacked head articulation, and the same was true for the Imperial TIE Fighter Pilot. He could fit inside the cockpit of an Imperial TIE Fighter pretty well and fleshed out display scenes nicely, but when Hasbro started making modern versions of this character, we soon were alerted to the fact about how inaccurate the 1982 figure is. Still, I don't think that matters much to collectors now. Collectors still revere the Imperial TIE Fighter Pilot as one of Kenner's best. And while we do have some pretty lovely modern updates to this classic action figure, I still think Hasbro needs to do one more take before we can claim we have a definitive update.
Hasbro's Most Definitive Modern Counterpart: 2011's THE VINTAGE COLLECTION TIE Fighter Pilot (VC65) figure.
Name: Imperial TIE Fighter Pilot
Collection: The Empire Strikes Back
Source: A New Hope/The Empire Strikes Back
Release: 1982
Status: Imperial TIE Fighter Pilot is an all-new figure.
Assortment: No. 70030
UPC: N/A
Retail: $1.99 USD
Alternate Card Art Details:
• Imperial TIE Fighter Pilot

• Trilogo

• Packaging features an alternate image still from A NEW HOPE that features two TIE fighters firing laser missiles.
Market Value: Click here to check the latest prices based on

listings.
Figure Release Information
Major Figure Variations (loose): None
U.S. Card Back Release Information (confirmed to exist)
ESB-47
ESB-48A
ESB-48B
ESB-48C

ROTJ-48
ROTJ-65A
ROTJ-65B
ROTJ-65C

ROTJ-77A
ROTJ-77B
ROTJ-79A
U.S. Card Back information derived from the Kellerman Book Matrices and confirmed samples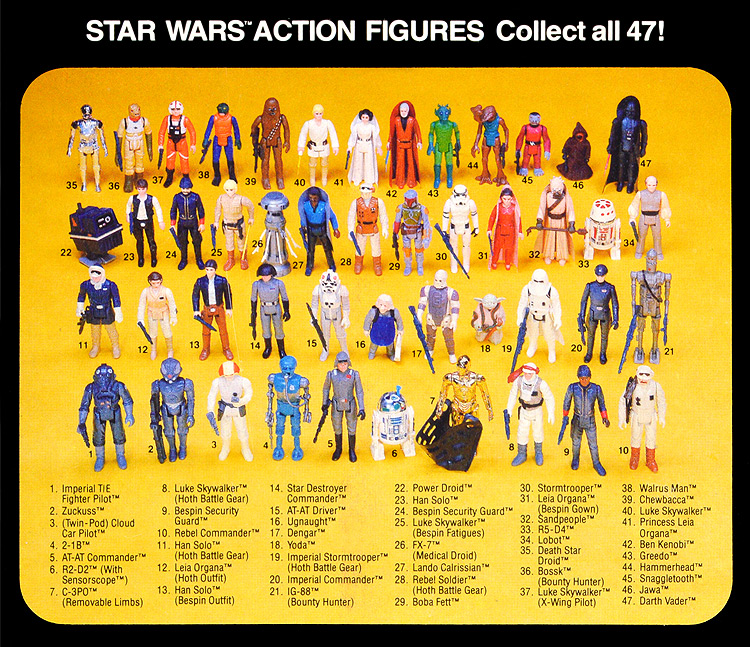 Research Droids Data Analysis