If you grew up with the vintage Kenner line, it's difficult to call Zuckuss "4-LOM" and vice versa. And this is because Kenner's mistake was ingrained in our minds from an impressionable age. The bounty hunter 4-LOM, who was misnamed as Zuckuss in the 1982 Kenner Star Wars figure line was released during a significant turning point in the line. Main characters were no longer a priority, and Kenner focused on more of the background characters instead. Kenner released their fifth series of Star Wars figures in three small waves. Kenner released the bulk of them in the first wave, but Zuckuss and Imperial TIE Fighter Pilot soon followed in the second wave. I clearly remember adding Zuckuss to my young collection. For one reason or another my brother and I loved playing with him inside of the AT-AT vehicle. It doesn't make sense, but that's what made the Kenner Star Wars line so much fun. We could make up our own adventures, and some of the experiences were more exciting to us than what was seen in the film. Zuckuss came with a huge heavy blaster rifle and it wasn't reused until the Droids line in 1985. Kenner did a fair job making Zuckuss screen accurate and it is an action figure that I adore to this day.
Hasbro's Most Definitive Modern Counterpart: 2010's THE VINTAGE COLLECTION 4-LOM (VC10) figure.
Name: Zuckuss
Collection: The Empire Strikes Back
Source: The Empire Strikes Back
Release: 1982
Status: Zuckuss is an all-new figure.
Assortment: No. 70020
UPC: N/A
Retail: $1.99 USD
Alternate Card Art Details:
• Zuckuss

• Trilogo
Market Value: Click here to check the latest prices based on

listings.
Figure Release Information
Major Figure Variations (loose): None
U.S. Card Back Release Information (confirmed to exist)
ESB-48A
ESB-48B
ESB-48C

ROTJ-48
ROTJ-65A
ROTJ-65B

ROTJ-65C
ROTJ-77A
ROTJ-79A
U.S. Card Back information derived from the Kellerman Book Matrices and confirmed samples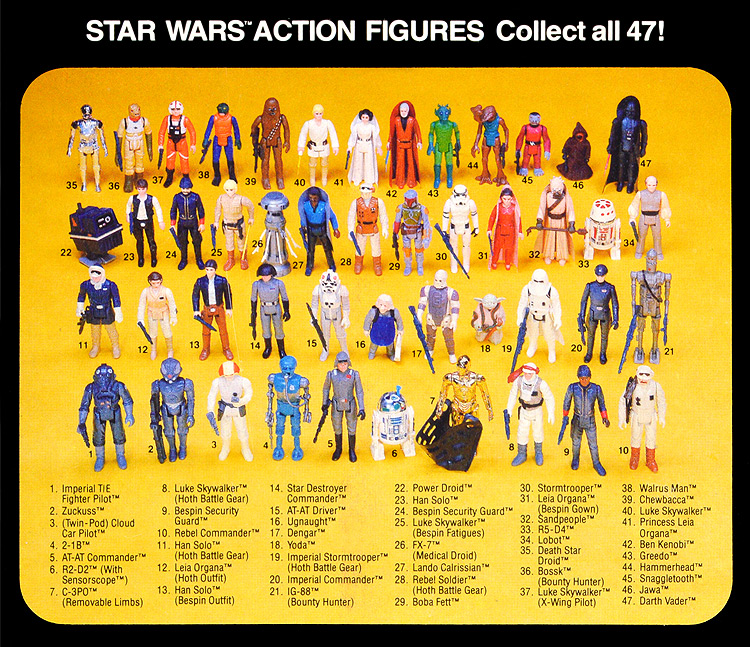 Research Droids Data Analysis