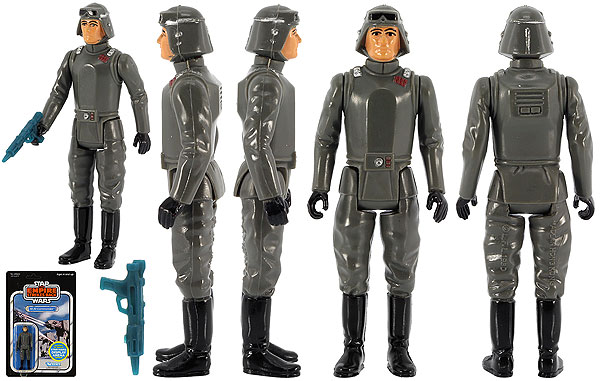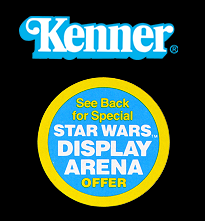 If you think about it, General Veers was one of the most well-represented characters in the vintage Kenner THE EMPIRE STRIKES BACK line. If you think outside of the box a little bit, you could say they are just as many General Veers action figures as there are Luke Skywalker figures. That may be a stretch from a particular point of view too. But if you recall, Imperial Commander featured an image of General Maximillian Veers on its packaging. And some exclusive Canadian packaging highlighted the name of General Veers, and they applied it to the AT-AT Commander action figure. Either way, the AT-AT Commander gave the AT-AT Driver a driving partner for the incredible AT-AT (All Terrain Armored Transport) vehicle. The AT-AT Commander is a pretty bland action figure when compared to others in THE EMPIRE STRIKES BACK toy line, but he serves an important purpose as well. We had one or two of him as kids, and I don't remember him being one of my favorites to grab for my many journeys around my yard. Interestingly, the AT-AT Commander came with a blue Bespin blaster, but in retrospect, it made sense for his purposes. After all, all he did was scope out was targets to hit with maximum firepower.
Hasbro's Most Definitive Modern Counterpart: 2010's THE VINTAGE COLLECTION AT-AT Commander (VC05) figure.
Name: AT-AT Commander
Collection: The Empire Strikes Back
Source: The Empire Strikes Back
Release: 1982
Status: AT-AT Commander is an all-new figure.
Assortment: No. 69620
UPC: N/A
Retail: $1.99 USD
Alternate Card Art Details:
• AT-AT Commander

• Trilogo
Market Value: Click here to check the latest prices based on

listings.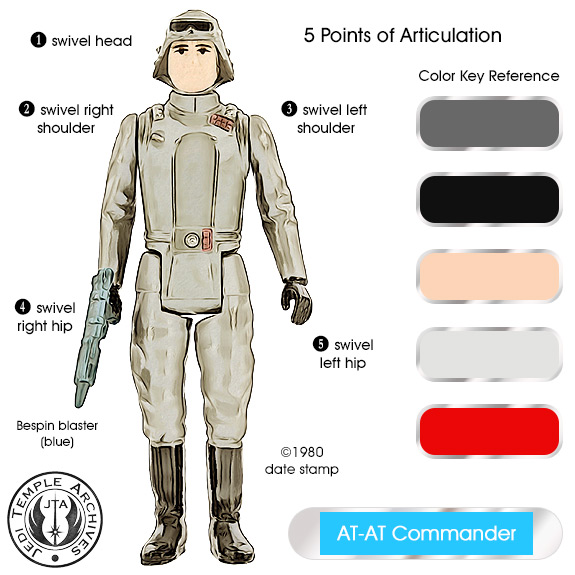 Figure Release Information
Major Figure Variations (loose): None
U.S. Card Back Release Information (confirmed to exist)
ESB-45A
ESB-45B
ESB-47
ESB-48A

ESB-48C
ROTJ-48
ROTJ-65B
ROTJ-77A
U.S. Card Back information derived from the Kellerman Book Matrices and confirmed samples
Research Droids Data Analysis