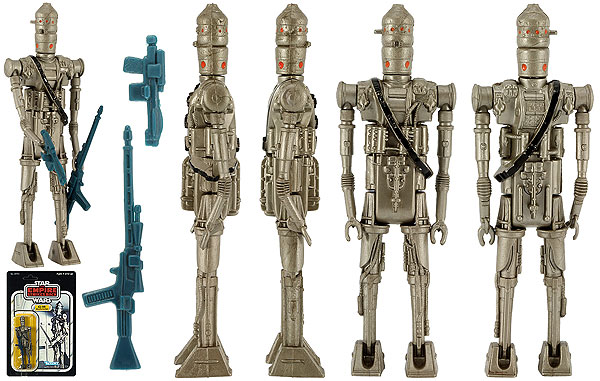 1980's THE EMPIRE STRIKES BACK line got off to a hot start thanks to Kenner releasing three of the greatest bounty hunters of all time right out of the gate. Boba Fett was released a year earlier, but began life as a mail-away figure and received more extensive distribution in 1980. Kenner quickly added Bossk (Bounty Hunter) and IG-88 (Bounty Hunter) to the lineup, and they became two of the most popular Star Wars action figures Kenner produced up until that time. Just look at IG-88 (Bounty Hunter) for example. It's a tall assassin droid that has a head made from bar parts found in Chalmun's Cantina. And IG-88 (Bounty Hunter) comes with two blasters instead of one which made the character a tad cooler than some of the other figures in the line. Less is more, and because IG-88 (Bounty Hunter) didn't have any speaking lines in Episode V, it's probably a considerable part of the reason that the droid is so adored after all of these years. Kenner did a great job on the 1980 action figure right out of the gate. It's tall, slender, and frightening. And many of us used IG-88 to bully many of our other action figures. Two unique colors of IG-88 (Bounty Hunter) exist. One is referred to as "silver," while the other is called "gray." The one on our gallery is the gray version. There are also supposedly differences in the size of its photoreceptors, but I haven't had this explained to me in a way where I have full clarity of the differences. The modern Hasbro line gave us a definitive version of this figure in THE SAGA COLLECTION "Vintage" line. Hasbro never needs to revisit this character in action figure form again. They hit it out of the park.
Hasbro's Most Definitive Modern Counterpart: 2007's THE SAGA COLLECTION IG-88 (Bounty Hunter) Vintage figure.
Name: IG-88 (Bounty Hunter)
Collection: The Empire Strikes Back
Source: The Empire Strikes Back
Release: 1980
Status: IG-88 (Bounty Hunter) is an all-new figure.
Assortment: No. 39770
UPC: N/A
Retail: $1.99 USD
Alternate Card Art Details:
• IG-88

• Trilogo

• Packaging features a solid gray background for the character. The Executor imagery was eliminated. The character's subtitle of "Bounty Hunter" was also omitted.

• Character name pill and figure backer are light yellow.
Market Value: Click here to check the latest prices based on

listings.
Figure Release Information
Major Figure Variations (loose):
detailed sculpt / wiring on right leg
smooth sculpt / no wiring on right leg
U.S. Card Back Release Information (confirmed to exist)
ESB-31A
ESB-32A
ESB-41A
ESB-41C

ESB-41E
ESB-47
ESB-48C
ROTJ-48

ROTJ-65B
ROTJ-77A
U.S. Card Back information derived from the Kellerman Book Matrices and confirmed samples
Research Droids Data Analysis