FX-7 (Medical Droid) was a favorite Star Wars figure for my brother and me. We both hadn't seen the film at the time we had the figure, and we used to do the operations of various Star Wars figures not genuinely knowing what role this character had in the movie. I remember liking the telescoping head feature and the nine hinge-jointed arms which ultimately were used for medical use. But I remember over time that the telescoping head feature became worn and lost the ability to stay in the "up" position, unfortunately. 2-1B, the actual surgeon, would come in the fourth series of the Kenner line, but we still had fun with FX-7 (Medical Droid) and utilized him like this character did the heavy medical lifting. Hasbro would eventually make a definitive version right out of the gate in 2001's POWER OF THE JEDI line, and although they repainted the figure for THE VINTAGE COLLECTION, it remains perfect to date. Hasbro only needs to slap the figure on a vintage Kenner card back and call it a day. I hope that's not too far away for us. We have been waiting a long time for this to happen.
Hasbro's Most Definitive Modern Counterpart: FX-7 from 2010's THE VINTAGE COLLECTION Special Action Figure Set [Hoth Rebels/Bespin Alliance/Imperial Set] TARGET exclusive multipack.
Name: FX-7 (Medical Droid)
Alternate Name: FX-7
Collection: Star Wars
Source: The Empire Strikes Back
Release: 1980
Status: FX-7 (Medical Droid) is an all-new figure.
Assortment: No. 39730
UPC: N/A
Retail: $1.99 USD
Alternate Card Art Details:
• FX-7

• Trilogo

• Packaging features horizontally-flipped image of the character against a slightly altered background of the original Kenner artwork.

• Character name pill and figure backer are bright yellow.
Market Value: Click here to check the latest prices based on

listings.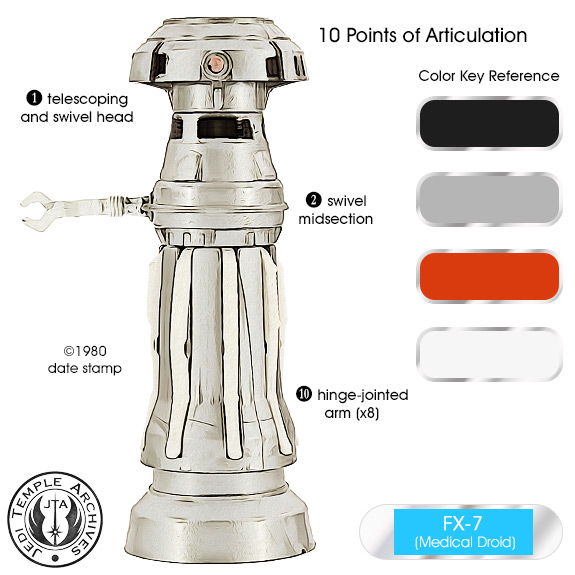 Figure Release Information
Major Figure Variations (loose): None
U.S. Card Back Release Information (confirmed to exist)
ESB-31A
ESB-32A
ESB-41A
ESB-41B

ESB-41D
ESB-47
ESB-48B
ESB-48C

ROTJ-48
ROTJ-77A
ROTJ-77B
U.S. Card Back information derived from the Kellerman Book Matrices and confirmed samples
Research Droids Data Analysis