If you were fortunate enough to grow up with the original Kenner Star Wars line, you probably will never forget your first encounter with Boba Fett. Some of us took advantage of the special mail-away offer, while others of us rushed to our most favorite "Star Wars store" and made him a priority to add to our collections. I wish I could remember how I acquired mine, but I do recall always making him an integral part of my playtime. Without having seen THE EMPIRE STRIKES BACK, Boba Fett became one of the most important action figures in my collection. I used to dream and fantasize about how he utilized the tools in his shin pockets and how that fireball came out of his gauntlet so perfectly round. I didn't learn of the infamous "rocket-firing" Boba Fett until I was in college, but I was thankful when Hasbro issued a replica of the figure in THE VINTAGE COLLECTION in 2010 (as the first mail-away offer for THE VINTAGE COLLECTION just like the 1979 Boba Fett was for the vintage Kenner line). As an adult collector, during the time THE POWER OF THE FORCE "2" line was launched, I always wondered why Boba Fett wasn't reissued in 1985 THE POWER OF THE FORCE line. That always felt like a massive misstep for Kenner from my perspective. No matter what, Boba Fett is still a beautiful Kenner action figure. I never lost my affection for Boba Fett, and I hope Hasbro always realizes how vital this bounty hunter is to the STAR WARS brand.
Hasbro's Most Definitive Modern Counterpart: 2010's/2019's THE VINTAGE COLLECTION Boba Fett (VC09) figure (for THE EMPIRE STRIKES BACK) and 2021's THE VINTAGE COLLECTION Boba Fett (VC186) figure (for RETURN OF THE JEDI).
Name: Boba Fett
Collection: Star Wars
Alternate Card Back Image: Boba Fett (ROTJ 65-Back)
Source: The Empire Strikes Back
Release: 1979
Status: Boba Fett is an all-new figure.
Assortment: No. 39250
UPC: N/A
Retail: $1.99 USD
Alternate Card Art Details:
• Boba Fett

• Trilogo

• Packaging features alternate RETURN OF THE JEDI image from running change Kenner release.

• Character name pill and figure backer are bright yellow.
Market Value: Click here to check the latest prices based on

listings.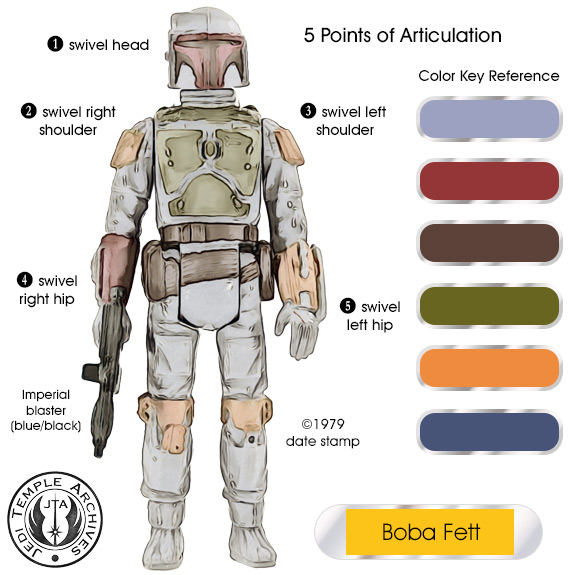 Figure Release Information
Major Figure Variations (loose):
standard U.S. release
Tri-logo release (light-blue plastic, no Country of Origin (COO), painted right knee)
Tri-logo release (light-blue plastic, no COO, unpainted right knee)
U.S. Card Back Release Information (confirmed to exist)
Original picture
SW-21B
ESB-21A
ESB-21C
ESB-31A
ESB-32A

ESB-41A
ESB-41B
ESB-41D
ESB-47
ESB-48A

ESB-48C
ROTJ-48
ROTJ-65A
New picture
ROTJ-65C
ROTJ-77A

ROTJ-79A
DROIDS (drawing)
U.S. Card Back information derived from the Kellerman Book Matrices and confirmed samples
Research Droids Data Analysis