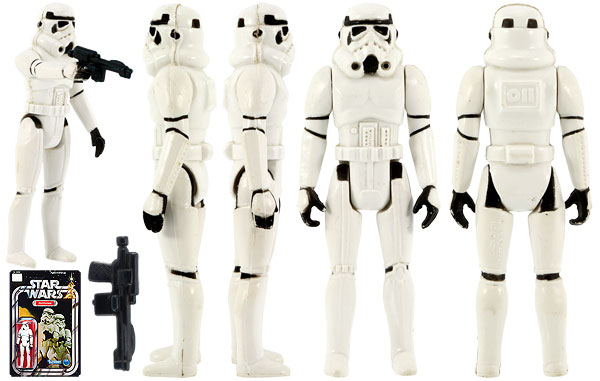 Who didn't have a bunch of Stormtrooper action figures growing up in the late seventies and eighties? I don't recall any specific purchases, but I do remember just having them in my toy box and utilized them whenever necessary. Each one looked a bit unique to me from the last one. My brother had a set of them, and so did I. I am sure throughout the years growing up, the original figures we received got mixed up, and we ultimately played with each other's figures. I never thought the Kenner Stormtrooper resembled the onscreen character all that much. And what a disappointment that you couldn't turn his head when you wanted. What I did find interesting is how the AT-AT Driver and the Imperial Stormtrooper (Hoth Battle Gear) figures looked like the Stormtrooper. And they all shared that significant setback of no articulated head. Throughout the years, most of my original Stormtrooper action figures have yellowed, sadly. That's alright because they still bring me joy. Kenner gave this figure a name change from Stormtrooper to Imperial Stormtrooper with the 79-Back packaging. Those extra letters feel a little redundant, but Kenner was going for a more organized and specific approach in the basic figure line by this time. Stormtrooper is a great figure. I just think there are many more interesting ones.
Hasbro's Most Definitive Modern Counterpart: 2022's THE VINTAGE COLLECTION Stormtrooper (VC231) figure.
Name: Stormtrooper
Alternate Name: Imperial Stormtrooper
Collection: Star Wars
Source: A New Hope
Release: 1978
Status: Stormtrooper is an all-new figure.
Assortment: No. 38240
UPC: N/A
Retail: $1.99 USD
Alternate Card Art Details:
• Stormtrooper (Garde Imperial)

• Trilogo

• Revised artwork created for Kenner's 1978 Toy Fair catalog and features "black blotches" for placement of action figure behind backdrop of reference image
Market Value: Click here to check the latest prices based on

listings.
Figure Release Information
Major Figure Variations (loose): None
U.S. Card Back Release Information (confirmed to exist)
SW-12A
SW-12B
SW-12C
SW-20A
SW-20B
SW-20C
SW-20E
SW-20J
SW-20K
ESB-21A

ESB-31A
ESB-31B
ESB-32A
ESB-41A
ESB-41B
ESB-41D
ESB-45A
ESB-47
ESB-48A
ESB-48B

ESB-48C
ROTJ-48
ROTJ-65A
ROTJ-65B
ROTJ-65C
ROTJ-77A
ROTJ-77B
ROTJ-79A
POTF-92
U.S. Card Back information derived from the Kellerman Book Matrices and confirmed samples
Research Droids Data Analysis