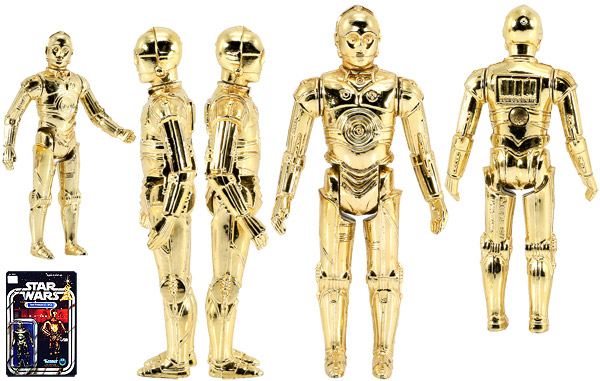 I distinctly remember getting the original See-Threepio (C-3PO) on a The Empire Strikes Back card back sometime in the early eighties for my birthday. As I missed much of the original Star Wars line in 1978, I quickly caught up with as many figures as I could beginning in 1979 and onward. I have always had an appreciation and affinity for See-Threepio (C-3PO). I don't ever recall seeing an action figure as shiny, and the figure looked incredibly realistic (from my adolescent point of view). I usually paired him with Chewbacca in many adventures. But I had to make them all up in my mind. We weren't a fortunate family to afford the Millennium Falcon back then. I had to make do with what I had, and I happily did. Droids didn't become one of my favorite types of Star Wars characters until later in life. I don't recall ever owning the Power Droid or Death Star Droid until later, well after the Original Trilogy films came and went. As an adult, I enjoy this version of See-Threepio (C-3PO) very much. I have wonderfully mint samples of him and that only makes my appreciation of him that much stronger.
Hasbro's Most Definitive Modern Counterpart: 2010's THE VINTAGE COLLECTION See-Threepio (C-3PO) (VC06) figure.
Name: See-Threepio (C-3PO)
Collection: Star Wars
Source: A New Hope
Release: 1978
Status: See-Threepio (C-3PO) is an all-new figure.
Assortment: No. 38220
UPC: N/A
Retail: $1.99 USD
Alternate Card Art Details:
• See-threepio (C-3 PO) (Ci-tri-pi-o)

• Lily Ledy

• EL REGRESO DEL JEDI 30-Back packaging features an exclusive alternate image of C-3PO
Market Value: Click here to check the latest prices based on

listings.
Figure Release Information
Major Figure Variations (loose): None
U.S. Card Back Release Information (confirmed to exist)
SW-12A
SW-12B
SW-12C
SW-12D
SW-20A
SW-21B

SW-21C
ESB-21A
ESB-31B
ESB-32A
ESB-41A
ESB-41B

ESB-41E
U.S. Card Back information derived from the Kellerman Book Matrices and confirmed samples
Research Droids Data Analysis