Name: BB-8
Number: Item #30049431
Edition Size: 1000 (Exclusive) TBD (Regular)
Scale: Premium Format Figures
Source: The Force Awakens
Availability: January 2018
License: Sideshow Collectibles
We're more than two years out from Star Wars Episode VII: The Force Awakens, and it's only been recently that Sideshow Collectibles has been getting characters based on that film out into the Premium Format Figures line. After a few nice humanoid character releases, Sideshow Collectibles has released their first droid: BB-8. Nothing more than an enlarged 1:6 Scale Figure by the approach and execution, BB-8 has turned out better than we had expected, although we strongly feel the MSRP set for this piece is problematic in more ways than one. Set on a small polystone environmental display stand based on the terrain of Jakku, BB-8 has been produced with the intention to complement the recently released and more than fair Rey Premium Format Figure. With accuracy, incredible attentional to detail and beautiful light-up features, BB-8 may just be the definitive collectible high-end version you have been looking for because the final product is divine. BB-8 seems for the most part to be a character that is easy to tackle in collectible form. But this may be one of the most expensive version of him to date. It's a smart-looking droid. Let's look a little more closely about what makes this little astromech droid so special.
BB-8's assembly is as easy as it comes. There is a plug in the Jakku based that inserts into the bottom of BB-8's body. It's a tight fit, so the figure stays in place wonderfully. We would have liked to see a closer attachment to the actual base, but for one reason or another the hole isn't deep enough, and there is a tiny gap of "airspace" underneath the figure against the terrain. This "issue" may vary from one sample to the next. The body has a circular magnet installed into it which allow the separately sculpted dome stay in place (in multiple areas no less) on BB-8's body. We did notice that some of the areas along the circumference of this "magnetic strip" aren't as strong as other, so the dome doesn't stay as firmly in place as we would have liked to see. Still, for the most part, this functionality works fairly well. For those who secured the Sideshow Collectibles version of BB-8, you can also use the magnet in BB-8's domes to open the exclusive hinged panel to install the torch arm accessory also exclusive to this release. The dome and body utilize two different battery types, and you need an extremely thin screwdriver to open the body panel. The screw is in a very deep cavity and the hole to unscrew it is extremely tiny.
Sideshow Collectibles have also come VERY far when it comes to the technology of their high-end collectibles. Most notable for us are the LED touch sensors added to both the dome and the body of BB-8. Although Sideshow Collectibles have been utilizing this technology for a while now, it still impresses us to this day. Once you slide the ON/OFF switches on both the dome and the body, you only need to touch the figure in two areas to ignite the beautiful lights that bring BB-8 to life. Oh, and those lights? Goodness, gracious they are beautiful. You'll find red and blue, and at times, pink, lights that perfectly enhance the aesthetics of this well-crafted Premium Format Figure. It's evident Sideshow Collectibles spent the time to light-up all of the correct panels and details just like the prop in the film. BB-8 looks fantastic. The most delicate parts on BB-8 are the antennas. As a courtesy, Sideshow Collectibles provides a second set for backup purposes, but these accessories are so thin and brittle that breakage feels imminent. So, be careful with these parts when installing them. Aside from the obscene MSRP of $284.99, we think this addition to the Premium Format Figures line is a smart one. Hopefully, BB-8 will impact the rest of the collecting community.

Collector Notes
BB-8
Status: It all began as a sketch drawn by J.J Abrams on a napkin one evening.
A deceptively simple design comprised of little more than a ball with a dome on top, Abrams' novel idea for a droid (which he named BB-8) was quickly brought to life by special effects wizard Neal Scanlan and became both an engineering marvel and one of the most exciting and innovative practical effects in recent movie history.

Abrams and his creative team also managed to develop a droid packed with charm and personality. BB-8 was the little robot that captured the hearts of everyone who saw him as an adorable new member of the Star Wars universe!

BB-8 is a BB Unit Astromech droid, a friend and companion to Resistance pilot Poe Dameron. In Star Wars: The Force Awakens, we saw him roll adorably into action alongside Poe, Rey and Finn as they fight The First Order. He quickly became an office favorite character here at Sideshow HQ, and it is our pleasure to offer him for the first time in our flagship Premium Format.
From the bottom of his base to the tip of his antenna, BB-8 stands 9 "tall, and he is simply overflowing with the little intricacies that you have come to expect from our Premium Format Figures.
We've captured every subtle nuance of BB-8's ingenious design, from the surprisingly soulful and character filled eyes of his photoreceptor to the stained, scratched and dirty panels of his spherical body - each detail helps to make this chirpy little Astromech come to life and steal your heart.
Both BB-8's head and torso feature integrated LED light up features, bringing another layer of screen-accurate detail as well as added visual charm to this adorable BB unit.
BB-8's desert-themed base is designed to echo the visuals found on our Rey Premium Format Figure.
Whether you choose to display him on his own or as a companion piece to Rey, we know he'll be one of the prized jewels in your Star Wars collection!

The Sideshow Exclusive variant BB-8 features a swap-out panel with an extended welding tool giving a "thumbs up" gesture.
Announcement: The BB-8 Premium Format Figure was officially announced on February 16, 2017.
Pre-order Information: The BB-8 Premium Format Figure went up for pre-order on February 16, 2017.
Articulation: N/A
Assembly: 5 parts
Accessory Details: dome, body, long antenna, short antenna, environmental display base (Jakku)
Sideshow Exclusive: Swap-out panel with extended "thumbs up" flame thrower
Date Stamp: 2017
UPC: 747720234352
Retail: $284.99 USD
Market Value: Click here to check the latest prices based on

listings.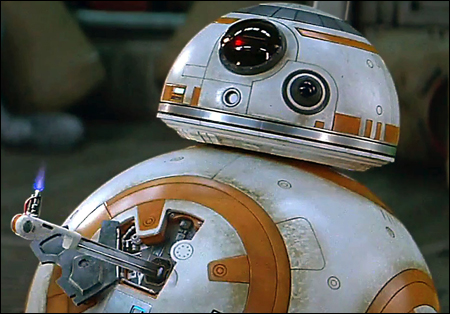 Sideshow Collectibles
Sideshow Collectibles (1:6 Scale Figures)
Sideshow Collectibles (Other Products)