Name: Rey
Number: Item #3004941
Edition Size: 500 (Exclusive) 1250 (Regular)
Scale: Premium Format Figures
Source: The Force Awakens
Availability: December 2017
License: Sideshow Collectibles
"I've never met a Resistance fighter before."
It's complicated to process that it has taken Sideshow Collectibles TWO YEARS to begin getting out characters from Star Wars Episode VII: The Force Awakens in their hugely popular Premium Format Figures line. There may be a reason for the delay, however. Strong rumors abounded the summer of 2015 that Lucasfilm excluded many Star Wars licenses from making products based on Episode VII. Those reasons to date are still unknown, but at least high-end collectibles are finally making their way to the collecting community. Rey is the third Premium Format Figure based on The Force Awakens, and she might have turned out to be the best of the trio. Based on a scene somewhere on Jakku, Rey makes her way up a tiny incline of sand with battle staff in hand and a pensively concerned look on her face. The likeness is pretty impressive for a Premium Format Figure. Let's be honest. Sideshow Collectibles has struggled when it comes to human likenesses in most scales, but we have to say that they've come very close to Daisy Ridley's likeness with this piece. Sideshow was careful to attend to her eyes and the structure of her face. The only detail on her portrait that we might say is off is her nose. We know that's an odd feature to notice being off in some way, but it's clear that something might have been missed when you look at this figure straight ahead. It's not a glaring issue; it's something that is noticeable.
Aside from that, the rest of Rey is pretty much perfect. The Sideshow Collectibles team has done an amazingly brilliant job on her costume. Comprised of intricately woven soft-goods materials, they've seemed to have not only nailed the individual textures of each fabric used, but also the drape of them and how they hang on the polystone figure's body. The coloring looks screen accurate as far as we can tell. You'll notice that they went with a grayer than tan color palette to decorate her costume. As we know from The Last Jedi promotional images, gray seems to be much more accurate. The paint operations have been done so well across the board here that they add texture and dimension to the polystone sculpted parts in addition to the clothing. Her staff is a separate accessory, but it hangs beautifully across her right shoulder and is held back by her left arm and hand. It stays in place which is wonderful, and its detailing is exquisite. Sideshow added a soft-goods strap with a buckle. It is details like these that make us fall in love with this scale of figures. They've also added some leather detailing. This detailing is found on her left wrist (a leather bracelet) in addition to her belt. These pieces have also been produced beautifully and accentuate an already stunning mixed media figure. There is nothing to complain about her or wish that something was done differently. Sideshow has impressed us here.
We're especially fond of the Sideshow Exclusive paired with Rey. They've included her Rebel X-wing pilot helmet. As you know, she wore this during The Force Awakens and now it has been included to help round out the Premium Format Figure version of her. The helmet is stunningly decorated. It has sandblast on it. It has worn Rebel insignia on it. It even has goggles and a communicator attached to it. Sideshow Collectibles also sculpted a separate Jakku terrain-inspired base to set the Rebel X-wing helmet on for a continuous scene with Rey. Honestly, it's one of the more clever as well as nicest exclusive piece we have seen given to a Premium Format Figure ever. Fans who love Rey are going to be very happy with this exclusive piece. Limited to 500 Sideshow Exclusive pieces and 1250 regular pieces, Rey is much more limited in production than we thought she ever would be. This might be good for the aftermarket, however. Once people realize just how limited this release is, it might create some buzz there. Overall, we have to say that we're impressed with the level of quality and artistry the Rey Premium Format Figure brings to the line. We're interested to find out who might be next from the Sequel Trilogy to get the quarter-scale treatment, but Sideshow Collectibles may just dive into The Last Jedi characters next. Whatever you decide, Rey has been treated very fairly here. She's worth investigating.

Collector Notes
Rey
Status: There has been an awakening- have you felt it? Sideshow is proud to present the Rey Premium Format™ Figure, from the groundbreaking Star Wars: The Force Awakens.

Rey's introduction marked a new chapter in the epic Star Wars saga, introducing the world to a new heroine that has become a favorite of fans new and old. Separated from her family as a child, she lives a solitary existence on the desert planet of Jakku.

Rey stands 20" tall atop a sandy base with mechanical elements that capture the history of a fallen Empire that surrounds her barren wasteland home. The figure has a beautiful and incredibly accurate portrait based on actress Daisy Ridley's powerful performance as Rey, capturing the character in a moment of determination and longing for an adventure in the galaxy beyond.

The Rey Premium Format™ Figure is a polystone statue, with exceptions for her PVC portrait and hands, as well as her trusty staff. Her hair is carefully sculpted into her now-iconic style, creating Rey's heroic silhouette as she stares out over the sands of Jakku. Incorporating mixed media, she has an expertly tailored fabric costume with vegan-leather elements for her belt, left arm cuff, and staff strap. Our artists have taken great care to recreate Rey's costume with the utmost accuracy, bringing her signature style from a galaxy far, far away to your collection.

Display her as a lone scavenger, or pair her with the BB-8 Premium Format™ Figure for a stunning centerpiece to any Star Wars arrangement.

The Exclusive edition of the Rey Premium Format™ Figure includes her Rebel X-Wing pilot's helmet, a relic she salvaged from the wreckage of Jakku. The helmet sits on a curved proximity base with accompanying sandy detail, perfect for displaying alongside Rey's base. Please note it cannot be worn by the figure.
Order the Rey Premium Format™ Figure and awaken the Force in your collection today!
Announcement: The Rey Premium Format Figure was officially announced on February 16, 2017.
Pre-order Information: The Rey Premium Format Figure went up for pre-order on February 16, 2017.
Articulation: N/A
Assembly: 6 parts
Accessory Details: portrait, body, left arm, right arm, strapped staff, environmental display base (Jakku)
Sideshow Exclusive: Rey's Rebel X-Wing helmet
Date Stamp: 2017
UPC: 747720233782
Retail: $479.99 USD
Market Value: Click here to check the latest prices based on

listings.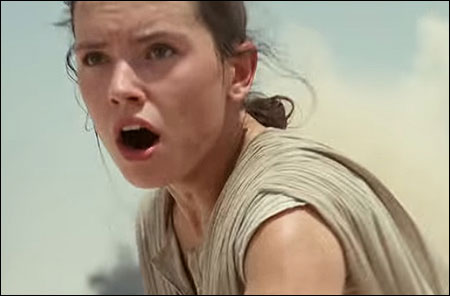 Sideshow Collectibles
Sideshow Collectibles (1:6 Scale Figures)
Sideshow Collectibles (Other Products)