Name: First Order Stormtrooper
Number: Item #3004961
Edition Size: 1000 (Exclusive) 1500 (Regular)
Scale: Premium Format Figures
Source: The Force Awakens
Availability: October 2017
License: Sideshow Collectibles
"Aaaaand I'll drop my blaster." – JB-007
Rumors abounded in the summer of 2015 that high-end collectible companies like Gentle Giant Ltd. and Sideshow Collectibles were excluded from making any collectibles based on Star Wars Episode VII: The Force Awakens. While we don't know the intimate details of what was discussed between these licensees and Disney, we do know that companies like the ones we've mentioned had no prepared high-end collectibles of any characters from The Force Awakens. This "temporary ban" as it were was suddenly lifted after the release of the film and Sideshow Collectibles, in particular, was excited to start planning some cool collectibles based on Episode VII. One of the first items revealed was the First Order Stormtrooper Premium Format Figure. It's difficult to believe that just a couple of months separate the release of the First Order Stormtrooper Premium Format Figure and Star Wars Episode VIII: The Last Jedi. The delay to get this character in one-quarter scale seems way overdue.
The First Order Stormtrooper Premium Format Figure is one of the simplest collectibles we have seen Sideshow Collectibles produce to date. It comes in pieces that you put together. A beautiful portrait is joined by a torso/legs section, left arm, right arm and a right hand holding the First Order blaster rifle. For Sideshow Exclusive collectors, they've added a stunning SE-44C blaster pistol which attached to his right leg armor thanks to the inclusion of magnets underneath of the armor. The polystone has been painted in a beautiful glistening white color that captures light as much as it reflects it. Underneath of the shiny armor plates is a black ribbed body glove that captures the contour of the body nicely. The First Order Stormtrooper Premium Format Figure is placed in a light action pose. While not in any running position or anything like that, he stands atop of a unique environmental display base that doesn't look immediately familiar, but perhaps something First Order related, like on Starkiller Base for example.
These figures look amazing, but the MSRP has taken quite a hike in recent years. We remember when these figures would run you about $250. Now they double that MSRP on average. For instance, the First Order Stormtrooper is $499.99. Sideshow Collectibles hasn't added anything new to the line like extra display options or extra accessories to help make up for this significant price hike, so they've alienated a market of Star Wars collectors who just cannot afford something that is more than a car payment or the cost of health benefits for a month. But regardless if the Premium Format Figures line is in your budget or not, there is no denying that they're making some beautiful figures in this scale. The First Order Stormtrooper may not be our most favorite Star Wars character, but Sideshow Collectibles did a fantastic on bringing this character to life in this high-end format. Limited to 1000 exclusive pieces and 1500 regular pieces, if you like the Sequel Trilogy, this piece is for you!
Collector Notes
First Order Stormtrooper
Status: It's not easy being a First Order Stormtrooper. You've got no name, lots of guard duty, and a boss with what can charitably be described as "anger issues." Thankfully you never really have to worry about what to wear from day to day or if your eyes can be seen rolling during another speech from Hux.
The First Order Stormtrooper Premium Format™ Figure continues Sideshow's adventure in the universe of The Force Awakens.
This screen-accurate collectible features the sleekly designed armor and helmet of the most feared fighting force in the Galaxy and also wields his blaster rifle. The Sideshow Exclusive version comes equipped with an SE-44C Blaster Pistol and thigh holster display option.
The First Order Stormtrooper Premium Format™ Figure joins Sideshow's growing line of Premium Format™ Figures from The Force Awakens and is a stunning addition to any Star Wars collection.
Announcement: The First Order Stormtrooper Premium Format Figure was announced on May 12, 2016.
Pre-order Information: The First Order Stormtrooper Premium Format Figure went up for pre-order a week later on May 19, 2016.
Articulation: N/A
Assembly: portrait, body, left arm, right arm, right hand with First Order blaster, environmental display base
Accessory Details: N/A
Sideshow Exclusive: SE-44C Blaster pistol for thigh holster display
Date Stamp: 2017
UPC: 747720233294
Retail: $499.99 USD
Market Value: Click here to check the latest prices based on

listings.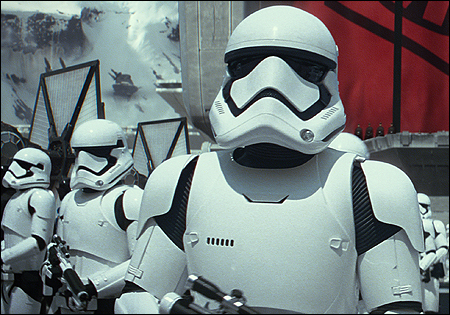 Sideshow Collectibles
Sideshow Collectibles (1:6 Scale Figures)
Sideshow Collectibles (Other Products)