Name: MagnaGuard
Collection: The Clone Wars [Red]
Number: CW49
Source: The Clone Wars (Season 1 Episode 7: Duel Of The Droids)
Availability: March 2010
License: Hasbro
IG-series 100 MagnaGuards are General Grievous' personal bodybuards. These warrior droids have been trained by the cyborg general to make them exceptionally agile fighters, even against the Jedi. Their primary weapon is a powerful electrostaff.
One of the best things about being a Star Wars collector is getting a "new" figure that you have seen before somewhere in the line but getting it totally reinvented and better than ever before. It makes the line exciting and it is such a joy to get a figure "finalized" after receiving an earlier version with some issues. Nothing fits this example better than the new MagnaGuard. Hasbro goes back and revisits the MagnaGuard with results that nearly brings tears to our eyes. The white MagnaGuard gets released in the third wave of figures in 2010 with marvelous results and it makes us envious that the movie-style line doesn't get this kind of treatment (or at least yet). The 2008 TCW [B] MagnaGuard (No. 22) was decent and had some good points, but this new MagnaGuard puts it to shame. Hasbro includes a load more of extra articulation this time around and the figure succeeds in so many ways. We are praying that Hasbro uses the same approach for when the new MagnaGuard comes out in The Vintage Collection. But let's not get ahead of ourselves here. This MagnaGuard is quite a display of action figure perfection and while we are sure some of you out there will find things to whine about, we are so thrilled and happy with this one that we are calling it the definitive animated MagnaGuard for our collections.
Probably the best part on the MagnaGuard is the soft-goods cape. It is made from a material that is reminiscent of a cotton jersey and it has a perfect drape and Hasbro's unique use of stitching allows it to bunch up and fall where necessary. On the top left shoulder of the cape, the trademark Kaleesh arrows have been decorated and the whole design is just breathtaking. There are holes in the cape to prove that this droid has seen quite a bit of action. Simply put, the pieces that decorate this action figure are nothing short of brilliant. The droid itself is also impressive, nearly perfect in fact. Hasbro incorporated knee joints for the first time and it does wonders for posing the figure. A brand new electropole has been designed for this action figure and the energy bolts are removable. The droid's hands have been perfectly sculpted and the electropole can be held without issue. The paint job on the MagnaGuard is wonderful. While a white droid, it is splattered with battle-damage and dirt and Hasbro has used a silver paint to represent the scrapings encountered in these battles. Once again, this droid is perfectly painted all over and it seems Hasbro has "returned" or "recommitted" to making their figures look as best as they can. Even the simple red details for its photoreceptors and center function button are perfectly placed on this figure. The MagnaGuard has a perfect combination of style and art all in one package and there is no denying that the final result looks spectacular.
This version of the MagnaGuard pappears in a few television episodes namely Duel Of The Droids and Lair Of Grievous, and this droid may have also been seen in The Clone Wars film. This of course doesn't matter too much because it is a figure Hasbro should have added to the line a long time ago. We do hope that the other color MagnaGuard droids get the same treatment because this in our opinion is the only way to release this figure. It is quite amazing how Hasbro can incorporate hard plastic and soft-goods so well and to make the interaction of the multiple mediums flow seamlessly together. This approach is the same as high-end companies like Sideshow Collectibles and their Premium Format Figures. Soft-goods are always welcomed in our books, but they have to work hard on the figure for them to be fully appreciated. Well, these pieces work very hard and we are so happy with the final production figure. Sometimes droids can get overlooked in the basic line because they have relatively thin frames and not a lot of mass. This is true for the MagnaGuard, but Hasbro ensured the collector that this is one droid best not overlooked. One of the top ten best figures of The Clone Wars [Red] lineup, you'll be hard pressed to find complaints about this figure. And if you do, well, that is certainly your prerogative, but you would be in error.
Collector Notes
MagnaGuard
Status: MagnaGuard is essentially an all-new figure but utilizes the arms and a retooled torso from 2009's TCW [B] MagnaGuard (No. 22) figure. The MagnaGuard features a new head sculpt, soft-goods cape and new legs.
Articulation Count: 22 points (14 areas of articulation)
Articulation Details: ball-socket head (1), ball-jointed left shoulder (2), ball-jointed right shoulder (2), ball-jointed left elbow (2), ball-jointed right elbow (2), swivel left forearm (1), swivel right forearm (1), swivel torso (1), ball-socket left hip (1), ball-socket rigth hip (1), ball-jointed left knee (2), ball-jointed right knee (2), ball-jointed left ankle (2), ball-jointed right ankle (2)
Accessory Count: 6
Accessory Details: electrostaff, 2 electrostaff effects, removable soft-goods cape, removable chest armor, removable back armor
Date Stamp: 2009
Assortment Number: 89468/87638
UPC: 653569439981
Retail: $7.99 USD
Market Value: Click here to check the latest prices based on

listings.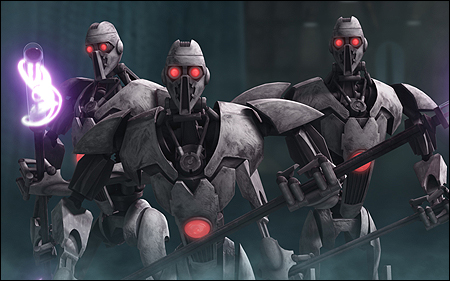 The Clone Wars [Season 2] Wave 8 (Wave 13)