Name: Kylo Ren
Number: Item #3004231
Edition Size: 1500 (Exclusive) 2000 (Regular)
Scale: Premium Format Figures
Source: The Force Awakens
Availability: April 2017
License: Sideshow Collectibles
"Show me again the power of the darkness, and I'll let nothing stand in our way."
He doesn't light up! We typically don't miss the fine print when it comes to the extremely high end Premium Format Figures collection by Sideshow Collectibles, but we did when it came to their impressive Kylo Ren. In very tiny font Sideshow Collectibles disclaims that the glowing lightsaber on the Kylo Ren Premium Format Figure images were just for added effect and not part of the piece. This is a bummer because his very unique lightsaber blade would have looked sublime if it lit up in glowing red light. That being said, the Kylo Ren Premium Format Figure is about everything you'd expect it to be from Sideshow Collectibles. It's a well thought out, mixed media polystone statue that incorporates a wealth of unprecedented detail with a pose that is as scene agnostic as it is specific. It's no small feat to capture a pose that will work across the board, but Sideshow Collectibles appears to do this time and again without ever seeming to fail at it. The Kylo Ren Premium Format Figure delivers a topnotch high-end collectible to fans of this line. It's the very first Premium Format Figure from Star Wars Episode VII: The Force Awakens (with quite a few more on the way) and if they keep it up fans of the film are going to have a very thoughtful and beautiful Episode VII collection on their hands. Let's take a look at how well the Kylo Ren Premium Format Figure has been created. Aside from wired soft-goods (which we normally do not like), there is almost nothing to criticize with this piece. It's gorgeous.
Kylo Ren comes in eight separate pieces. But that is only true for the Sideshow Exclusive version. (The Sideshow Exclusive version comes with two extra pieces.) He is made up of a portrait, the main body section, left arm, left hand, right hand holding the lit lightsaber, and an environmental display stand. The exclusive pieces include the lightsaber hilt and alternate right fist. When assembled, Kylo Ren gives the appearance of some conglomerated scene of him on Jakku and Starkiller Base. In short, the pose works extremely well. He is partly gesturing some move within the dark side of the Force while wielding a lightsaber in preparation for his confrontation with Finn and Rey. He stands atop some forest type of terrain (which is assumed to be some small section of Starkiller Base) which really has been done well. The edge of the base is an artistic styling of details in his helmet and are interrupted in even sections separated by a red lightsaber button. It looks beautiful. Sideshow Collectibles added a great deal of wear and tear to the base to give it that expected lived in look that so many things in Star Wars possess. He is also situated in a way that appears as if he is headed somewhere. Sideshow Collectibles did a fantastic job with mixing a static stature with an equally fluid movement. More simply put, we wouldn't have expected a better pose for Kylo Ren – whether you like the character or not – this figure looks great.
We feel it would have been wise to include and unmasked portrait here as well. He really was seen in the film a while lot more without his helmet on his head. It seems that this is the more dominant appearance for Kylo Ren. We're actually perplexed that this wasn't the exclusive accessory instead. Perhaps Sideshow Collectibles is looking to make the most out of this sculpt and perhaps have plans to release a version of Kylo Ren that is unmasked. That would be a bit brutal in our opinion. And it has to do with the price of these things today. As longtime collectors of Sideshow Collectibles' Premium Format Figures, we have to express that the MSRP of these things is getting out of control. Yes, these are beautifully done pieces. There is no argument whatsoever about that. But we're not approaching a range of $600 for an item in a line that started off at an already expensive $250. We're confident another round of collectors who adore this line will be alienated and unable to collect these going forward. It's much too high of a price to ask for these. It's really a shame because we wish that more collectors would get the bug to collect these stunning pieces. We believe the exact opposite is happening. Despite the price that these pieces now command, we do wish to leave you with the fact that these are absolutely gorgeous pieces. Kylo Ren has been approached with care, precision and a remarkable attention to detail. It's definitely a highlight in their coveted line.

Collector Notes
Kylo Ren
Status: Sideshow is pleased to introduce the first Premium Format™ Figure from the blockbuster film Star Wars: The Force Awakens – Kylo Ren! This museum quality reproduction of the powerful and hot-headed leader of the Dark Side depicts Kylo Ren with feet firmly planted, an outstretched hand grasping at the tendrils of the Force. Masterfully crafted with an expertly tailored costume and his signature crossguard lightsaber, this statue captures the raw emotion often displayed by this knight of the Dark Side.
Masterfully crafted with an expertly tailored costume, his belt is made of real leather and his robes are handmade using an eight pass printing process to develop the screen accurate textured pattern. They also feature wires running through key points so that the drape and flow can be customized to the collector's preference.
Our Kylo Ren Premium Format™ Figure also comes with a clenched right fist and lightsaber hilt for the real leather belt as an alternative display option – a must-have for any Star Wars collection!
Announcement: The Kylo Ren Premium Format Figure was officially teased on December 16, 2015 and fully revealed on May the 4th 2016.
Pre-order Information: The Kylo Ren Premium Format Figure went up for pre-order on TBD.
Articulation: N/A
Assembly: 8 parts
Accessory Details: portrait, Kylo Ren body, left arm, left hand, right hand holding lightsaber, lightsaber hilt, right handed fist, environmental diplay base (Starkiller Base)
Sideshow Exclusive: Alternate right fist and lightsaber hilt
Date Stamp: N/A
UPC: 747720231269
Retail: $569.99 USD
Market Value: Click here to check the latest prices based on

listings.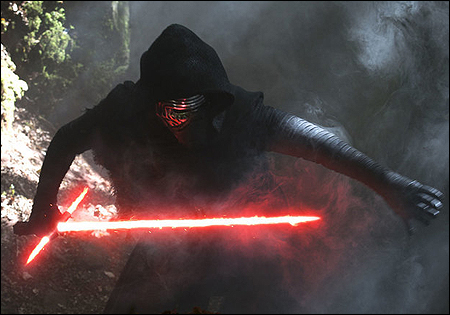 Sideshow Collectibles
Sideshow Collectibles (1:6 Scale Figures)
Sideshow Collectibles (Other Products)