Name: Stormtrooper
Collection: The Black Series [Star Wars 40]
Number: N/A
Scale: 6"
Source: A New Hope
Availability: May 2017
License: Hasbro
The Black Series [Phase I] Stormtrooper (#09) figure hasn't be re-released until now. Despite the release of an Original Trilogy era focused film (Rogue One: A Star Wars Story) and the Stormtrooper character being a foundational army builder, Hasbro still couldn't figure out a way to get this action figure back out into the mainstream. It completely perplexes us. That being said, Hasbro did reserve the Stormtrooper's re-release for The Black Series [Star Wars 40] lineup instead; and it comes to collectors in mock vintage Kenner packaging and with the slightest update made to the paint operations. Frankly, the figure looks fantastic in this lineup (and we're not even too crazy about it). There is just something powerful about the Stormtrooper character, and no matter how it comes it always seems to steal the show at each successive release. Back in 2014 during The Black Series [Phase I] era, just moments outside of its packaging we quickly fell in love with what is now our favorite Hasbro interpretation of a Stormtrooper in action figure format.... period. The Stormtrooper is action figure divinity. It's stunning. It's gorgeous. And you're going to want an army of them for yourself and you wouldn't be wrong for feeling this way. We don't care if there is an issue with where the helmet sits or any other potential issues. This figure is well-proportioned, exquisitely detailed, nicely decorated and appropriately accessorized and for us these are huge accomplishments. The Stormtrooper proves that Hasbro possesses the ability to bring collectors a stunning Stormtrooper action figure in 3.75" scale (and we'd love to know when they'll do this for us), but once you see how much more can be sustained in the larger 6" scale, you may forget about your 3.75" desires for the moment.
The Stormtrooper is a slight repaint of 2014's TBS [P1] Stormtrooper (#09) figure, but its origins are from 2013's TBS [P1] Sandtrooper (#03) figure. If you recall, the Sandtrooper was given a newly tooled abdomen section, a new lower left leg and a new foot. There were obvious differences in accessories too. This may have already been a concern for you because of what typically happens in the 3.75" scaled line when Hasbro interchangeably uses the Stormtrooper and Sandtrooper sculpts. But Hasbro actually thought about that in advance. Instead of a big old nasty slot adulterating a rather excellent design. they "drilled" a hole in the "O" shape on the back of the armor. This is where the survival backpack gets attached via a plug, and it's where "nothing" goes on the Stormtrooper without compromising the integrity of the sculpt. We do feel however that a tiny plug could have been included to "plug up the hole" but that wasn't in the plans here. But it's OK. It's a tiny hole and the Stormtrooper still looks excellent nonetheless. Not only does the look of the 6" Stormtrooper remind us of a scaled down version of Sideshow Collectibles' Imperial Stormtrooper from their Militaries Of Star Wars line, the look and feel of the armor is almost cast from the same exact materials. This texture was compromised a bit on the 6" Sandtrooper because of the final wash (it gave it a much smoother feel), but on the 6" Stormtrooper there is nothing to change the original feeling of the plastic and that's what it reminds us of exactly.
The Stormtrooper comes with the same 30 points of articulation as the figure from which it was created, the Sandtrooper. You can get a great range of motion from many of the joints and it can attain almost any pose you desire without any difficulty. We tried extra hard to come up with some pretty unique poses and gravity defying stances and we think we have accomplished that in our photo gallery. Lightly accessorized, the 6" Stormtrooper comes with an e-11 blaster and larger blaster rifle, the same one IG-88 used in The Empire Strikes Back. He can hold both guns excellently and the E-11 blaster can be placed in his functioning holster when not in use. As the premier army builder in the Star Wars saga, we have honestly been very surprised that Hasbro has reissued him until now. But in all honesty, he isn't commanding expensive premiums on the aftermarket so perhaps the demand isn't there yet. In 2014, the Stormtrooper (#09) figure was one of the most popular figures of the year. And it's easy to see why this was so. Figures like the Stormtrooper reinvigorate our passion for The Black Series 6" line. We likely haven't properly articulate how incredible this figure is and what it does inside of us to make us want more characters in this scale. There is so much more they can do with this sculpt. Heck, they could do something simple like tweak it to give us a Spacetrooper from A New Hope as well. Whatever they decide next, know that you should make it a mission to get this awesome 6" action figure. It's nice to see this figure again. Honestly.
Collector Notes
Stormtrooper
Status: Stormtrooper is a slight repaint of 2014's TBS [P1] Stormtrooper (#09) figure.
Articulation Count: 30 points (19 areas of articulation)
Articulation Details: ball-socket head (1), hinge-jointed neck (1), ball-jointed left shoulder (2), ball-jointed right shoulder (2), swivel left bicep (1), swivel right bicep (1), double hinge-jointed left elbow (2), double hinge-jointed right elbow (2), ball-jointed left wrist (2), ball-jointed right wrist (2), ball-jointed torso (2), ball-socket left hip (1), ball-socket right hip (1), swivel left thigh (1), swivel right thigh (1), double hinge-jointed left knee (2), double hinge-jointed right knee (2), ball-jointed /"rocker" left ankle (2), ball-jointed /"rocker" right ankle (2)
Accessory Count: 2
Accessory Details: E-11 blaster, blaster rifle
Date Stamp: N/A
Assortment Number: C2262/C1688
UPC: 630509554447
Retail: $19.99 USD
Market Value: Click here to check the latest prices based on

listings.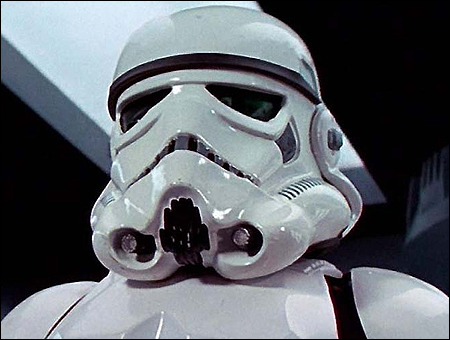 The Black Series [Star Wars 40] Wave 2