Name: AT-RT With ARF Trooper
Collection: The Clone Wars [Red]
Number: N/A
Source: The Clone Wars (Season 1 Episode 21: Liberty On Ryloth)
Availability: February 2010
License: Hasbro
ARF troopers use All-Terrain Recon Transports (AT-RTs) in the battle to free Ryloth from Separatist control. These one-man walkers can cover ground swiftly and are armed with a repeating laser. AT-RTs give troopers added height, mobility and speed – useful advantages when facing battle droids and reestablishing order after a combat operation.
The AT-RT was first seen in Star Wars Episode III: Revenge Of The Sith on Kashyyyk. Looking immediately like a micro version of the extremely popular AT-STs, it quickly became a fan favorite miniature vehicle. Hasbro almost immediately realized the potential success of this too and created a specially boxed vehicle and figure set released as 2005's ROTS AT-RT With AT-RT Driver vehicle set. Different from the Deluxe line, the vehicles included in this assortment were a bit too big for the Deluxe scale. A couple years later, Hasbro created 2007's TAC AT-RT Assault Squad Battle Packs set which was a TARGET exclusive. It included two repainted versions of the AT-RT in it. Based on an Expanded Universe flavored take of the Kashyyyk battle, it offered collectors a new version of this small vehicle. The vehicle must have been a great seller because Hasbro has once again decided to get this vehicle out to the market again. Figuring it would be a great time to revisit this vehicle from the ground up with the new The Clone Wars television show, Hasbro has done just that and developed completely new tooling. In doing so, Hasbro has fixed all the awkward parts of the original and created a definitive great all-new version.
The original had a silly wind-up feature but Hasbro chose to give the new vehicle favorable articulation in place of walking capabilities. (We prefer the articulation to gimmicks of course.) Repainted faithfully to look like something directly out of The Clone Wars television series, Hasbro included the popular 2009 TCW [R] ARF Trooper (CW10) basic figure with it to create a great new addition to this deluxe package. This subline provides the collector with a decent bang for your buck and while we would love to see a lower price point, we think it could be worse. The new AT-RT has a lot more smooth contouring than the original, but perhaps most striking is the beautiful Aurebesh writing on its sides as well and it matching beautiful paint job. The feet of the vehicle have been expertly designed for this release and the cannons are streamlined and not bulky which add to the authenticity of the vehicle. The AT-RT is finished off with proportionate and agile walking legs. The legs are not totally articulated but are good enough for various posability. The figure fits the seated area very well and can hold onto the handlebars without issue. Clearly, Hasbro thought about the ways to make this vehicle as optimal as possible. It really is a fine execution in so many ways.
The ARF Trooper is a straight repack of 2009's TCW [R] ARF Trooper (CW10) basic figure. It would have been nice to get a new trooper with varying paint job differences (or even battle-damage and dirt markings), but we got the same old figure here. At least it is a cool figure and it is a good one to army build. When the Deluxe line (oh wait, we have to call it the Figure & Vehicle line) got kick-started again, the first couple of waves were not too exciting. Hasbro seems to be taking the hints early and are already invigorating the new with some great new additions. While repaints are inevitable, at least Hasbro is designing some great personalized vehicles for some of our favorite The Clone Wars characters. We feel that the AT-RT is an awesome new mini vehicle for the toy line. And if Hasbro continues to add great pack-in figures with them, the line should remain very successful. Pricing varies by a lot (by $4 at some stores depending upon retail location) for these cool sets, but the average retail seems to hang around $15.99. It may be a far cry from the days of $9.99, but the quality of the pieces inside is definitely better. AT-RT With ARF trooper will serve your The Clone Wars collection well. We recommend picking it up.
Collector Notes
AT-RT With ARF Trooper
Assortment Number: 93833/91349
UPC: 653569452454
Retail: $15.99 USD
Market Value: Click here to check the latest prices based on

listings.
AT-RT
Status: AT-RT is an all-new vehicle.
Features Count: 2
Features Details: canon rotates, articulated legs
Accessory Count: 1
Accessory Details: removable antennae
Date Stamp: 2009
ARF Trooper
Status: ARF Trooper is a straight repack of 2009's TCW ARF Trooper (CW10) figure.
Articulation Count: 27 points (14 areas of articulation)
Articulation Details: ball-socket head (1), ball-jointed left shoulder (2), ball-jointed right shoulder (2), ball-jointed left elbow (2), ball-jointed right elbow (2), ball-jointed left wrist (2), ball-jointed right wrist (2), ball-jointed torso (2), ball-jointed left hip (2), ball-jointed right hip (2), ball-jointed left knee (2), ball-jointed right knee (2), ball-jointed left ankle (2), ball-jointed right ankle (2)
Accessory Count: 1
Accessory Details: DC-15 blaster
Date Stamp: 2009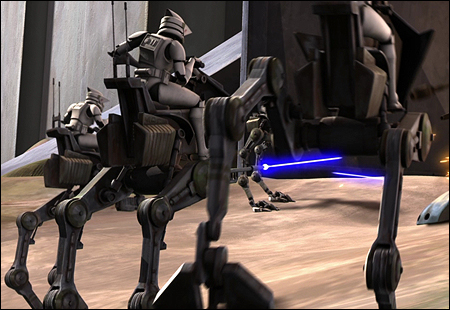 The Clone Wars [Red] Deluxe Wave 1
The Clone Wars [Red] Deluxe Wave 2
The Clone Wars [Red] Deluxe Wave 3
The Clone Wars [Red] Deluxe Wave 4
The Clone Wars [Red] Deluxe (Exclusive)