Name: Tauntaun And Han Solo
Collection: The Power Of The Force "2" [Freeze Frame/The Kenner Collection]
Number: N/A
Source: The Empire Strikes Back
Availability: 1998
License: Hasbro
HEIGHT: 1.3 to 2 Meters Average
HOMEWORLD: Hoth
USES: Rebel Alliance Arctic Climate Steed
CHARACTERISTICS: Quick and Powerful, Capable of Surviving in Frigid Temperatures
As Kenner amped up The Power Of The Force "2" line in 1998, they changed their approach to many things. In addition to slightly revised packaging which now included "The Kenner Collection" logo, they added a Freeze Frame pack-in premium to the basic figures. They also got a little more daring with releasing products that fans and collectors wanted to see "reborn" in the modern era as well as those that were never available at any time. But a big part of 1998 was the first time modern revisiting of the classic toys we had as kids. Take for instance the Tauntaun And Han Solo set part of the Creatures assortment. This two-pack brought beast and rider together in one fell swoop. And with the incredible updates in technology, the detail brought forth excited us greatly. The Tauntaun is a retool and repaint of the beast from 1998's POTF2 [FF/TKC] Tauntaun And Luke Skywalker set, but Han Solo is an all-new figure. Regardless of their status being new or used, the Tauntaun And Han Solo set is a wonderful release and fans of all things Hoth are going to be sure to pick this release up. While not everything is perfect, we still believe that collectors are going to overlook the shortcomings and be sure to add this two-pack into their collections.
As previously mentioned, the Tauntaun is a retool of the figure that came in 1998's POTF2 [FF/TKC] Tauntaun And Luke Skywalker set. This time an all-new head sculpt has been tooled since Han Solo's Tauntaun didn't have a broken horn. Other than the new head sculpt, the rest of the figure is the same. Sadly an action feature has been included here to mimic the running action of the Tauntaun. But for us it doesn't work that well or is believable and should have been eliminated altogether. Han Solo's Tauntaun also receives a strikingly different paint job than Luke's did. Maybe this was a concerted effort to tell them apart from each other in a collection, but the signature broken horn has always been the sole determining factor for us to notate the differences between them. The sculpt is pretty fantastic, but we feel that the Tauntaun stands too low to the ground. Because of the action feature it is a little difficult, albeit possible, to place the Tauntaun in a rearing position to give it a little more height. This is a bit of a disappointment because Tauntaun are more in an upright position when they run than low to the ground. We wish Kenner would have matched the posture of these creatures a little more accurately than they did.
For us, we're a little bit happier about the included Han Solo figure. Certainly not definitive by any means, Kenner finally gave us the closest modern interpretation of the "hood up" vintage Kenner figure from 1980; Han Solo (Hoth Battle Gear). 1996's POTF2 [R] Han Solo (In Hoth Gear) didn't come close to representing Han Solo on Hoth, so it is finally nice to see a significantly better update that is pretty much screen accurate. What's more, Kenner cast Han Solo's face in flesh colored plastic instead of painting it that color (unlike the previous version). So it makes Han Solo look much more real and natural instead of having a porcelain or powdered type of face. To top it all off, Han Solo comes with additional articulation in the knees to accommodate riding the Tauntaun (which looks incredibly believable by the way). Part of some of the final releases in The Power Of The Force "2" [Green/Freeze Frame] lineup, this was a hard to find item because of the backlog of product retail was swimming in when this was meant to arrive in stores. If you recall, there was a great purge of Star Wars products in 1998 and some were able to find this particular release for pennies on the dollar.
Collector Notes
Tauntaun And Han Solo
Assortment Number: 69645/84017
UPC: 076281840178
Retail: $14.99 USD
Market Value: Click here to check the latest prices based on

listings.
Tauntaun
Status: Tauntaun is a retool of the creature from 1998's POTF2 [FF/TKC] Tauntaun And Luke Skywalker set. This time the Tauntaun comes with an all-new head sculpt.
Articulation Count: 6 points (6 areas of articulation)
Articulation Details: swivel head (1), swivel left shoulder (1), swivel right shoulder (1), swivel left hip (1), swivel right hip (1), action feature button (1)* (*by pressing blanket on saddle, action feature button activates legs)
Accessory Count: 1
Accessory Details: bit/reins combination
Date Stamp: 1998
Han Solo
Status: Han Solo is an all-new figure.
Articulation Count: 8 points (8 areas of articulation)
Articulation Details: swivel head (1), swivel left shoulder (1), swivel right shoulder (1), swivel waist (1), swivel left hip (1), swivel right hip (1), hinge-jointed left knee (1), hinge-jointed right knee (1)
Accessory Count: 1
Accessory Details: blaster pistol
Date Stamp: 1998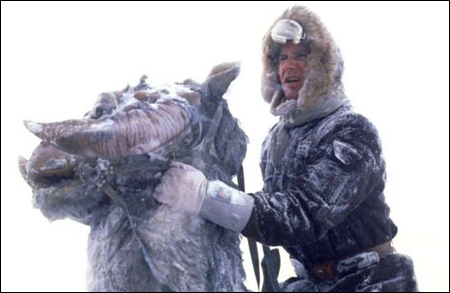 The Power Of The Force "2" [Freeze Frame/The Kenner Collection]