Name: Jawa & WED Treadwell Droid
Collection: The Legacy Collection
Number: BD04
Source: A New Hope/Expanded Universe (A New Hope Deleted Scene)
Availability: September 2009
License: Hasbro
The Jawas come to the Lars homestead to offer droids for sale. One of the droids they show Owen Lars is a WED Treadwell droid, a common utility droid with multiple manipulator arms and goggle-like photoreceptors on a telescoping neck.
Over the last few years, Hasbro has been more adventurous and advantageous about what they fit between the clear plastic bubble and the card of their basic action figures. And the more plastic contained inside only benefits the collector because it means that we are getting the most for our dollar. There have been some exceptions which have worked the other way that break this opinion in two, but it's nice to focus on the positive things that Hasbro does for us every now and again, because we are certainly quick to voice our opinions when we aren't happy. And figures with less impressive accessories and that are smaller in stature are inevitable basic figures, too. After all, Hasbro must cost it all out as they say. If you carefully mull over what impressive sets or duos we have received for basic action figures, you should be able to prove to yourself that we really do get some impressive "accessories" with our action figures. The Jawa & WED Treadwell Droid is a perfect example of how much punch Hasbro can put into a basic figure. They could have easily packaged these two separately; but instead, quite obviously, we got two figures for the price of one. The WED Treadwell Droid is so much more than "the Jawa's accessory" because it has unbelievable articulation that is reminiscent of its FX-6/FX-7 very-distant cousins. And its coloring is beautiful too (although not movie accurate per se). Hasbro could have given us a pre-molded droid with little to no movement, but instead gave it much more attention than it deserved and this is not a complaint. It also got us one more step closer to completing the cast of the "purchase of the droids" movie scene (but this is depending upon how you look at it).
The WED Treadwell Droid seen in Star Wars Episode IV: A New Hope was actually white with reddish-orange accenting. So this droid is not one we saw in the movie. However, the droid is still accurate because he is from a deleted scene in Star Wars Episode IV: A New Hope as it was Fixer's droid. (There is also a publicity/reference shot with multiple droids somewhere within the halls of the Death Star. This image is in our reference gallery.) Hasbro now has an excuse to repaint this one and perhaps release it as a basic figure on its own (which they probably will do from now on – don't expect too many two packs here on out). They have uttered that they need to contain costs wherever and whenever possible. So this a one way that they can do it unfortunately and yes, it is at our expense. This is why it is very important to be thankful for the amazing array of figures we got in the blue phase of The Legacy Collection because we won't get massive basic figures like this again, sadly. We don't intend to tell you how to spend your money, but it would be ridiculous to overlook a set like this. And now that you have another opportunity in the Legacy Collection, you have twice as many opportunities to secure him. While we should be happy to get them when we get them, we are, but if they can make astounding groups of figures like this once, they can do it frequently. The Jawa & Treadwell Droid is a testament that Hasbro cares about collectors. And while many have been vocal that the WED Treadwell Droid is much too large in scale (and they are right), the figure would not have gotten all the articulation it did if it came to us any smaller. We hold high standards (as we should) for Hasbro, but sometimes some things need to take a different approach if we are ever to see it available for purchase. And although it is too big, it still looks great next to your Sandcrawler.
The Jawa is really just a repaint (and slight retool) of the 2007 TAC Jawa & LIN Droid (30 19) figure. He has been significantly re-colored to the point that his costume looks one color (and darker). It appears as if he no longer is wearing the vest upon a first quick glance (due to the solid nature of the paint application) but once you hold the figure you will see it is indeed still there. It is a bit surprising to us how less color variation works to the benefit of the figure. The Jawa comes with a standard Jawa blaster and it fits perfectly into a holster hanging from his bandolier. Most impressive is a very unique and distinct pattern 'engraved' on it. We would need to do more research to discover if this pattern is indeed in the film or not, but it is certainly striking to say the least. The blaster and holster are attached and while it makes posing awkward (it's a little too stiff) we will accept it as cool nonetheless. We truly think that this Jawa looks better than the 30 (77-07) version, but that may have a lot to do with how time ages things. We are likely to bet that this particular Jawa is Nebit, the direct salesman to Owen Lars, but we may be off here. As nice as it would be to get a Jawa draped in soft-goods, the molded robes look so incredibly great on this figure, we don't know if we would be happy with the final product were Hasbro to introduce some sort of soft-goods to this exact figure. The only issue is that the Jawa suffers from no leg movement. With the way the figure is designed, the only articulation you are going to get from him is the head, arms and waist, unfortunately, the figure leans a little bit forward. We would honestly only want the Jawa to have articulated legs. If Hasbro were to take a new direction with this figure and give it a soft-goods cloak, we think we would eventually get our definitive Jawa.
Collector Notes
Jawa & WED Treadwell Droid
Original Droid Factory/Build A Droid Part: L8-L9 body
Assortment Number: 87837/87535
UPC: 653569414551
Retail: $7.99 USD
Market Value: Click here to check the latest prices based on

listings.
Jawa
Status: Jawa is a straight repack of the figure from 2009's TLC Jawa & WED Treadwell Droid (BD 33) two-pack.
Articulation Count: 12 points (8 areas of articulation)
Articulation Details: ball-socket head (1), ball-jointed left shoulder (2), ball-jointed right shoulder (2), ball-jointed left elbow (2), ball-jointed right elbow (2), swivel left wrist (1), swivel right wrist (1), swivel waist (1)
Accessory Count: 5
Accessory Details: removable bandolier/holster combination, removable strap, removable vest, ionization blaster rifle, ion power charge cell
Date Stamp: 2007
WED Treadwell Droid
Status: WED Treadwell Droid is a straight repack of the figure from 2009's TLC Jawa & WED Treadwell Droid (BD 33) two-pack.
Articulation Count: 18 points (18 areas of articulation)
Articulation Details: 8 hinge-jointed "shoulder" arm attachments (8), 8 hinge-jointed "elbow" arms (8), swivel photoreceptors (1), swivel base (1) (WED Treadwell Droid breaks down into 20 separate pieces)
Accessory Count: 1
Accessory Details: removable antenna
Date Stamp: 2008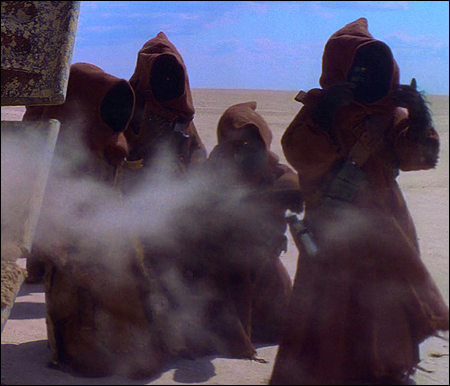 Legacy Collection Wave 1 (Wave 8)