Name: Bossk/IG-88
Collection: Rebels
Number: MS11
Source: The Empire Strikes Back
Availability: February 2015
License: Hasbro
Two of the most feared bounty hunters in the galaxy, Bossk and IG-88 are hired by Darth Vader to track down the Millennium Falcon and its Rebel crew.
You'd think that with all of the Bossk and IG-88 action figures Hasbro has produced since 1980 that there would never be a single need again to make new ones. But apparently there is. At this stage of the game, there must be close to a dozen releases (not all necessarily unique sculpts) of each figure since the modern era alone. You'd have to wonder why Hasbro is expending the money to pay for new tooling in the Mission Series line when there are SO MANY other action figures to make instead. Wouldn't these tooling budgets be best served by making us characters that they never have produced before at all? To be fair, Hasbro is tooling new characters here and there, but much to the chagrin of the collecting community they are reduced articulation and typically have been coming with inferior paint operations. Although it's hard to let go of the recent past, we do see rays of light at the end of the tunnel. The most recent Saga Legends and Mission Series figures are shaping up to be pretty good action figures. Character selection is all over the map however. And even those collectors who are digging getting new action figures in vintage-styled articulation are beginning to question why some characters are at the forefront of Hasbro's mind. In the case of Bossk/IG-88, we get two (as ironic as this is to say) updates of core bounty hunters from Star Wars Episode V: The Empire Strikes Back. Their inclusions in the Mission Series range is controversial at best, but let us talk about what they bring or do not bring to the collecting table.
Bossk is bittersweet. It's an overused way to describe an action figure, but we're at a loss on how else to describe him. The sculpt is topnotch, although he appears a little too short for a Trandoshan (based on previous Bossk action figures). He lacks many important paint operations, especially the insignias on his shoulders which therefore makes him instantly screen inaccurate. The metal detail on his white ribbed bib is painted in another color than the bib, but it is so light that you likely wouldn't notice it with a cursory glance. While paint operations as far as their quality is concerned have improved, Hasbro is still scaling back the necessary color palette to make these characters screen accurate. And if you're a hardcore collector who is willing to forgive the simple five points of articulation, it makes it harder to accept these action figures. We also have noticed that the lack of wash on Bossk's scales is a huge detriment to the final look of the character. It definitely feels like more than just a little is missing here. As mentioned earlier, Bossk is noticeably shorter than 2007's VTSC Bossk (Bounty Hunter) figure which may be a little hard to swallow for collectors. We find it disappointing so we imagine that this will be the general consensus. With only five points of articulation, Bossk looks best standing straight ahead in your collection. Forget about any action poses because they're just not possible here at all.
IG-88, we fear, fares much worse than Bossk. When we moved the assassin droid from the packaging do you know what the first mental flashback we have was? We immediately thought of the 1996 Shadows Of The Empire Comic Packs IG-88 figure. That's about as pleased we are with it too. OK, so IG-88 has a quite excellent sculpt. And to out shock the paint job on IG-88 is quite impressive (it blows Bossk's paint job out of the water). But IG-88 is much too rubbery and small and really looks bad when compared to all of the previous versions Hasbro has made throughout their long tenure with the Star Wars brand. IG-88's legs aren't even, so the droid has great difficulty standing upright. We don't know why the final figure turned out the way it did, but we aren't too happy about it. Whether it's because of the thin frame of the droid that Hasbro would utilize a stiffer plastic to ensure it has some weight to it. Both Bossk and IG-88 come with one blaster rifle each. These weapons favor the sculpts of the original 1980 Kenner action figures too. By this we mean that Bossk's rifle comes without a strap and IG-88's looks a lot like the Imperial Stormtrooper (Hoth Battle Gear)'s gun. Those seeking modern simply articulated action figures now have two "background" characters to add to your collections (we say "background" despite their cult following). Hopefully quality will continue to improve. But right now we can't give our full blessing to these characters. They appear unfinished at best.
Collector Notes
Bossk/IG-88
Assortment Number: A8933/A5228
UPC: 630509246892
Retail: $9.99 USD
Market Value: Click here to check the latest prices based on

listings.
Bossk
Status: Bossk is an all-new figure.
Articulation Count: 5 points (5 areas of articulation)
Articulation Details: swivel head (1), swivel left shoulder (1), swivel right shoulder (1), swivel left hip (1), swivel right hip (1)
Accessory Count: 1
Accessory Details: blaster rifle
Date Stamp: 2014
IG-88
Status: IG-88 is an all-new figure.
Articulation Count: 5 points (5 areas of articulation)
Articulation Details: swivel head (1), swivel left shoulder (1), swivel right shoulder (1), swivel left hip (1), swivel right hip (1)
Accessory Count: 1
Accessory Details: blaster rifle
Date Stamp: 2014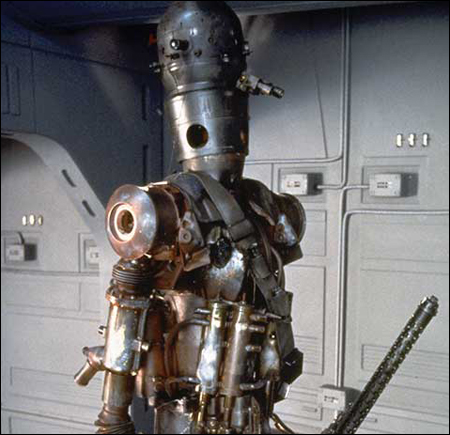 Rebels Mission Series Wave 1
Rebels Mission Series Wave 2
Rebels Mission Series Wave 3