Name: Gelagrub Patrol
Collection: Legacy Collection
Number: N/A
Source: Revenge Of The Sith
Availability: October 2009
License: Hasbro
Clone troopers ride gelagrubs to patrol the fungal forests of Felucia. Also known as Felucian ground beetles, gelagrubs are easily domesticated in their larval form to be used as mounts. Republic forces invade Felucia to free it from the control of the Separatists and capture the Commerce Guild's headquarters located on the planet.
We never thought that we would ever see the gelagrub in the 3.75" line. Honestly, we didn't. But Hasbro found favor with this glob of gelatin and made in a very light Battle Packs set. The final product is just what we expected (nothing too special, but still cool to own). Many of you may be interested to know that a gelagrub (or Felucian ground beetle) is the larval stage of the ground beetle. Although the toy is lacking complete body articulation, save for moving pinchers (which we could have done without), Hasbro faithfully replicated its semi-transparent skin and apparent texture and colored to perfection. But the lack of articulation in the body makes this toy a tad boring. It is essentially just a display piece, and if you don't touch it or play with it, it looks pretty awesome. Hasbro tried to make it a playing piece, but squeezing its head to make its pinchers close is not nearly enough to consider this as having high play value. But don't get disappointed yet because interestingly the gelagrub is not the reason to buy this set. Although we have received over a half dozen of 327th Star Corps clone troopers up to the release of this set, we technically have our best-engineered version now. (But we will wait for a definitive version because the paint job just isn't up to snuff.) We estimate that tooling costs may have exceeded budget because both the gelagrub and clone trooper are all-new sculpts. But sometimes Hasbro needs to be a penny wise and not a pound foolish because the inclusion of only one clone trooper will certainly set some collectors in defiance as they are not picking this up with only one action figure in it. (We respect your opinion thoroughly.)
But that's not all. With the sacrifice of a second action figure, why couldn't Hasbro give the only Clone Trooper in this set a beautiful, correct and screen accurate paint job? You can already probably figure out that the real gem in this set in the 327th Star Corps Clone Trooper of course. Long overdue, Hasbro updates this popular clone trooper to include the required ball-joints to allow him to straddle the gelagrub. The clone trooper is way too clean in our opinion, but his enhanced articulation certainly makes up for this problem. This clone trooper also has a removable helmet which has been retooled which allows the clone trooper to look normal and not as if he has "large helmet syndrome" like many before him have. The golden yellow is perfect, but we think the shoulder pauldron is not the right color. If you recall, Hasbro updated the Clone Trooper (327th Star Corps) (BD 29) figure with a brighter and shinier gold color from the rest seen on the armor. Either Hasbro got lazy or just forgot about this fine detail. We think this makes the figure suffer a bit because there are two distinct colors on him. And to be honest, it is frustrating from a collector's viewpoint when an error has been corrected, but then reverts to the original error. What gives? So we hope that Hasbro utilizes this figure again but corrects the color discrepancies. Other than that, this set is pretty good, and fans of Revenge Of The Sith are certain to enjoy it thoroughly. And we suspect the same will be true for clone trooper fans. The bright side to Hasbro creating new beasts that are piloted by military figures is that they all will eventually be made with ball-jointed hips going forward so they can straddle them and this is a good thing!
While the gelagrub does not pick up ultraviolet light like its movie counterpart, we have to say that Hasbro did a decent enough job to mimic the characteristics of this creature quite well. The only detail lacking seems to be the color of the legs which look to be different in the movie stills but the same blue color as the body (for the toy). A great display piece, don't expect the Gelagrub Patrol to do much more than sitting. But sometimes toys should just sit around a look pretty, Gelagrub Patrol fits this bill! As far as value is concerned, we think the set should have contained two clone troopers (big surprise). It is a lot of money to pay almost $25 for a non-bending beast and super-articulated action figure. Battle Packs is slowly creeping up in price an the content is becoming less and less. As a result, we are becoming more and more selecting on what we plop on money down. This is becoming less and less acceptable to us. It is bittersweet too. While we want these collectibles, we also don't want to pay the over-inflated prices, especially during troubled times. We wish for and encourage Hasbro to come up with ways to give us a little more value in these multipacks. To us, a second clone trooper would not have been that big of a deal? We don't know how Hasbro would have lost out here, but apparently they know something that we do not. The Gelagrub Patrol is a great Battle Packs set and one of the last ones to come to us in the cubic-rectangular packages. The format for Battle Packs is changing back to the sleek line look. It will be interesting to see just how much less Hasbro will decide to include in a package with less space. It makes us ponder if grimmer times for collecting are impending.
Collector Notes
Gelagrub Patrol
Assortment Number: 91804/87752
UPC: 653569427995
Retail: $23.99 USD
Market Value: Click here to check the latest prices based on

listings.
Gelagrub
These docile creatures have adapted to the ultraviolet sunlight that bathes the planet.
Status: Gelagrub is an all-new figure.
Articulation Count: 2
Articulation Details: 2 sliding pinchers (action feature activated by squeezing the Gelagrub's body)
Accessory Count: None
Accessory Details: None
Date Stamp: 2009
Clone Trooper
Troopers battle the droid army among enormous fungal lifeforms that cover the planet.
Status: Clone Trooper is a kit-bashed figure that utilizes the arms, lower legs and feet of the Clone Trooper (Fall Of The Republic) from 2005's ROTS Clone Trooper To Stormtrooper Evolutions set in addition to an all-new new torso, a new cod section and new ball-jointed hips/upper legs. The holster and the soft-goods kama are all-new too. It isn't necessarily incorrect to refer to this figure as an all-new figure.
Articulation Count: 25 points (14 areas of articulation)
Articulation Details: ball-socket head (1), ball-jointed left shoulder (2), ball-jointed right shoulder (2), ball-jointed left elbow (2), ball-jointed right elbow (2), swivel left wrist (1), swivel right wrist (1), ball-jointed torso (2), ball-jointed left hip (2), ball-jointed right hip (2), ball-jointed left knee (2), ball-jointed right knee (2), ball-jointed left ankle (2), ball-jointed right ankle (2)
Accessory Count: 1
Accessory Details: removable helmet, 2 DC-17 blaster pistols (all-new sculpts), removable pauldron
Date Stamp: 2005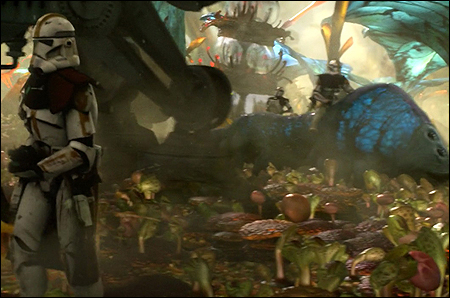 Battle Packs (The Clone Wars [S2]/Legacy Collection) Wave 1
Battle Packs (The Clone Wars [S2]/Legacy Collection) Wave 2
Battle Packs (The Clone Wars [S2]/Legacy Collection) Wave 3
Battle Packs (The Clone Wars [S2]/Legacy Collection) Wave 4