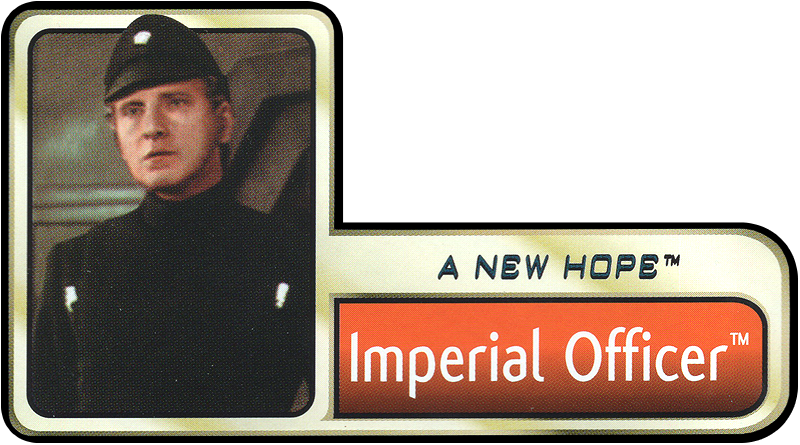 Collection: Star Wars [Saga - Phase I]
Number: '02 #55
Availability: January 2003
License: Hasbro
Visual Analysis
Detailed Visual Analysis
General Analysis
Luke Skywalker, a young farmboy on Tatooine, is thrust into the struggle of the Rebel Alliance when he meets Obi-Wan Kenobi, who has lived for years in seclusion on the desert planet. Obi-Wan begins Luke's Jedi training as Luke joins him on a daring mission to rescue the beautiful Rebel leader Princess Leia from the clutches of the evil Empire. Although Obi-Wan sacrifices himself in a lightsaber duel with Darth Vader, his former apprentice, Luke proves that the Force is with him by destroying the Empire's Death Star.
Imperial Officer
The Imperial Officers are cunning, calculating and ruthless. They have survived a grueling training program to earn their rank. Whether he is giving commands on the bridge of a Star Destroyer or leading a garrison of stormtroopers, the Imperial officer is in complete control and rules with an iron fist. Failure means death, as in the service of Darth Vader have discovered.
Running change variants became a staple in the Star Wars "Saga" line, and Hasbro picked some of the best characters to make multiples of, even if the sculpts weren't completely ideal. Imperial Officer, a figure that made its debut in the Power Of The Jedi line in 2001, gets two more chances, each with unique portraits in the final waves of the first phase of the Star Wars "Saga" line. We're all very familiar with the sculpt. It borders around average, comes with an excellent generic pose, and you can have the figure either holding a gun at the ready or hands rested behind his back, plus a few more poses. These points of articulation, of course, offer a great range of movement for a character with little screen time in any Star Wars film. Debates have raged on ad nauseam about who these characters are in the movie. While there are Imperial officers without any ranking badges in the Original Trilogy (but not so much specifically A New Hope), the officers seen without ranking badges are wearing a completely different styled outfit than Hasbro sculpted for the action figure. These outfits are more practical with pockets, and Hasbro has carved these details in the figure. Even the ranking badge on Shann Childsen, the character shown in the packaging artwork of the POTJ Imperial Officer figure, was "erased" to better imitate the action figure's appearance.
We guess, and not fact, that the Power Of The Jedi and Star Wars "Saga" interpretations of the Imperial Officer action figures are based on the characters seen in The Empire Strikes Back and Return Of The Jedi only. We'll need more eagle-eyed fans to prove us wrong on that, but we have been unsuccessful in finding any other characters in Episode IV that closely resemble the exact look of these action figures. Even with the characters in Return Of The Jedi, we can't see the outfits in their entirety, so maybe they aren't good reference sources either. Regardless, we believe that sourcing them to A New Hope is incorrect, and we can chalk it up to another bug in Hasbro's action figure sourcing process. We would love to be proven wrong, so please let us know if we are. Whether these characters are the black-uniformed techs as seen in The Empire Strikes Back or the Imperial Shuttle pilots in the opening scene of Return Of The Jedi than any other Imperial Officer in the rest of the Original Trilogy. And even that might be pushing it a bit. Going so far as to say that these are Expanded Universe takes on Imperials may be the most accurate approach yet.
For sure, the Imperial officer action figures cause more confusion than clarity. We can rule out that this particular Imperial was seen in Star Wars Episode IV: A New Hope. So now that we have established our perspective of this action figure let's talk about how Hasbro made the Star Wars "Saga" versions different from the original POTJ release. Both arrived at retail in two separate waves at the beginning of 2003. Imperial Officer [Version 1] came with an all-new head sculpt, and the figure had brown hair. Imperial Officer [Version 2] came with blonde hair. Both resemble the original 2001 Power Of The Jedi figure, thanks to having the same body. Other than new head sculpts, the figures are identical to the 2001 version. The portraits appear to have progressed when compared to the original release. Technology came far in 2002, and the new Imperial Officer figures seem to reap the benefits of this the most. Still, hardcore collectors likely won't be delighted with these action figures because they don't represent what collectors deem a replacement for 1981's ESB Imperial Commander figure, a classic from the vintage Kenner line. They work great as generic background fodder, but the intended character that these figures were to represent has a long way to go before collectors find them definitive. Until that happens, well, we'll have to wait.
Collector Notes
Imperial Officer [Version 2]
Status: Imperial Trooper [Version 2] is a retool of 2001's POTJ Imperial Officer figure. This time the figure has an all-new head sculpt.
Articulation Count: 10 points (10 areas of articulation)
Articulation Details: swivel head (1), swivel left shoulder (1), swivel right shoulder (1), swivel left elbow (1), swivel right elbow (1), swivel left glove (1), sivel right glove (1), swivel waist (1), swivel left hip (1), swivel right hip (1)
Accessory Count: 1
Accessory Details: E-11 blaster
Date Stamp: 2001
Collection: 2
Assortment Number: 84710/84861
UPC: 076930847107
Retail: $4.99 USD
Market Value: Click here to check the latest prices based on

listings.
Reference Data
Research Droids Data Analysis
Related Data Files