Collection: Star Wars [Saga - Phase I]
Number: '02 #14
Availability: April 2002
License: Hasbro
Visual Analysis
Detailed Visual Analysis
General Analysis
Ten years after the fight to save Naboo from invasion, the galaxy is on the brink of civil war. Under the leadership of a renegade Jedi, thousands of solar systems threaten to secede from the Galactic Republic. A courageous Jedi Knight, his impulsive and headstrong apprentice, and a queen-turned-senator are drawn into the heart of the conflict... and the beginning of war.
R2-D2
The ever-faithful R2-D2 is utilized to guard Senator Padmé Amidala. Always resourceful, R2-D2 sounds an alarm when an attempt on her life is made by an assassin droid that inserts kouhuns assassin centipedes into Padmé's sleeping chambers.
It was inevitable that R2-D2 would become part of the first wave of the Star Wars "Saga" line, but probably less expected that Hasbro would dig out an old electronic version from The Power Of The Force Power F/X series to produce it. Indeed, Hasbro chose to build R2-D2 (Coruscant Sentry) from the 1997 The Power Of The Force "2" [Red/Green] R2-D2 Electronic Power F/X figure because it comes with light-up features and sound effects. But Hasbro needed to refresh them to be specific to Star Wars Episode II: Attack Of The Clones. Still, its release as a basic figure in 2002 makes it feel outdated, and the nature of the sculpt limits what you can do with it in a display. But this is a great action figure for you if you're into light-up features and sound effects. Hasbro added five new "Episode II-specific" sound bites to the chip inside, and every time you press the center of the body, the rotation of sound effects makes the figure "talk," "whistle," or "warn" as you desire. In Episode II, R2-D2 guards Padmé Amidala as she sleeps in her apartment, but R2's sensors do not alert the sleeping senator in time. Only Jedi instincts rescue her from the Kouhun centipedes as Anakin Skywalker and Obi-Wan Kenobi dash into her room and handle things the Jedi business way.
So, Hasbro tweaked R2-D2 (Coruscant Sentry) for their 2002 Star Wars "Saga" basic figure line. Most interesting is the updated 2001 date stamp on the figure, which is confirmation of retooling. In addition to the electronics, Hasbro tooled two new legs for the action figure. R2-D2 (Coruscant Sentry) comes with only five points of articulation. They include two swivel legs, two hinge-jointed feet, and a hinge-jointed third foot. Hasbro didn't incorporate a swiveling dome as it would have compromised the integrity of the mechanics and wiring inside. Ultimately, Hasbro leaves us with a rather dull action figure. Maybe this figure isn't the worst produced by Hasbro, but we have seen this electronic version of R2-D2 for far too long now, and it has become a bit stale and obsolete. The eye port incorrectly lights up in brilliant orange, and the sounds that emanate from the body cavity are loud and border on obnoxious. With only movable legs, R2-D2 (Coruscant Sentry) doesn't have the needed body movement required to be a viable action figure. It's more of a display piece. You'll also notice that Hasbro removed the magnets from the feet. Other than that, Hasbro didn't bring much to the table here.
What makes this R2-D2 (Coruscant Sentry) action figure unique are the included kouhun assassin centipedes. Despite their small size, they look pretty good. They're in scale with R2-D2, and they look creepy and crawly enough to make you shudder a bit. What's most impressive about them is that they possess excellent paint jobs. Hasbro used a few different layers of paint to bring these creatures to life. Interestingly, they are not entirely screen-accurate to what we see in Episode II. The ones in the film had an apparent tubular body, whereas the toys' interpretations of these creatures are flatter and perhaps based on a real earthly centipede instead. We're not sure why something looks off with them, but you'll notice it too. But when posed alongside R2-D2, we think that they look great. We would have loved it if Hasbro could have created an all-new sculpt of R2-D2 to accompany the new creatures. And if they added a scanning device or effect attachment with R2-D2 would have been better options. And we would have loved screen-accurate light-up features. Hasbro wanted to reuse existing tooling instead to save on costs, so we will have to wait for a future release to see more progressive updates.
Collector Notes
R2-D2 (Coruscant Sentry)
Status: R2-D2 (Coruscant Sentry) is a retool of 1997's POTF2 [R/G] R2-D2 Electronic Power F/X figure. This time, the figure has all-new legs. The figure's electronics have also been reprogrammed to be Episode II-specific.
Articulation Count: 5 points (5 areas of articulation)
Articulation Details: swivel left leg (1), swivel right leg (1), hinge-jointed left foot (1), hinge-jointed right foot (1), hinge-jointed third foot (1)
Accessory Count: 2
Accessory Details: 2 kouhun assassin centipedes
Date Stamp: 2001
Collection: 1
Assortment Number: 84645/84851
UPC: 076930846452
Retail: $4.99 USD
Market Value: Click here to check the latest prices based on

listings.
Reference Data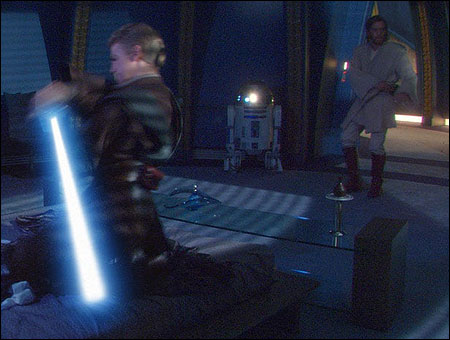 Research Droids Data Analysis
Related Data Files