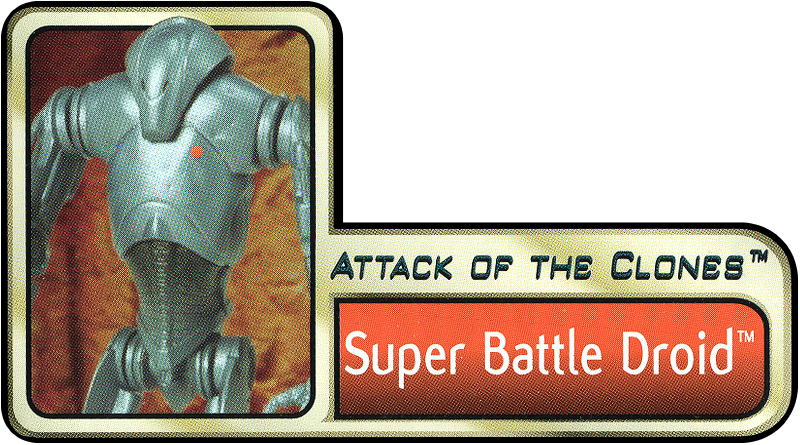 Collection: Star Wars [Saga - Phase I]
Number: '02 #06
Availability: April 2002
License: Hasbro
Visual Analysis
Detailed Visual Analysis
General Analysis
Ten years after the fight to save Naboo from invasion, the galaxy is on the brink of civil war. Under the leadership of a renegade Jedi, thousands of solar systems threaten to secede from the Galactic Republic. A courageous Jedi Knight, his impulsive and headstrong apprentice, and a queen-turned-senator are drawn into the heart of the conflict... and the beginning of war.
Super Battle Droid
Deadly and efficient fighters, these enhanced battle droids are programmed with the capacity for independent fighting. They make a formidable threat to opposing armies with their hulking frame and built-in firepower.
Alright! Here is the perfect action figure for kids and collectors alike! The Super Battle Droid from the Star Wars "Saga" line, the de facto Episode II basic figure lineup, is an action figure that is equally fun as it is fantastic. It certainly isn't the perfect representation of the character we saw during the Battle of Geonosis in the Petranaki Arena. Still, there is enough play value without sacrificing every last aesthetic here to make it a worthwhile purchase for collectors of all ages. Hasbro had a lot on its plate. Their Collection 1 figures are geared towards kids and come inundated with action features that ruin it for collectors. These features often plague any decent sculpt and render it "useless," generally speaking. But in this case, Hasbro balanced their intentions quite well and made an action figure toy that seamlessly fits into a child's toy box or on an adult's shelf equally. The Super Battle Droid represents the Separatist's need to create a more powerful warrior for use in the Clone Wars. While they appeared to function like bulls in a china shop, they did severe damage with one blast from their cannons or one swing of their powerful arms.
It's no secret. Super Battle Droid is a toy, and we believe it's good. You may think it has simple mechanics, but we're thoroughly impressed with how the parts interlock in some phases of the action figure, while they are also used to create debris in more of the "battle-damaged" scenes you recreate. The figure has multiple modes. The Super Battle Droid comes with two interchangeable chest plates and each acts as a locking mechanism for the arms, allowing the "shoulders" to function via swivel articulation. And they won't fall out again until you enact the "explosion feature." Hasbro also added an exaggerated interchangeable right arm that functions as a missile launcher cannon. The figure comes with a projectile you slide inside the cannon arm to lock it in place. With the flick of a button, the projectile shoots so you can take down most targets. Although the Super Battle Droids from the film likely didn't have this detail, Hasbro impressively sculpted details underneath the flat panel below the interchangeable chest armor. They did nothing more than add simple scoring to the plastic, but it adds to the figure look by giving it a mechanical texture, and we appreciate their efforts.
Super Battle Droid comes with nine points of articulation. The two swivel shoulders are joined by two hinge-jointed elbows, a sliding "action feature" torso, two swivel hips, and two hinge-jointed knees. While there are only technically five accessories included with the Super Battle Droid, it should be noted the figure breaks down into nine total separate pieces (accessories included). If you get bored with the play value of the action figure, there is plenty more to do, including building and rebuilding the Super Battle Droid characters battle after battle. The play value hours are potentially endless here. Hasbro gave the Super Battle Droid two different paint jobs. The original comes in a color of metallic blue. It's shiny and has lots of detail, but it is undeniably blue. The second version, which features a matte slate gray color, came after and was a correction to the "blue' version released first. The variation looks remarkably realistic. Hasbro included details to recreate battle-damage markings and blast points on both versions. They look impressive, and you should take the time to appreciate these extra enhancements. The battle-damaged chest armor piece includes a hole to attach the included blast effect. It's honestly a bit silly but included for kids to enjoy and not you. Overall, we're impressed with this action figure. A future Super Battle Droid without these play features would be ideal, but until that happens, this one suffices.
Collector Notes
Super Battle Droid
Status: Super Battle Droid is an all-new figure.
Articulation Count: 9 points (9 areas of articulation)
Articulation Details: swivel left shoulder (1), swivel right shoulder (1), hinge-jointed left elbow (1), hinge-jointed right elbow (1), "action feature" torso* (1), swivel left hip (1), swivel right hip (1), hinge-jointed left knee (1), hinge-jointed right knee (1) (*droid breaks apart into 9 separate pieces)
Accessory Count: 5
Accessory Details: interchangeable right arm cannon, projectile, blast effect, interchangeable chest panel
Date Stamp: 2002
Collection: 1
Assortment Number: 84853/84851
UPC: 076930848531
Retail: $4.99 USD
Market Value: Click here to check the latest prices based on

listings.
Reference Data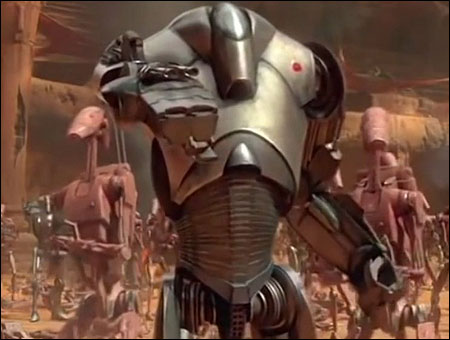 Research Droids Data Analysis
Related Data Files