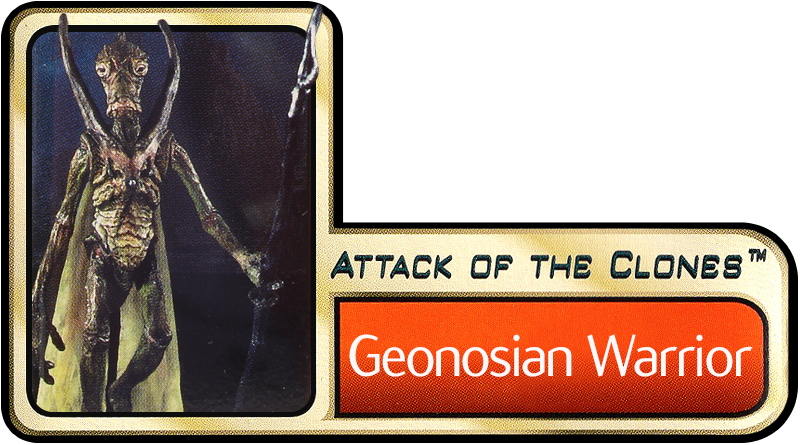 Collection: Star Wars [Saga - Phase I]
Number: '02 #15
Availability: April 2002
License: Hasbro
Visual Analysis
Detailed Visual Analysis
General Analysis
Ten years after the fight to save Naboo from invasion, the galaxy is on the brink of civil war. Under the leadership of a renegade Jedi, thousands of solar systems threaten to secede from the Galactic Republic. A courageous Jedi Knight, his impulsive and headstrong apprentice, and a queen-turned-senator are drawn into the heart of the conflict... and the beginning of war.
Geonosian Warrior
Geonosian warriors are the inhabitants of the rocky planet Geonosis. These warriors aid Count Dooku in his effort to incite a civil war.
The Prequel Trilogy introduced Star Wars fans to some interesting characters. We believe others feel that character newness similarly brings "awesomeness" to the Star Wars storytelling. Some feel the value of these characters diminishes by their computer generation, while others are all for it. Still, honest and tangible three-dimensional creatures on-screen works best in the long run as far as we're concerned. The age of computer technology is terrific, but the concept abandons ingenuity and critical thinking of making special effects work well. They tend to degrade movie-making as they affect how directors design their films. This point of view is our opinion. We're already way off track with this review, but it was our way of expressing that Episode II showed off some pretty amazing aliens and creatures. However, they don't have the same impact as an actor in a rubber mask or an elaborate puppet that comes to life through puppeteers. We say all this to make a simple point about one specific alien in Attack Of The Clones. The Geonosian Warriors were a nice touch to Episode II. They were the personification of an infestation. They viciously swarmed and attacked during the Battle of Geonosis, but their role was hard to accept seriously, knowing that the "didn't really" exist on the screen.
As collectors, we need a ton of varied Geonosians to recreate the many scenes in Episode II. So Hasbro started the line off strong by getting a decent version of the Geonosian Warrior out to the buying public in April 2002. When the Star Wars "Saga" line launched, many collectors grabbed multiples of these Geonosian Warrior action figures. It's not a perfect toy, but we have to hand it to Hasbro for recreating this character in a 3.75" scale as best they could from digital renderings. There are different types of native Geonosians. Some have wings; some don't. And some wear armor, and others don't. And the weaponry among them also varies. Overall, most share the same skin color, although there are some variances if you carefully examine them. The Geonosian Warrior has an excessive amount of detail. We're impressed with how much "tooling" went into developing this action figure's bumpy and buggy skin qualities while ensuring as much screen-accuracy as possible. Imagine how difficult it must be for Hasbro to build something that doesn't exist in three-dimensions and only on a computer. For that alone, we have to hand it to them. Geonosian Warrior is different from a Geonosian Drone in that this character has wings where a drone does not. But expect Hasbro to continually deliver all of the various stages of these creatures' lives in the action figure line because they are doing impressive things with this species.
Geonosian Warrior comes with eight articulation points, but two of those points are hinge-jointed wings that manipulate up and down. The rest of the figure contains swivel articulation. While we would have wished for quite a few more points to get the most out of this figure, Hasbro has angled arms and legs so that this creature stands unassisted and holds its staff in a guarding position. Interestingly, we had trouble finding any winged Geonosian Warriors use this staff in the film. We've only seen the more extended and straighter staff that they used to corral the arena beasts. To date, we've only seen this weapon in concept art. Hasbro added the electro effect for play value. The electro effect twists around the staff, but it also warps it terribly. You may find that omitting the electro effect in your displays is your best option. You have the opportunity to reshape and re-straighten the very pliable plastic staff by throwing it into hot water. You'll see it straighten out immediately once done. It's something that we feel we shouldn't have to do if you want our opinion. Despite its imperfections, Geonosian Warrior is one of many Geonosians released in the Star Wars "Saga" line. While far from super-articulated, the figure's biggest strength lies in how well-sculpted it is. If you're not into Separatists aliens of this nature, you're likely more into characters from the Original Trilogy. Don't discount this figure completely, however. It plays a vital role in Attack Of The Clones, and it's an interesting character.
Collector Notes
Geonosian Warrior
Status: Geonosian Warrior is an all-new figure.
Articulation Count: 6 points (6 areas of articulation)
Articulation Details: swivel head (1), swivel left shoulder (1), swivel right shoulder (1), swivel waist (1), swivel left hip (1), swivel right hip (1)
Accessory Count: 2
Accessory Details: electro staff, electro effect
Date Stamp: 2002
Collection: 2
Assortment Number: 84867/84861
UPC: 076930848678
Retail: $4.99 USD
Market Value: Click here to check the latest prices based on

listings.
Reference Data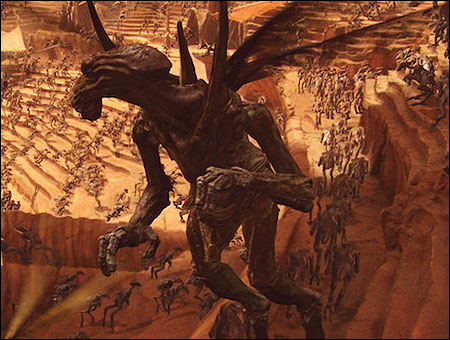 Research Droids Data Analysis
Related Data Files