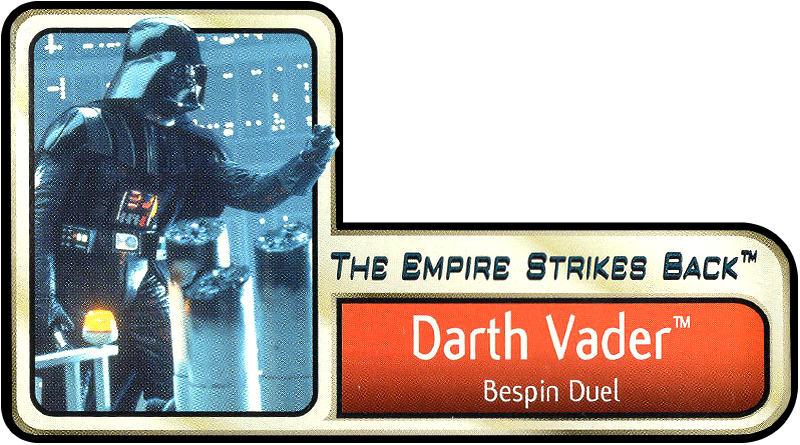 Collection: Star Wars [Saga - Phase I]
Number: '02 #30
Availability: May 2002
License: Hasbro
Visual Analysis
Detailed Visual Analysis
General Analysis
Three years after the destruction of the Death Star, the Rebel Alliance continues the fight against the Imperial forces and suffers a defeat on the ice planet Hoth. Luke Skywalker journeys to the planet Dagobah to train with Jedi Master Yoda, who has lived in hiding since the fall of the Republic. In an attempt to convert Luke to the dark side, the evil Sith Lord, Darth Vader, lures Luke into a trap in the Cloud City of Bespin. In the midst of a fierce lightsaber duel with Vader, Luke faces the startling revelation that the Sith Lord is in fact his father, Anakin Skywalker.
Darth Vader
The evil and much feared military commander, Darth Vader seeks to bring young Luke Skywalker over to the dark side. As the two battle on a precarious outer walkway on Bespin, Vader reveals a shocking secret that shatters Luke's world.
There are many issues with Hasbro's 2002 Star Wars "Saga" Darth Vader (Bespin Duel) action figure. But its most significant problem is that Hasbro based the figure on the character's appearance from Star Wars Episode IV: A New Hope and not Star Wars Episode V: The Empire Strikes Back. What in the world happened here? Why did Hasbro make this error when they have successfully released Darth Vader's action figures from the correct sources in the past and have access to more reference materials than most others? That answer to that question is unknown, but this release is still excellent, if not for the figure, but its accessories. While Hasbro tooled Darth Vader (Bespin Duel) in a position based on a scene from The Empire Strikes Back, the robes over the shoulder armor are the telltale sign that this version is screen-inaccurate. Besides the inclusion of the wrong version of Darth Vader, it also lacks good articulation and has a pose that makes it nearly impossible to stand up without assistance. Action figures that don't stand unassisted bother us. They shouldn't require action figure stands. But this one does. Darth Vader (Bespin Duel) comes with a paltry six points of articulation, and all of them are swivel joints. Hasbro included articulation that gives Darth Vader minimal movement and only in the figure's standard parts like head, arms, and legs.
The lack of articulation and the screen-inaccuracies aren't the only problems afflicting Darth Vader (Bespin Duel). The functionality of the parts doesn't work as smoothly as we hoped either. For example, the molded robes are a significant annoyance here. The lower robes, especially, prevent any beneficial movement out of the figure's legs. The removable cape doesn't lay flatly against the figure's back without falling off; it doesn't stay on the figure well at all for us. As you may see, Darth Vader (Bespin Duel) is a mess of an action figure. We imagine most collectors will find more things disappointing with it than favorable, but your mileage may vary. A lovely feature here is the inclusion of a real metal lightsaber hilt with a removable red blade. Hasbro also seamlessly added a magnet embedded into the figure's left hand and can "hold" it in hand or "toss" it when used in tandem with the action feature. The plug is prone to breakage, so be careful with yours. The setup here is slightly gimmicky, but it works, and if you include Darth Vader (Bespin Duel) next to the stunning Cloud City walkway, you'll see how amazed you'll become at what the "scenery" does for the action figure. We'll judge any Star Wars collector that doesn't find the included accessories with Darth Vader a fantastic addition to the Star Wars toy line. We feel all collectors should rave about them.
Many Star Wars "Saga" figures come with beautiful accessories that help populate displays and dioramas with pieces from the Star Wars universe. And we don't think collectors should take all of these lovely extras for granted. They add a great deal to your collection. Darth Vader (Bespin Duel) is no exception. The Cloud City walkway comes in three components: a walkway with a "fence," a base column, and the top half of the column that splits in two from the swing of Darth Vader's lightsaber. It assembles quite easily and works with Darth Vader's action feature quite well. This little environmental display piece only makes us wish Hasbro would design a whole Bespin gantry, but we'll take what we can get for now. Still, we feel that a complete take on this environment would offer collectors a fantastic micro "playset" to complement the action figures. Darth Vader (Bespin Duel) and the included Cloud City environmental pieces, when combined with Luke Skywalker (Bespin Duel) ('02 #29) figure, recreate the unforgettable and climactic lightsaber duel between Luke Skywalker and his father. Who will ever forget and the revelation of truth that Darth Vader uttered to Luke Skywalker during the powerful scene? Anyhow, we believe that if you purchase both figures, you'll recreate something special in your collection that the basic figure line hasn't offered us to date.
Collector Notes
Darth Vader (Bespin Duel)
Status: Darth Vader (Bespin Duel) is an all-new figure.
Articulation Count: 6 points (6 areas of articulation)
Articulation Details: swivel head (1), swivel left shoulder (1), swivel right shoulder (1), swivel waist (1) (action feature), swivel left hip (1), swivel right hip (1)
Accessory Count: 6
Accessory Details: metal hilt, detachable red lightsaber blade, removable cape, Cloud City walkway (3 parts)
Date Stamp: 2001
Collection: 1
Assortment Number: 84580/84851
UPC: 076930845806
Retail: $4.99 USD
Market Value: Click here to check the latest prices based on

listings.
Reference Data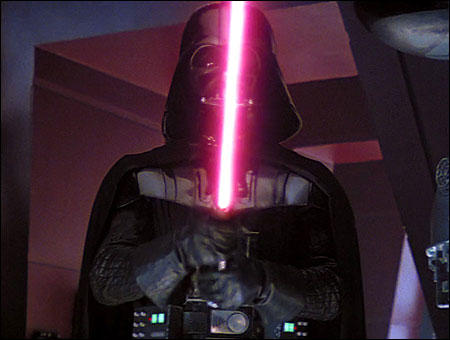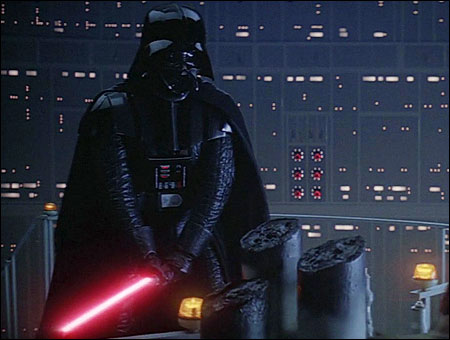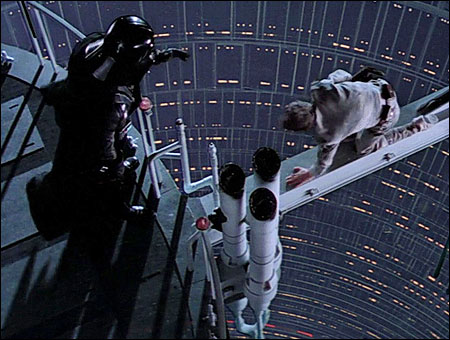 Research Droids Data Analysis
Related Data Files