Collection: Star Wars [Saga - Phase I]
Number: '02 #29
Availability: May 2002
License: Hasbro
Visual Analysis
Detailed Visual Analysis
General Analysis
Three years after the destruction of the Death Star, the Rebel Alliance continues the fight against the Imperial forces and suffers a defeat on the ice planet Hoth. Luke Skywalker journeys to the planet Dagobah to train with Jedi Master Yoda, who has lived in hiding since the fall of the Republic. In an attempt to convert Luke to the dark side, the evil Sith Lord, Darth Vader, lures Luke into a trap in the Cloud City of Bespin. In the midst of a fierce lightsaber duel with Vader, Luke faces the startling revelation that the Sith Lord is in fact his father, Anakin Skywalker.
Luke Skywalker
As Luke battles Darth Vader in Cloud City, he rebuffs Vader's attempts to make him submit to the dark side. Wounded by Vader, Luke heroically chooses to plummet to almost certain death rather than to yield to the dark side. Managing to grab hold of a weathervane, he shrugs to hang on until his Rebel friends can rescue him.
Original Trilogy purists gruelingly waited out twenty-eight basic figures based on Attack Of The Clones before Hasbro delved into the first three Star Wars films in the Star Wars "Saga" line. To most collectors' delight, they brought forth a fresh take on the 1980's ESB Luke Skywalker (Bespin Fatigues) figure. For the 2002 release, they tweaked both the name and the deco on the figure to showcase a battle-worn Luke Skywalker after battling his father, Darth Vader, for a few moments. Hasbro did a remarkable job on the figure's battle-damaged facial features. They also included a removable hand once again for this version of Luke Skywalker. They've approached this character in the same fashion with past iterations, but this time added plenty of accessories, some new, for a mere $4.99 MSRP. Honestly, it feels like collectors are getting more than what we deserve here. The figure itself is far from perfect. It has an annoying action feature, but you may not mind its inclusion since there are enough distractions here to prevent you from harboring on something that may ultimately be trivial in the grand scheme of things. Luke Skywalker (Bespin Duel) is an entirely new take on the character we have grown to love in the basic figure line. It's exceptionally scene-specific, and it gives us an interactive accessory to use with it. That's a deal. We're certain Luke Skywalker (Bespin Duel) will be one of the most popular action figures of 2002.
As we've mentioned, Luke Skywalker (Bespin Duel) comes with plenty of accessories. Included here are a DL-44 blaster pistol (with a functioning holster on the figure to house it when not in use), a metal lightsaber hilt, and a removable blue lightsaber blade. The removable hand functionality changed three times with this figure. The first version featured magnetic connections of the hand to the arm. But Hasbro got rid of magnets altogether because they became problematic to the action figures. Luke Skywalker's hand attachment changed a total of three times since the figure's release. The first release donned a bloody stump (with magnetic attachment). But because lightsabers cauterize, Hasbro quickly changed this to remove the red deco, leaving a "burned" effect instead. The plain magnetic hand attachment came second. Lastly, Hasbro changed the hand attachment by retooling it with a plug. Hasbro updated the hand attachment without the magnet so it would fasten inside of his arm more tightly. The magnets weren't strong enough, and the parts secured by the magnets often fell out when unintended, unfortunately). Once you remove the hand attachment, the well-made tourniquet accessory slides over the stump to recreate the medical care received on the Millennium Falcon after getting rescued from Bespin's Cloud City weathervane. There are many parts here, and Hasbro designed all of them incredibly well.
Everything included here is screen-accurate and befit the action figure quite well. And we're also impressed with the value of this basic action figure. It is less than $5. That's incredible for what you get inside the packaging.Speaking of the weathervane, would you believe that Hasbro included an almost perfectly scaled version of it along with the figure? They designed it into three separate parts. The dish portion is a suction cup, making it relatively easy to attach it to a smooth surface for display. With some patience, Luke Skywalker (Bespin Duel) hangs from it stunningly. Sadly, Hasbro cast it from probably what we describe as "the most pliable plastic made," and it doesn't keep its shape well at all. Hot water seems to be the trick to restore its original condition or if it needs straightening, but why can't Hasbro use materials that are more rigid? Regardless, the weathervane is a beautiful accessory and complements the Luke Skywalker (Bespin Duel) figure perfectly. The Luke figure comes with a great deal of swivel articulation, but it looks good no matter how you pose it. However, the figure's best feature is its paint job, especially the wounds the character sustained from battling Darth Vader. We never expected Hasbro to capture these details so successfully. Overall, we feel that Luke Skywalker (Bespin Duel) is a better-than-average action figure. Better figures will come, but undoubtedly with a lot less included with them. Oh, and this figure interacts beautifully with Darth Vader (Bespin Duel) ('02 #30). What more do you want?
Collector Notes
Luke Skywalker (Bespin Duel)
Status: Luke Skywalker (Bespin Duel) is an all-new figure.
Articulation Count: 12 points (12 areas of articulation)
Articulation Details: swivel head (1), swivel left shoulder (1), swivel right shoulder (1), swivel left elbow (1), swivel right elbow (1), swivel left wrist (1), swivel right wrist (1), swivel waist (1) (action feature), swivel left hip (1), swivel right hip (1), hinge-jointed left knee (1), hinge-jointed right knee (1)
Accessory Count: 7
Accessory Details: metal hilt, detachable blue lightsaber blade, blaster, tourniquet, Cloud City weathervane (3 parts)
Date Stamp: 2001
Collection: 1
Assortment Number: 84525/84851
UPC: 076930845257
Retail: $4.99 USD
Market Value: Click here to check the latest prices based on

listings.
Reference Data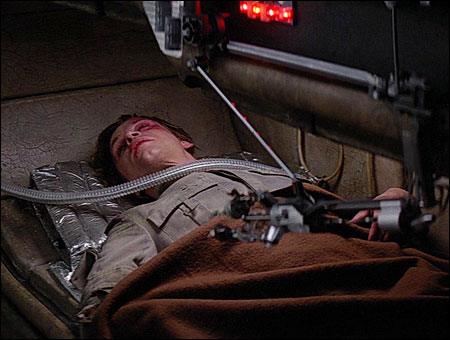 Research Droids Data Analysis
Related Data Files