Collection: Star Wars [Saga - Phase I]
Number: '02 #31
Availability: May 2002
License: Hasbro
Visual Analysis
Detailed Visual Analysis
General Analysis
Ten years after the fight to save Naboo from invasion, the galaxy is on the brink of civil war. Under the leadership of a renegade Jedi, thousands of solar systems threaten to secede from the Galactic Republic. A courageous Jedi Knight, his impulsive and headstrong apprentice, and a queen-turned-senator are drawn into the heart of the conflict... and the beginning of war.
Jango Fett
The bounty hunter Jango Fett is a shrewd mercenary mysteriously linked to the growing Separatist army and the unexplained assassination attempts on Senator Amidala. His battle scarred suit of armor and muscular frame are physically imposing, and hidden beneath his sleek, domed helmet lies a coarse, pitted face hardened by a life of dangerous work and ruthless operations. Armed with dual pistols, a jetpack and flamethrower, Jango Fett is a mobile arsenal fully equipped for combat.
Jango Fett (Final Battle) is a bittersweet figure. It has a great deal going for it, but unfortunately has stuff going against it as well. Star Wars collectors typically welcome any action figure sporting a "beheading" feature, but Hasbro designed a figure with this functionality that doesn't stand unassisted all that well. Jango Fett (Final Battle) resists an upright position. Thanks to awkwardly positioned lower legs, Jango Fett (Final Battle) doesn't have a solid center of gravity, and it's only with a precariousness that you'll successfully position the figure in a screen-accurate fashion, but it is indeed possible with some patience. The figure itself is a beautiful sculpt. And save for some areas of wonkiness, the action features incorporated into the figure work well. Kids will love it, and, at worst, collectors are going to appreciate the unique take on Jango Fett. With the inclusion of some extra articulation, the figure has a saving grace. The added articulation points help create what may be one of the better Jango Fett action figures in the entire Star Wars "Saga" line. Jango Fett was a menace in Attack Of The Clones, but he received the proper recompense for all of his wrongdoings at the hand of Mace Windu. Mace beheaded him with his lightsaber. The Star Wars "Saga" Jango Fett (Final Battle) action figure brings all of the scenes together in one action figure. It offers collectors the opportunity to recreate the bounty hunter's demise at the Battle of Geonosis.
Jango Fett (Final Battle) comes with a rather impressive eleven points of articulation. It may not be accurate to count the head as a point of articulation, but it is. It is attached to the figure's body via a magnet and can swivel 360 degrees. We would have liked to see an alternate human portrait included here as a removable piece from the helmet (as seen in Episode II), but Hasbro's approach works nonetheless. Jango Fett (Final Battle) comes with two swivel shoulders, and they function well here. The upper body articulation allows the figure to hold up the two Westar-34 blaster pistols included in a straight 90-degree line from the body, as seen in the film. Hasbro added a swivel right elbow for some alternate display options as well. The nicest added articulation in the arms, however, is both of the swivel wrists. Swivel wrists are a lovely addition to action figures. They help action figures make most of their accessories. Now Jango Fett (Final Battle) has additional options for wielding the western-inspired Westar-34 blaster pistols. The standard swivel waist and swivel hips are present here too, but the biggest bonus is the inclusion of two ball-jointed knees. Hasbro needs more time to master this point of articulation for their 3.75" action figure line. But we're happy to see them think outside of the box and include ball-jointed knees on this action figure. They are quite stiff, but with a little bit of elbow grease, you can make Jango Fett (Final Battle) stand up on the knees while beheaded to precisely recreate the character's death in Attack Of The Clones.
The gimmicky feature included here is not as bad as you may think. Jango Fett (Final Battle) comes with a very long fireball accessory. We believe Hasbro attempted to recreate the one shot at Mace Windu's that set his Jedi outer robe on fire as he plummeted into the Geonosian Arena. It comes with Jango Fett (Final Battle) as a projectile accessory. Hasbro implemented a spring-loaded "shooter" into the left gauntlet. When you pull the projectile's tail through the gauntlet, it creates enough potential energy to launch it. Yes, it's a novelty, but it helps Jango Fett (Final Battle) look rather impressive despite its limitations. And it looks fantastic displayed on a shelf with the projectile too. Hasbro created an aesthetically pleasing version of this villain from Star Wars Episode II: Attack Of The Clones. We should also mention that Hasbro performed their due diligence and ensured they included the correct jetpack with Jango Fett. As we've stated earlier, there are many positive things with this action figure. But we wish that the body's angle and the lower legs' molds weren't so bizarre that they gave Jango Fett (Final Battle) such an awkward posture. Jango Fett (Final Battle) is a must-have for the collection. At best, this is a fun action figure that doesn't look half bad if you take the time to pose it as screen-specific as possible. At worst, this will be your "go-to" figure for a dead Jango Fett in your dioramas. We prefer the latter more.
Collector Notes
Jango Fett (Final Battle)
Status: Jango Fett (Final Battle) is an all-new figure.
Articulation Count: 14 points (12 areas of articulation)
Articulation Details: swivel/removable head (1) (magnetically attached), swivel rangefinder (1), swivel left shoulder (1), swivel right shoulder (1), swivel right elbow (1), swivel left wrist (1), swivel right wrist (1), swivel waist (1), swivel left hip (1), swivel right hip (1), ball-jointed left knee (2), ball-jointed right knee (2)
Accessory Count: 4
Accessory Details: jetpack, 2 Westar-34 blaster pistols, fireball effect projectile
Date Stamp: 2001
Collection: 2
Assortment Number: 84505/84851
UPC: 076930845059
Retail: $4.99 USD
Market Value: Click here to check the latest prices based on

listings.
Reference Data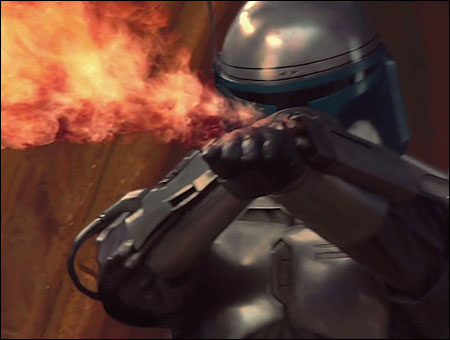 Research Droids Data Analysis
Related Data Files