Collection: Star Wars [Saga - Phase I]
Number: '02 #10
Availability: April 2002
License: Hasbro
Visual Analysis
Detailed Visual Analysis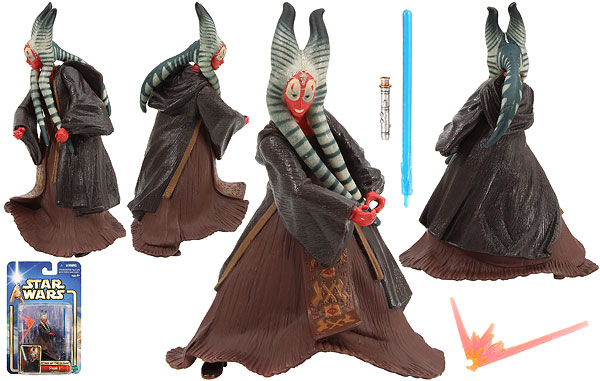 General Analysis
Ten years after the fight to save Naboo from invasion, the galaxy is on the brink of civil war. Under the leadership of a renegade Jedi, thousands of solar systems threaten to secede from the Galactic Republic. A courageous Jedi Knight, his impulsive and headstrong apprentice, and a queen-turned-senator are drawn into the heart of the conflict... and the beginning of war.
Shaak Ti
Shaak Ti is a powerful Jedi Master. Her highly refined Jedi skills are extremely useful in the battle against Count Dooku and the super battle droids.
There were many Jedi that made first appearances in Star Wars Episode II: Attack of The Clones. One such example was Shaak Ti (Jedi Master). This female Togruta was as beautiful as she was influential with the Force. She was so supposedly mighty with her skills that rumors abound she taught Obi-Wan Kenobi a few tricks of the trade. As part of the 200 Jedi dispatched to the Geonosis Arena to rescue Anakin Skywalker, Padmé Amidala, and Obi-Wan Kenobi, she fought bravely against members of the Separatist Droid Army to regain control of a seemingly losing battle. Sadly, Shaak Ti (Jedi Master) didn't get a whole bunch of screen time, but we did witness her swinging her lightsaber and getting ready to take on the hoards of enemies attempting to defeat her. Hasbro developed the very first action figure interpretation of the on-screen in one of the opening waves of the Star Wars "Saga" line, and it admittedly came out quite well. You'll have to accept an action figure with minimal articulation, however. A dynamically static action figure, Shaak Ti (Jedi Master), couldn't be more ready for lightsaber battle and looks and plays the part authentically from the film.
Shaak Ti (Jedi Master) comes with three points of articulation. This arrangement doesn't provide a great deal of movement, but like so many of the other Jedi made for the Star Wars "Saga" line, the figure's strengths lie entirely in the sculpt and paint job and not the articulation. Shaak Ti, visually, is gorgeous. Hasbro applied multiple layers of paint operations to replicate the ornate and decorative facial features. The head-tails are not the same as what we see on Twi'leks, but they are similar enough that they appear familiar. Hasbro painted the head-tails with great care, and they perfectly frame the gorgeous face and beautiful red skin color in addition to the conservative attire. Shaak Ti (Jedi Master) comes pre-posed with arms up, ready to hold a lightsaber and fight the Separatists. As a display piece, we couldn't give the figure enough praise and high marks if we tried. As an action figure, we would have to say that Hasbro has a lot more work to do before we could label her as definitive, however. So what a conundrum this creates. The figure's excellent sculpt lacks much-needed articulation. Some find this frustrating, and others go with the flow and overlook the shortcomings. But whatever position you take, there is no denying how great Shaak Ti (Jedi Master) looks despite her limitations.
Shaak Ti (Jedi Master)'s accessories are simple and few too. The figure comes with a lightsaber hilt, a detachable blue lightsaber blade, and a blast effect. The blast effect is large and appears to be deflecting Separatist fire when attached to the lightsaber blade. We believe Hasbro succeeded in creating this illusion well, so we have to credit them for this successful venture. It's a shame that Attack Of The Clones didn't spend more time showing the Clone Wars' opening battle. The film spends an awful long time developing Anakin and Padmé's relationship while forgetting that the Clone Wars events shaped how the saga moved on to Ben (Obi-Wan) Kenobi and Luke Skywalker and brought Darth Vader back into the picture. But collectors are going to have to use their imaginations instead to create these scenes. Thanks to an inspiring pose, a figure like Shaak Ti (Jedi Master) is already rearing to go. The Star Wars "Saga" line will continue to introduce new characters into the basic figure line. If they keep cranking them out like this particular figure, it may just be enough to keep collectors beckoning for more. Better versions are sure to come, but don't you forget about this one. Shaak Ti (Jedi Master) looks pretty amazing in this static pose.
Collector Notes
Shaak Ti (Jedi Master)
Status: Shaak Ti (Jedi Master) is an all-new figure.
Articulation Count: 4 points (4 areas of articulation)
Articulation Details: swivel head (1) (inhibited movement), swivel left shoulder (1), swivel right shoulder (1), swivel waist (1) (inhibited movement)
Accessory Count: 3
Accessory Details: hilt, detachable blue lightsaber blade, blast deflection effect
Date Stamp: 2002
Collection: 2
Assortment Number: 84872/84861
UPC: 076930848722
Retail: $4.99 USD
Market Value: Click here to check the latest prices based on

listings.
Reference Data
Research Droids Data Analysis
Related Data Files